NYMC Welcomes Lessing's as New Food Service Provider
Beginning on Monday, February 6, Lessing's will assume operations in Doc's Café in the Basic Sciences Building and provide catering services for on-campus events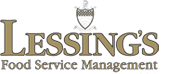 Beginning on Monday, February 6, Lessing's will assume operations in Doc's Café in the Basic Sciences Building and provide catering services for on-campus events. Lessing's, a food service management company established in 1890, operates at more than 80 locations in the northeast, including the corporate and education sectors, catering, special events, country club operations, fine dining establishments and franchises. Campus food service will continue to be Glatt Kosher and operate under the rabbinical supervision of the Orthodox Union, with Rabbi Shlomo Machlis as the on-site supervisor.
Lessing's will offer hot and cold healthy options including vegetarian and low fat selections. Nutritional information will be available on the website and in the cafeteria. "Grab and Go" items, including salads, sandwiches, snacks and beverages, will be offered in the cafeteria and in Skyline Drive.
During a transition period – Monday, February 6, through Friday, February 10 – the cafeteria will operate with limited services. The cafeteria will offer continental breakfast items and beverage service from 8:00 a.m. to 11:00 a.m.; cold lunch "Grab and Go" sandwiches, salads and snack items, coffee and a full beverage selection from 11:30 a.m. to 2:00 p.m. Catering will be provided on request with limited cold service items for breakfast and lunch including wraps, sandwiches, and salads.
Starting on Monday, February 13, the cafeteria will officially open for full hot and cold breakfast and lunch service including a full selection of "Grab and Go" items. Initially the hours of operation will be 8:00 a.m. to 11:00 a.m. for breakfast and 11:30 a.m. to 2:00 p.m. for lunch.
Hot and cold services items for breakfast and lunch will be offered for catering services. Catering requests may be sent via email to nymc@lessings.com.

Additional enhancements are expected to take place in the future including expanded hours, online menus and catering order forms, comments and suggestions via the website, enhanced "Grab and Go" selections, a meal plan offering, and the establishment of a food service committee composed of students, faculty and staff to provide feedback on the food and service.

"Lessing's was selected after an extensive competitive proposal process, with input from students, faculty and staff. I am confident Lessing's will provide the best combination of experience, quality and value and I look forward to working with them to ensure the dining satisfaction of the New York Medical College community," said Michael Rogovin, vice president of operations. "Please join me in welcoming Lessing's to our campus." Stay tuned for more information on the food services website and additional amenities.