School of Medicine Class of 2018 Embarks on their Clinical Years
Gold Humanism Honor Society hosted the Student Clinician Ceremony on June 29 for the Class of 2018 as they prepare to begin their clerkships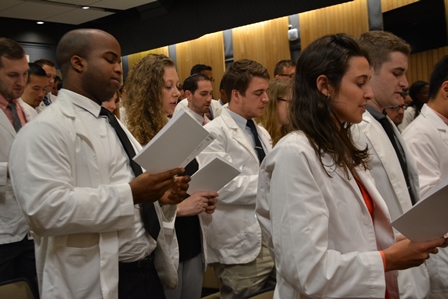 The NYMC Chapter of the Gold Humanism Honor Society hosted the Student Clinician Ceremony on June 29 for the Class of 2018 as they prepared to begin their clerkships. The ceremony is designed to be a transitional experience to provide guidance, information and support to medical students beginning their clinical years. It aims to address some of the anxiety felt by students entering their clerkships and underscores the challenges and imperatives to providing humanistic care to patients at the same time as they are pressed to demonstrate high standards of skill performance. View the Student Clinician Ceremony photo gallery here.
Joanna C. Pessolano, M.D., assistant professor of obstetrics and gynecology and site director for ob/gyn at Westchester Medical Center and Richmond University Center gave an inspirational keynote address and offered some advice to the class, " Remember that you are a remarkable person—be proud—and remember that you are a lucky person—be humble."
She also addressed the issue of patient safety and referred to a May 3, 2016 New York Times headline, "Medical Errors May Cause Over 250,000 Deaths a Year." "This headline news was not news at all," Dr. Pessolano said. "Estimates of preventable medical error were first published in 1999 in the Institute of Medicine report To Err is Human. Between 200,000 and 400,000 patients die each year in U.S. hospitals from preventable medical errors.
"I believe being a humanistic physician going forward must include awareness of this issue and activism on your part to move this number down. Use the humanistic qualities that brought you to medical school and that we are celebrating in these residents today and combine those qualities with an awareness of this larger problem and the skills you are learning. Become a force in the patient safety movement.
"Remember as you start the clinical years next week: use your privilege, use your access and use your power to become the leader that your patients deserve and the kind of safe provider that you would want for your family," Dr. Pessolano told the Class of 2018.
The Class of 2018 then took a student oath to acknowledge the responsibilities of the medical profession and their willingness to assume such obligations providing a private moment of reflection and a public acceptance of these values.
The ceremony concluded with the presentation of the Gold Foundation's Humanism and Excellence in Teaching Awards to six residents selected by the outgoing third-year class for their demonstration of commitment to teaching and compassionate treatment of patients and families, students and colleagues. This year's honorees were: Christopher W. Meaden, M.D., M.S., Department of Emergency Medicine, Saint Joseph's Regional Medical Center; Jennifer Stark, D.O., Department of Surgery, Saint Joseph's Regional Medical Center; Juan Carlos Geronimo, M.D., Department of Surgery, Metropolitan Hospital Center; Joshua Feldman, D.O., Department of Internal Medicine, Westchester Medical Center; Praise Augustus-Cange, M.D., Department of Obstetrics and Gynecology, Westchester Medical Center; and Caroline Marchand, D.O., Department of Obstetrics and Gynecology, Richmond University Hospital.
The Class of 2018 also received a gift from the Class of 2017 in the form of a booklet offering survival tips and written reflections to help them become humanistic physicians who embody the principles of professionalism.