Dr. Neil Schluger Marks Milestone in Treating Pulmonary Disease in East Africa
EATI has Graduated 18 Specialists, Including Two Pediatric Pulmonologists and Two Physicians from Rwanda and Tanzania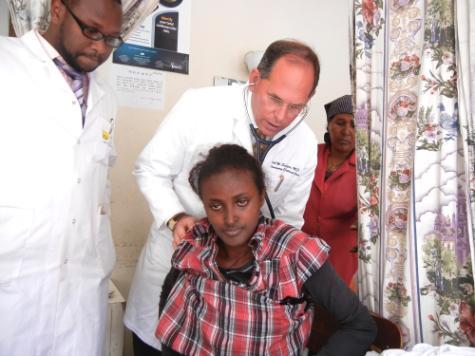 This February marked a milestone for Neil Schluger, M.D., the Barbara and William Rosenthal Chairman of the Department of Medicine and professor of medicine, as he traveled to Ethiopia to celebrate the 10th anniversary of the East African Training Initiative (EATI), which he founded with colleagues in 2013. The two-year fellowship training program in pulmonary and critical care medicine is the first training program of its kind in Ethiopia and the broader East African region. Before the launch of EATI, Ethiopia had only one pulmonologist for its 110 million people. To date, EATI has graduated 18 specialists, including two pediatric pulmonologists and two physicians from Rwanda and Tanzania, who have assumed leadership roles at hospitals across East Africa.
These achievements were celebrated at a symposium held in Addis Ababa in early February, in conjunction with the annual meeting of the Ethiopian Thoracic Society. Dr. Schluger addressed the symposium regarding the program's accomplishments, and a keynote speech marking the occasion was given by Dereje Duguma, M.D., M.P.H., the State Minister of Health for Ethiopia.
The EATI began with a meeting Dr. Schluger had in 2011 with Ataley Alem, M.D., of the Addis Ababa University College of Health Sciences. Dr. Alem was seeking a partnership for clinical training programs in several medical specialties, including pulmonary and critical care medicine. That meeting would lead Dr. Schluger to Ethiopia, a place he had never been before, and set in motion what would become an integral part of Dr. Schluger's academic career.
"The second most populous country in Africa, Ethiopia bears a huge burden from tuberculosis and chronic lung disease, that is driven by factors, such as indoor air pollution from solid fuels used for cooking, outdoor air pollution and occupational exposures," said Dr. Schluger. "The lack of a trained physician workforce was a critical impediment to assessing the burden of lung disease, to advising the government about the best ways to prevent and treat chronic respiratory illnesses and to provide advanced care to patients."
After securing funding for the program from both the global public health organization Vital Strategies and the Swiss Lung Foundation, Dr. Schluger and a team of physicians and public health officials developed the curriculum for training pulmonary critical care fellows based on the Accreditation Council for Graduate Medical Education standards. The goal was to develop a sustainable program with a boots-on-the-ground mindset and an all-volunteer faculty who would be onsite in Ethiopia at all times until a sufficient number of Ethiopian physicians had been trained. That goal has been accomplished.
"From its beginning, EATI was conceived as a true partnership and capacity-building program that sought not only to train outstanding pulmonary physicians but also to create in Ethiopia a faculty that would eventually assume day-to-day responsibility for the training program and lead the program into the future," said Dr. Schluger.
More than 50 volunteer pulmonary and critical care physicians representing 20 different medical institutions from the United States and Europe have donated their time and talent to the program. As a robust and clinically outstanding Ethiopian faculty has now been trained, there is much less need to send visiting physicians, though many remain engaged as research mentors and repeat visitors to teach advanced skills in pulmonary and critical care medicine.
The impact of the program thus far has been extensive. At Black Lion (Tikur Anbessa) Hospital, the largest public hospital in the country and its main teaching and referral center, advanced pulmonary services, such as bronchoscopy and pulmonary function testing are now available. More than 500 patients are seen monthly in the chest clinic. Medical ICU capacity has been substantially increased and critical care ultrasound is in wide use.
During the COVID-19 pandemic, graduates of EATI played a critical role in Ethiopia's response, helping to develop guidelines for care of critically ill patients and for prevention of disease, and staffing the COVID-19 specialty hospital in Addis Ababa.
An emphasis on research is also a particular focus of EATI, with the fellows annually presenting at international meetings and publishing 136 manuscripts and abstracts in peer-reviewed journals. In 2014, the Ethiopian Thoracic Society was formed and now collaborates with the Federal Ministry of Health to issue public health advisories on a range of concerns, including tuberculosis, the COVID-19 pandemic and national tobacco control legislation. The Center for Pulmonary and Critical Care Research in Ethiopia was established in 2019.
As EATI moves into its second decade, its future is bright, with plans to establish two additional adult pulmonary and critical care training programs and a new pediatric pulmonary training program. "The physicians trained through EATI have changed the landscape for patients with lung disease in Ethiopia," said Dr. Schluger. "In addition, we maintain robust research collaborations that will mutually benefit our colleagues and their patients in Ethiopia and provide opportunities for students and faculty at NYMC."