Expanded Disabilities Curriculum at New York Medical College Receives Enthusiastic Student Response
NYMC has a long history of incorporating disabilities awareness into its Foundations of Clinical Medicine course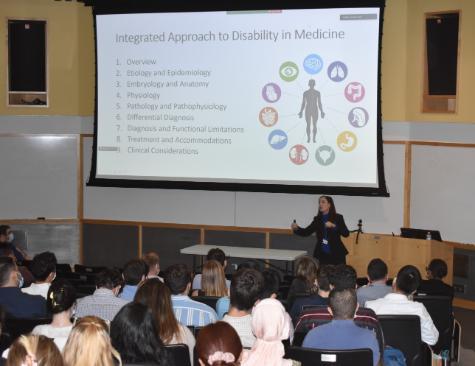 It is estimated that between 15 and 30 percent of people have some form of disability and that as people age, 80 percent will experience a disability – thus making the inclusion of disabilities awareness in medical school curriculum even more critical. While the American Medical Association (AMA) and Association of American Medical College (AAMC) have only recently issued formal statements urging that disability-related clinical care be part of the curriculum in all U.S. medical schools, New York Medical College (NYMC) has a long history of incorporating disabilities awareness into its Foundations of Clinical Medicine (FCM) course and has recently expanded its programming. Data has already demonstrated the extremely positive impact of this expanded Disabilities Core Curriculum (DCC) on NYMC medical students.
"Inherent in the definition of disability is a medical condition or experience. Having healthcare professionals who are knowledgeable and well prepared to help these individuals is the ideal, as opposed to the patients having to advocate for themselves and teach their physicians about their disability," says Kristina Petersen, Ph.D., assistant dean of academic support programs and assistant professor of biochemistry and molecular biology. "Patients don't tend to want to comply with a physician if they don't feel like the physician understands their needs. While each person's disability is unique, and so there are nuances, a physician should know what questions to ask to determine the exact needs of their patient. If we're not educating future physicians in these areas, then in some ways, we are remiss and are indirectly contributing to the perpetuation of health inequities that we know exist."
Disabilities awareness and inclusion is a topic that is much broader and more nuanced than most people think. "When you see a patient in a wheelchair or using a mobility device, you can readily identify them as someone who potentially has a disability and is using some sort of accommodation or aid. But what do you do as a physician when someone has a learning disability or a psychological disability that is less apparent? How do you identify and properly accommodate and provide treatment options for a non-apparent disability?" said Aitan Magence, M.D. '22, who will begin his residency in pediatrics at Westchester Medical Center (WMC) this summer.
It was during Dr. Magence's second year in the School of Medicine (SOM), while he was doing his preceptorship in the emergency room at WMC, that he first became aware of the importance of recognizing non-apparent disabilities in patients. "I encountered many children who had different disabilities, including autism spectrum disorder and attention deficit hyperactivity disorder (ADHD). Following the traditional patient encounter 'script', I initially found these experiences to be difficult and the more patients I saw in the emergency room and learned about the barriers and unique needs of these patients, the more I realized that there has to be a different approach that you take as a clinician when dealing with patients with disabilities. And so I reached out to Dr. Petersen and Jeanne Wilson, M.D., director of FCM, Phase 1 director of the new integrated curriculum and assistant professor of pediatrics, to see what could be done to incorporate more disabilities awareness into the curriculum."
For many years, there has been a disabilities awareness component for first-year students incorporated into the foundational courses at NYMC, which was initially spearheaded in the Introduction to Primary Care course by then course director Karen Edwards, M.D., M.P.H., professor in the Institute for Public Health, School of Health Sciences and Practice, adjunct assistant professor of pediatrics in the SOM and former co-director at the Westchester Institute for Human Development University Center for Excellence in Developmental Disabilities (WIHD UCEDD). One of the DCC first-year sessions, funded by the WIHD UCEDD's federal grant, incorporates a live question/answer session with patients from WIHD and their family members.
"There is no substitute for human interaction," says Megan Patton, SOM Class of 2025, "Talking to a person with a disability in this session opens the door to seeing that person as a person and not just a label - a person who has a life just like me, with interests, hobbies and goals."
"The FCM patient/family Q & A was a unique and invaluable experience," says Sarah Solomon, Class of 2024. "By providing direct interaction with persons with disabilities in the pre-clinical years, student doctors get an early introduction to a large population base they are likely to interact with in their future careers. Given the strict technical standards imposed by many medical schools, the population with disabilities is less represented within the medical profession. As such, it becomes even more pertinent that as future doctors we recognize this issue and prepare ourselves to better serve and advocate for this patient group."
Ironically the COVID-19 pandemic provided an opportunity to further enhance the curriculum. "Initially during COVID, we needed to transition to remote learning so we chose to take the opportunity to further enrich this portion of the curriculum by turning it into an asynchronous session and moving our guest patient sessions to Zoom. This opened the doors to including many more people (with disabilities) who may not have been able to travel to the college as when we did the sessions in person," said Dr. Wilson.
Over the last two years, the curriculum has expanded from being offered to just first-year medical students to now include second-, third- and fourth-year students and to incorporate a wide array of topics, including principles of universal design, apparent and non-apparent disabilities, inclusive language and communication, addressing bias and stigmatization, identifying functional limitations, barriers and accommodations, assistive technology and resources for physicians. Further curricular integration opportunities, such as standardized patient encounters and interprofessional education with the Touro College of Dental Medicine, are planned. The current curriculum has also incorporated a great deal of student input with Dr. Magence and Ms. Solomon playing a major part in the research and development of the clinical components in particular.
"While there have been previous attempts at developing disabilities curricula, the literature shows that when these curricula are incorporated under an anti-bias and cultural competency umbrella, they tend to be unsuccessful. While race, ethnicity, religion, gender and sexuality are certainly very important topics on their own, when aggregated together, they tend to overshadow the disabilities aspect. It was important for us that disabilities awareness and inclusion be a separate curricular thread," said Dr. Magence. "As its own unique 'disability as diversity' thread, students are able to appreciate the content and the nuances even more."
The response from SOM students, both quantitatively and qualitatively has been extremely positive. After completing the first-year curriculum, students reported a 440 percent increase in their ability to recognize patients with disabilities, a 330 percent increase in their ability to identify functional limitations and barriers, a 520 percent increase in identifying possible accommodations and a 140 percent increase in their ability to treat and care for patients with disabilities.
"In the reflective essays students completed at the end of the sessions, it was clear that the combination of the curriculum and case-based exercises helped them appreciate, as a future physician, the extreme importance of understanding the perspective and the life experience of the person sitting in front of you, the barriers they encounter, what their plans are, what their dreams are and not to assume that a person with a disability doesn't have those plans or dreams," said Dr. Edwards.
"The curriculum really allowed me to gain a better understanding of the experiences that persons with disabilities have as they're navigating the health care system. It also allowed me to reflect on any unconscious biases or perceptions that I may have had and to understand the ways in which I could potentially address these barriers in the future as a medical student and also as a future physician," said Cindy Peraza, SOM Class of 2025.
"The experience helped me a lot when I see patients with disabilities in the hospital to better understand what they might be going through," said Juliet Jacobsen, M.D. '22. "In an office with a patient, we see such a small part of their life and you don't realize the whole struggle they've had by the time they get to you. To hear about the things they struggle with was really important because everybody comes with their own story."
"During transition to fourth year, we had a pretty extensive lecture on non-apparent disabilities. I remember that there was a pre-quiz and I got multiple questions wrong," said Bracha Abraham, M.D.'22. "I was very surprised that what I had never considered to be a disability were actually disabilities and really affect the day-to-day lives of patients. This is such an important curriculum to continue to develop. It will open the eyes of medical students to areas that they weren't aware of, and as physicians, enable them to provide better care for their patients."
Even in medical school admissions, NYMC has been a leader in disabilities awareness and inclusion. Fern Juster, M.D., former SOM dean of admissions and a content specialist for the DCC, was responsible for trailblazing and implementing a more inclusive and holistic admissions process for the SOM, as highlighted by an article in Academic Medicine. The tone set by Dr. Juster opened the doors for a Disabilities Inclusion Task Force to revise the NYMC Technical Standards in 2020, ensuring that the standards were presented clearly, while also using inclusive language.
While the disabilities awareness curriculum has experienced notable success to date, Dr. Petersen emphasized this is just the beginning. Plans are underway to expand it to encompass residents as well.
"I've worked a lot with children with disabilities. In talking with their parents, I've heard about some negative experiences that they had with physicians, either not believing them about their child's needs or the best way to care for their child. It was mind blowing to me to think that physicians are alienating these families who represent such a significant part of the patients that we will serve. That's why I think it is so important that this education start at the medical school level and continue on," said Michelle Klausner, SOM Class of 2025, who, along with Ms. Patton, will work to develop the program components for the residency curriculum this summer.
"When I was interviewing for residency, there were many residency program directors who were very interested in our curriculum, which I recently had the privilege to present at the 2021 AMA Research Challenge along with Jordana Gross, M.D. '22. Residency interviewers were very excited about the curriculum and learning about how they could incorporate it into their programs once it is published," said Dr. Magence.
With the launch of the new SOM curriculum to begin this August, there are also plans to take a more integrated, universal design approach going forward.
"I see many opportunities within the new curriculum to find really meaningful ways to not only incorporate what we have in the current preclinical disabilities awareness curriculum, but also to expand upon it," says Dr. Wilson. "Patients come with all different stories and different disabilities, some apparent and some not, and so we want to represent them when we're doing standardized patient encounters. We want it to be integrated throughout the curriculum, so it's not just a one-off session here and there, but it's worked into all the thought processes that we have as clinicians. So that, as clinicians, it's not just 'Okay, here's your prescription and have a nice day,' but we think about how this illness affects our patient tomorrow and the next day, affects them getting to school or work, and doing everything they want to do."
"When we learn about a disease, we talk about the overview of the disease, the etiology and epidemiology, the pathology and pathophysiology, and sometimes even the anatomy and embryology of it. And eventually we get down to the diagnosis and treatment. But part of universal design is that we should also be asking: what are the functional limitations of this disease? And then, how could we accommodate that patient? What assistive technology is available for someone who has diabetes? What kind of ways can we support them? Any disease or disorder that impairs major life activities can be considered a disability. Being able to look at the person as a whole human being, that is the universal design approach, and that is what we are hoping will be the ultimate outcome of this curriculum," said Dr. Magence. "NYMC has always been an institution that not only embraces and embodies the values of diversity, equity and inclusion, but actively pioneers positive change in these fields. And the Disabilities Core Curriculum is an excellent example of that."