Golfers Gathered to Honor Chair of Orthopaedic Surgery David E. Asprinio, M.D, and Raised More than $185,000
Guests Enjoyed Their Time On The Links At The Second Annual Golf Outing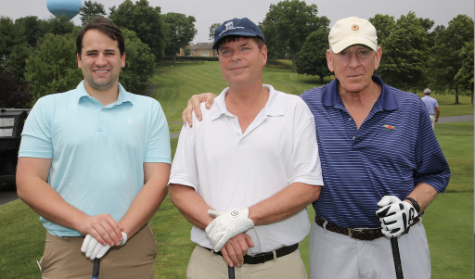 David E. Asprinio, M.D., chair and professor of clinical orthopaedic surgery at the 2022 Golf Outing and Reception
More than 130 members of the New York Medical College (NYMC) community gathered for an enjoyable day on the course at the 2022 Golf Tournament and Reception at Saint Andrew's Golf Club, in Hastings-On-Hudson, New York, on June 27. The tournament honored David E. Asprinio, M.D., chair and professor of clinical orthopaedic surgery for years of support and dedication to the College while raising more than $185,000 for student scholarships and the expansion of the Clinical Skills and Simulation Center.
The light rain did not dampen the sporting spirit of the day, as members of NYMC leadership, alumni, students, colleagues and friends joined Dr. Asprinio for a day of golf with some help from professional golfer Mathias Grönberg.
A reception followed to celebrate Dr. Asprinio for his dedication and commitment to patients and their families. With 22 years of experience as orthopaedic trauma surgeon and orthopaedic spine surgeon, Dr. Asprinio has served as department chair and program director of clinical orthopaedic surgery for 16 years. Dr. Aspirino also serves as co-director of the orthopaedic trauma fellowship shared between The Hospital for Special Surgery and Westchester Medical Center.
"We join in celebrating an exceptional and thoughtful clinician, a gentleman, a loyal supporter of the college, a father, son and a husband; and my doctor," said Edward C. Halperin, M.D., M.A., chancellor and chief executive officer.
"The outing was successful in raising funds for the College and was a great opportunity for the NYMC community to be together," said Jerry Volk, director of philanthropic activities in the Office of Alumni Relations and Development. "Dr. Asprinio is very deserved to be honored."
"The golfing was terrific and the reception was outstanding," said Martin Katzenstein, M.D. '78, associate professor of pediatrics and chair of the Board of Advisors at NYMC, who chaired the event, "The camaraderie among colleagues, friends and family was a testament to the NYMC community."