NYMC and TCUS Host 11th COVID-19 Symposium
New York Medical College (NYMC) and Touro and College and University System (TCUS) continued the series on COVID-19 with its 11th symposium via a webinar on April 8.
https://youtu.be/E6QjyDy5p0Y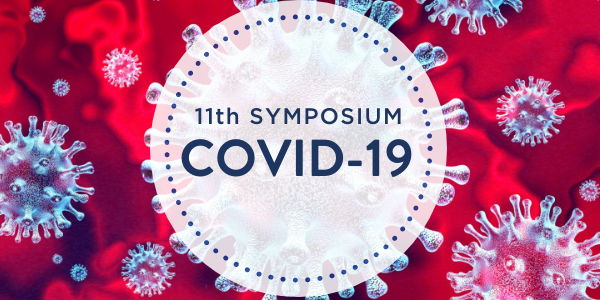 11th COVID Symposium

Nearly 500 participants registered to learn about the latest updates on COVID-19 including the progress made and the latest concerns. Edward C. Halperin, M.D., M.A., chancellor and chief executive officer of NYMC and provost for biomedical affairs at TCUS, moderated the program and reflected on the first symposium in January 2020.
"Fourteen months is not only chronological long time ago but intellectually it seems like it is a world away," Dr. Halperin said referring to the time when the world was just learning about RNA and encapsulated viruses while exploring if masks would be efficacious and the virus could be destroyed with soap and warm water.
"Now more than one year later and half a million American deaths later, we are talking about vaccines, public health problems, matters of public policy and how to manage patients in the intensive care unit," Dr. Halperin said.
Robert Amler, M.D., M.B.A,, dean of the School of Health Sciences and Practice and vice president for government affairs, presented "What is Herd Immunity and How Will We Know If We've Reached It?" He explained the concept of herd immunity as a high proportion of immunity so there is almost no opportunity for transmission. However, the threshold of herd immunity is much more complex and depends on contagiousness, contact rates, homogeneity and the R0 (pronounced R naught) factor of the virus, a mathematical model used to indicate how contagious an infectious disease is and the average number of people who will contract a disease from one contagious person.
The symposium turned to another topic on the mind of many parents, "What is the Right Approach to the Operation of K-12 Schools in the Pandemic?" presented by Tami Hendriksz, D.O., professor and associate dean of academic affairs, Touro University California College of Osteopathic Medicine. She spoke on the risk of children contracting COVID-19 from school versus children missing out on instructional education due to school closures. Dr. Hendriksz stressed the importance of the fundamental support schools provide to the development and wellbeing of children including academics, nutrition, safety, health and mental health services, social skills, therapies including physical therapy and speech-language and an opportunity for physical activity. Noting an increase in childhood obesity, depression and anxiety during the pandemic and the widening of educational disparities during virtual learning, Dr. Hendriksz recommended treating school as an essential activity and implementing mitigation strategies to open schools safely.
Ronald Matten, M.P.A., associate vice president of facilities management and capital planning, shared his expertise in his presentation, "What Can Be Done with Building Air Handling Systems to Reduce Viral Spread?" Mr. Matten addressed mitigation strategies for building air handler systems including using 100 percent outside air, indoor air filtration, UVC radiation, keeping occupants away from supply diffusers and providing ideal air changes per hour based on room use.
A presentation on "SARS-CoV-2 Variants: Clinical and Public Health Implications" by infectious disease specialist Marisa Montecalvo, M.D., professor of medicine and director of health services, followed. She discussed how variants emerge, the difference between variants of interest and variants of concern and how variants are detected by genome sequencing used for public health surveillance. "It's a race of herd immunity versus variants," Dr. Montecalvo said. "The presence of variants underscores the need to proceed aggressively with vaccination and to continue public health measures such as face masks and physical distancing until this is better defined."
Hussein Matari, M.D., professor of clinical radiology and chief of radiology at NYC Health + Hospitals/Metropolitan, presented "A Primer on the Diagnostic Imaging of COVID-19." Dr. Matari explained the value of CT is limited in the diagnosis of COVID-19 and radiologic imaging should be used as a supplement, not the primary method of diagnosis. "COVID-19 is a systemic disease with radiological manifestations in multiple organ systems," he said.
The symposium was rounded out with a presentation, "What is Vaccine Hesitancy and What Can Be Done About It?" by Mill Etienne, M.D. '02, M.P.H. FAAN, FAES, vice chancellor for diversity and inclusion, associate dean of student affairs and associate professor of neurology and of medicine, who also serves as the head of the Health Equity Task Force for COVID-19 Vaccine Distribution in the Hudson Valley. He defined vaccine hesitancy as the delay in acceptance or refusal of vaccines despite the availability and described vaccine hesitancy by Black, Indigenous or People of Color (BIPOC) because of their lack of trust in science, research institutions and government, as well as experiences of discrimination in health care. Dr. Etienne advised that institutions distributing the vaccine must be trustworthy and transparent, must engage and educate their communities and use appropriate language. He also explained the importance of explaining how the BIPOC community was involved in the research and development of the vaccines.
A robust question and answer session was hosted by Alan Kadish, M.D., president of NYMC and TCUS, concluded the symposium.
https://youtu.be/E6QjyDy5p0Y