NYMC Faculty Named Top Docs by Westchester Magazine
The list was compiled through Castle Connolly Medical Ltd., an independent healthcare research company.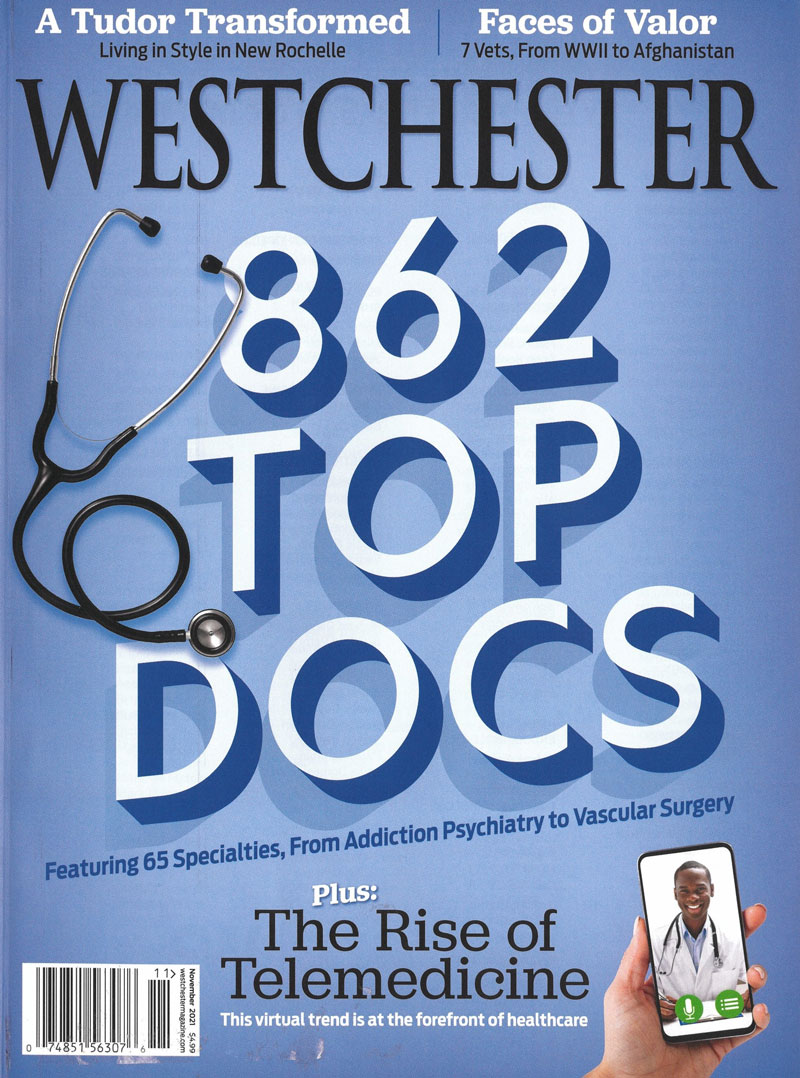 NYMC was well represented in Westchester Magazine's Top Doctors of 2021 listing. "Our faculty's accomplishments as clinicians and educators make them wonderful role models for our students and an invaluable part of the medical education experience at NYMC. As dean, I am very proud to work alongside such accomplished physicians to advance NYMC forward as we prepare the outstanding physicians of tomorrow," said Jerry L. Nadler, M.D., MACP, FAHA, FACE, dean of the School of Medicine and professor of medicine and pharmacology.
Stephen Adler, M.D., Professor of Medicine
Scott I. Afran, M.D., Clinical Assistant Professor of Ophthalmology
Brij S. Ahluwalia, M.D., Professor of Neurology
Tauseef Ahmed, M.D., Professor of Medicine
Fawaz Al-Mufti, M.D., Associate Professor of Neurology
Robin L. Altman, M.D., Professor of Pediatrics
Nikhil S. Amin, M.D., Clinical Associate Professor of Pediatrics
Margaret M. Andersen, M.D., Clinical Assistant Professor of Medicine
Iyad Annabi, M.D., Clinical Assistant Professor of Family & Community Medicine
Marc Seth Arkovitz, M.D., Clinical Associate Professor of Surgery
Nina Arlievsky, M.D., Clinical Associate Professor of Pediatrics
Andrew Ashikari, M.D., Clinical Associate Professor of Surgery
Lawrence J. Baskind, M.D., Clinical Assistant Professor of Pediatrics
Judd Boczko, M.D., Clinical Assistant Professor of Urology
Scott D. Bookner, M.D., Clinical Assistant Professor of Pediatrics
John G. Bortz, M.D., Clinical Associate Professor of Ophthalmology
Howard E. Bostwick, M.D., Assistant Professor of Pediatrics
Joseph T. Boyer, M.D., Associate Professor of Pediatrics
Cristian Brotea, M.D., Instructor of Orthopaedic Surgery
Heather L. Brumberg, M.D., M.P.H., Professor of Pediatrics
Mitchell Stuart Cairo, M.D., Professor of Pediatrics
Maria Francesca Capparelli, M.D., M.S., Clinical Associate Professor of Medicine
Stere D. Carniciu, M.D., Ph.D., Clinical Assistant Professor of Family & Community Medicine
Christine E. Carosella, M.D., Assistant Professor of Medicine
Dipak Chandy, M.D., Professor of Medicine
Chun Peng Chao, M.D., Assistant Professor of Pediatrics
Howard C. Charles, M.D., Clinical Assistant Professor of Ophthalmology
Bennie W. Chiles, M.D., Clinical Assistant Professor of Neurosurgery
Caroline Jessica Co Cho, M.D., Clinical Assistant Professor of Pediatrics
Muhammad S. Choudhury, M.D., Professor of Urology
Margaret A. Collins, M.D., Clinical Assistant Professor of Pediatrics
Michael A. Contillo, M.D., Clinical Assistant Professor of Medicine
Barbara Jane Coven, M.D., Clinical Assistant Professor of Pediatrics
Stephen Cowan, M.D., Clinical Assistant Professor of Family & Community Medicine
Robert L. Cristofaro, M.D., Clinical Associate Professor of Orthopaedic Surgery
Lianne Marie de Serres, M.D., Clinical Associate Professor of Otolaryngology
Lawrence J. DeLorenzo, M.D., Professor of Medicine
Yasmin Dhar, M.D., Clinical Assistant Professor of Orthopaedic Surgery
Allen J. Dozor, M.D., Professor of Pediatrics
Alyssa Dweck, M.D., Adjunct Assistant Professor of Obstetrics & Gynecology
Brad M. Dworkin, M.D., Professor of Medicine
Lori L. Dyer, M.D., Clinical Associate Professor of Urology
Oleg Epelbaum, M.D., Clinical Associate Professor of Medicine
Markus Erb, M.D., Assistant Professor of Pediatrics
A Majid Eshghi, M.D., Professor of Urology
Andrew Michael Fader, M.D., Clinical Assistant Professor of Medicine
Renee Garrick, M.D., Professor of Clinical of Medicine
Alan Gass, M.D., Professor of Medicine
Elena E. Gazzola-Kraenzlin, M.D., Clinical Assistant Professor of Pediatrics
Bindu Ann George, M.D., Assistant Professor of Pediatrics
Perry S. Gerard, M.D., Professor of Radiology
Suzette T. Gjonaj, M.D., Assistant Professor of Pediatrics
Joshua Benjamin Goldberg, M.D., Assistant Professor of Surgery
Michael D. Goldberg, M.D., Clinical Associate Professor of Medicine
Diana Goldenberg, M.D., M.P.H., Clinical Assistant Professor of Medicine
William Anthony Gomes, M.D., Ph.D., Associate Professor of Radiology
Gayotri Goswami, M.B.B.S., Clinical Associate Professor of Medicine
Scott A. Gottesfeld, M.D., Clinical Assistant Professor of Medicine
Arun Goyal, M.D., Assistant Professor of Surgery
Richard H. Greif, M.D., Clinical Assistant Professor of Medicine
Cara I. Grimes, M.D., M.A.S., Associate Professor of Obstetrics & Gynecology
Michael Halata, M.D., Associate Professor of Pediatrics
Virany H. Hillard, M.D., Associate Professor of Neurosurgery
Jillian L. Hochfelder, M.D., Assistant Professor of Pediatrics
Christine Hom, M.D., Clinical Assistant Professor of Pediatrics
Howard Strong Kornstein, M.D., Adjunct Assistant Professor of Ophthalmology
Marc A. Horowitz, M.D., Clinical Assistant Professor of Ophthalmology
Katherine E. Hough, M.D., Clinical Assistant Professor of Pediatrics
Haeyoung Ko Hwang, M.D., Clinical Assistant Professor of Pediatrics
Henry Joseph Issenberg, M.D., Associate Professor of Pediatrics
Sei Iwai, M.D., Professor of Medicine
Marilyn Forman Jacobowitz, M.D., Clinical Assistant Professor of Medicine
Jason T. Jacobson, M.D., Associate Professor of Medicine
Ronald I. Jacobson, M.D., Clinical Associate Professor of Pediatrics
Diwakar Jain, M.D., Professor of Medicine
Devon George John, M.D., Assistant Professor of Surgery
Harriet Kang, M.D., Adjunct Assistant Professor of Pediatrics
Aromma Kapoor, M.D., Assistant Professor of Medicine
Jordan Kase, M.D., Clinical Professor of Pediatrics
Laura Beth Katz, D.O., Assistant Professor of Pediatrics
Erin K. Kelleher, M.D., Instructor of Pediatrics
Victor Khabie, M.D., Clinical Assistant Professor of Orthopaedic Surgery
Paul Hyunychul Kim, M.D., Clinical Assistant Professor of Medicine
Michael D. Klein, M.D., J.D., Associate Professor of Medicine
Orest J. Kozicky, M.D., Clinical Assistant Professor of Medicine
Sankaran Sivarama Krishnan, M.D., M.P.H., Associate Professor of Pediatrics
Douglas Lee Krohn, M.D., Clinical Assistant Professor of Pediatrics
David F. Kronn, M.D., Associate Professor of Pediatrics
Edmund F. La Gamma, M.D., Professor of Pediatrics
Tali Lando, M.D., Assistant Professor of Clinical of Otolaryngology
David Lans, M.D., Clinical Assistant Professor of Medicine
Igor Laskowski, M.D., Ph.D., Associate Professor of Surgery
Rifat Latifi, M.D., Professor of Surgery
Edward Lebovics, M.D., Professor of Medicine
Zvi Lefkovitz, M.D., Professor of Radiology
Elliot Jay Levine, M.D., Clinical Assistant Professor of Medicine
Delong Liu, M.D., Ph.D., Professor of Medicine
Daniel George Lorch III, M.D., Clinical Assistant Professor of Medicine
Leif Cameron Lovig, M.D., Assistant Professor of Pediatrics
Diana Lowenthal, M.D., Assistant Professor of Pediatrics
Howard J. Luks, M.D., Assistant Professor of Orthopaedic Surgery
Shekher Maddineni, M.D., Clinical Associate Professor of Radiology
Anthony Maffei, M.D., Assistant Professor of Surgery
Richard Martin Magill, M.D., Assistant Professor of Orthopaedic Surgery
Ramin Malekan, M.D., Clinical Associate Professor of Surgery
Wendy Ann Manowitz, M.D., Clinical Assistant Professor of Pediatrics
Romeo B. Mateo, M.D., Assistant Professor of Surgery
Premila Maria Mathews, M.D., Clinical Assistant Professor of Medicine
Christopher James Mattern, M.D., M.B.A., Clinical Assistant Professor of Orthopaedic Surgery
Gerald Matthews, M.D., Clinical Associate Professor of Urology
Stephan A. Mayer, M.D., Professor of Neurology
Ari Lawrence Mayerfield, M.D., Instructor of Surgery
Heather Andrea McGowan, M.D., Clinical Assistant Professor of Pediatrics
Heather C. McKee, M.D., Clinical Assistant Professor of Ophthalmology
Hasit Mehta, M.D., Clinical Associate Professor of Radiology
David M. Merer, M.D., Assistant Professor of Otolaryngology
Caroline Ms Moon, M.D., Instructor of Pediatrics
Harish Moorjani, M.D., Clinical Assistant Professor of Medicine
Chitti R. Moorthy, M.D., Professor of Clinical of Radiation Medicine
Donna E. Morrison, M.D., Clinical Assistant Professor of Medicine
Carrie Rebecca Muh, M.D., Associate Professor of Neurosurgery
Marcia J. Nackenson, M.D., Clinical Associate Professor of Pediatrics
John C. Nelson, M.D., Assistant Professor of Medicine
John M. Nelson Jr, M.D., Instructor of Orthopaedic Surgery
Sheila Margaret Nolan, M.D., Assistant Professor of Pediatrics
Richard A. Noto, M.D., Assistant Professor of Pediatrics
Mehmet F. Ozkaynak, M.D., Professor of Pediatrics
Shireen Andrade Pais, M.D., Associate Professor of Medicine
Julio A. Panza, M.D., Professor of Medicine
Boriana Parvez, M.D., Associate Professor of Pediatrics
John L. Phillips, M.D., Professor of Urology
Allison Platt, M.D., Clinical Assistant Professor of Pediatrics
Seth David Potash, M.D., Clinical Assistant Professor of Ophthalmology
Tana Pradhan, D.O., Clinical Associate Professor of Obstetrics & Gynecology
Priya Shalini Prashad, M.D., M.Sc.E., Assistant Professor of Pediatrics
Meredith Brooke Prevor-Weiss, M.D., Clinical Assistant Professor of Ophthalmology
Xin Quan, M.D., Clinical Assistant Professor of Rehabilitation Medicine
John T. Raffalli, M.D., Clinical Associate Professor of Medicine
Alicia Romano, M.D., Clinical Associate Professor of Pediatrics
Michael H. Rosenberg, M.D., Clinical Assistant Professor of Surgery
Richard Allen Rosencrantz, M.D., Clinical Associate Professor of Pediatrics
Grigory Rozenblit, M.D., Professor of Radiology
Marian Russo, M.D., Clinical Assistant Professor of Dermatology
Dmitry V. Samsonov, M.D., Assistant Professor of Pediatrics
Marilyn Marie Scharbach, M.D., Assistant Professor of Pediatrics
Jennifer Ann Scherr, M.D., Clinical Assistant Professor of Pediatrics
Todd Jay Schiffer, M.D., M.S., Clinical Assistant Professor of Pediatrics
Alan B. Schliftman, M.D., Clinical Professor of Medicine
Karen P. Seiter, M.D., Professor of Medicine
Jessica Christian Sessions, M.D., Clinical Assistant Professor of Pediatrics
Jennifer Lori Sevush, M.D., Clinical Assistant Professor of Neurology
Krishn Martin Sharma, M.D., Clinical Assistant Professor of Orthopaedic Surgery
Subhadra Ayyagari Siegel, M.D., M.A., Assistant Professor of Pediatrics
Lawrence J. Sigler, M.D., Clinical Assistant Professor of Urology
Alan Slater, M.D., Clinical Assistant Professor of Medicine
Daniel M. Spevack, M.D., Clinical Professor of Medicine
David Spielvogel, M.D., Professor of Surgery
Rand J. Stack, M.D., Clinical Assistant Professor of Radiology
John R. Stafford, Jr., M.D., Clinical Assistant Professor of Pediatrics
Mitchell Brian Stein, M.D., Clinical Assistant Professor of Ophthalmology
Abhay Dhand, M.D., Associate Professor of Medicine
Amir Steinberg, M.D., Associate Professor of Medicine
Katrina Ruth Stidham, M.D., Associate Professor of Otolaryngology
Richard F. Strongwater, M.D., Clinical Assistant Professor of Family & Community Medicine
Howard Tarkin, M.D., Clinical Assistant Professor of Medicine
Joseph J. Tartaglia, M.D., Clinical Assistant Professor of Medicine
Sean Shaheen Tedjarati, M.D., M.P.H., M.B.A., Clinical Professor of Obstetrics & Gynecology
Deborah Vinnick Tesler, M.D., Clinical Assistant Professor of Pediatrics
Robert John Timmermans, M.D., Assistant Professor of Medicine
Michael Tobias, M.D., Assistant Professor of Neurosurgery
Nadav Traeger, M.D., Associate Professor of Pediatrics
Oya L. Tugal, M.D., Professor of Pediatrics
Margaret E. Vaughan, M.D., Clinical Assistant Professor of Medicine
Gregory R. Veillette, M.D., Assistant Professor of Surgery
Stephen Warshafsky, M.D., Clinical Associate Professor of Medicine
Tracey Lee Weigel, M.D., Clinical Professor of Surgery
Jay M. Weissbrot, M.D., Clinical Assistant Professor of Pediatrics
David Stephenson Wellman, M.D., Assistant Professor of Orthopaedic Surgery
John Welter, M.D., Assistant Professor of Pediatrics
Michael Alan Werner, M.D., Instructor of Urology
Ellen M. Whalen, M.D., M.S., Clinical Assistant Professor of Pediatrics
David C. Wolf, M.D., Professor of Medicine
Steven Marc Wolf, M.D., Clinical Professor of Pediatrics
Gary P. Wormser, M.D., Professor of Medicine
Daren Wu, M.D., Clinical Assistant Professor of Family & Community Medicine
Carol L. Wurzel, M.D., Clinical Assistant Professor of Pediatrics
Shick H. Yu, M.D., Assistant Professor of Medicine
Steven B. Zabin, M.D., Clinical Associate Professor of Ophthalmology
Gerald Zaidman, M.D., Professor of Clinical of Ophthalmology
William Zarowitz, M.D., Clinical Assistant Professor of Medicine
Daniel Zelazny, M.D., Assistant Professor of Orthopaedic Surgery
Steven B. Zelicof, M.D., Ph.D., Professor of Clinical of Orthopaedic Surgery
Steven A. Hemmerdinger, M.D., Assistant Professor of Otolaryngology
Paul Frederick Zelkovic, M.D., Clinical Associate Professor of Urology
Franklin H. Zimmerman, M.D., Clinical Assistant Professor of Medicine