NYMC Forms Academic Affiliation with St. Mary's General Hospital and Saint Clare's Hospitals
NYMC Designates St. Mary's and Saint Clare's as Teaching Sites for Residency Programs in Internal Medicine and Psychiatry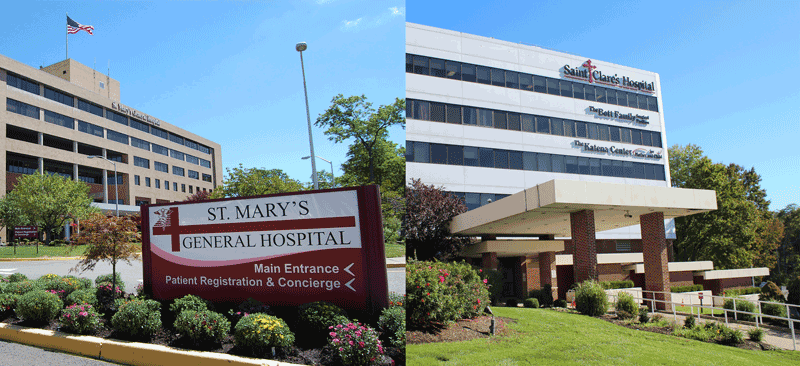 New York Medical College (NYMC) formed a new academic affiliation with New Jersey hospitals St. Mary's General Hospital in Passaic and Saint Clare's Hospitals in Denville and Dover, which designates the hospitals as primary clinical sites for the education of NYMC residents. The NYMC sponsorship includes residency programs in internal medicine and psychiatry and further enhances NYMC's extensive network of affiliated hospitals and clinical sites that encompasses more than 25 affiliates, across four states—New York, New Jersey, Connecticut and Rhode Island.
"At NYMC, we are proud to expand residency training to high-quality sites, such as St. Mary's General Hospital and Saint Clare's Hospitals, where residents and program faculty strive to serve their communities," said Jennifer Salcedo, M.D., M.P.H., M.P.P, FACOG, designated institutional official and associate professor of obstetrics and gynecology at NYMC. "Working with the leadership and clinicians of these hospitals expands opportunities for collaboration between our NYMC-sponsored programs for the benefit of learners and patients in our evolving healthcare system."
During residency, medical school graduates with a doctor of medicine (MD) degree continue their medical training in a specialized field at a healthcare facility, providing direct care to patients, including diagnosing, managing and treating health conditions and injuries.
Serving the Passaic, Bergen, Essex and Hudson County areas for more than 125 years, St. Mary's is a nationally recognized 293-bed acute-care hospital that specializes in cardiovascular services, a comprehensive program for cancer care, both inpatient and outpatient behavioral health services and is a center of excellence for maternal-child health.
Serving Morris, Sussex and Warren Counties, Saint Clare's Health is comprised of a network of hospitals and healthcare facilities, including the hospitals in Denville and Dover, and has been the trusted provider of healthcare for more than 125 years. Saint Clare's Health is nationally recognized in advanced cardiac care, a certified primary stroke center, Morris County's first accredited Comprehensive Center for Bariatric Surgery, as well as offers the most comprehensive behavioral health services in Northern New Jersey.
The hospitals are members of the Prime Healthcare System, which has been lauded as a "Top 15 Health Systems" by Truven Health Analytics. Prime Healthcare sought out NYMC for this affiliation after witnessing the exceptional quality of NYMC's undergraduate medical education program and graduate residency and fellowship programs through NYMC's affiliation with Saint Michael's Medical Center in Newark, New Jersey, and Landmark Medical Center in Woonsocket, Rhode Island, which are also members of Prime Healthcare.
"I truly believe that incorporating education to our advanced medical care at our hospital only elevates what we do as a healthcare institution to the community we serve," said Edward J. Condit, president and chief executive officer of St. Mary's General. "Our new sponsorship by a respected school such as NYMC, will only enhance the quality of care we provide each of our patients."
"The successful and growing partnership between NYMC and Saint Clare's Health demonstrates the critical importance of collaboration to strengthen and expand the education of our physicians," stated Brian Finestein, chief executive officer of Saint Clare's Health. "We are proud to know this program is based-upon and ensures a continued foundation of excellence, securing the highest quality of care to all patients."