NYMC Takes Hard Hat Tour of Ellis Island
NYMC group toured the historic unrestored Ellis Island Hospital complex that operated from 1902 until 1930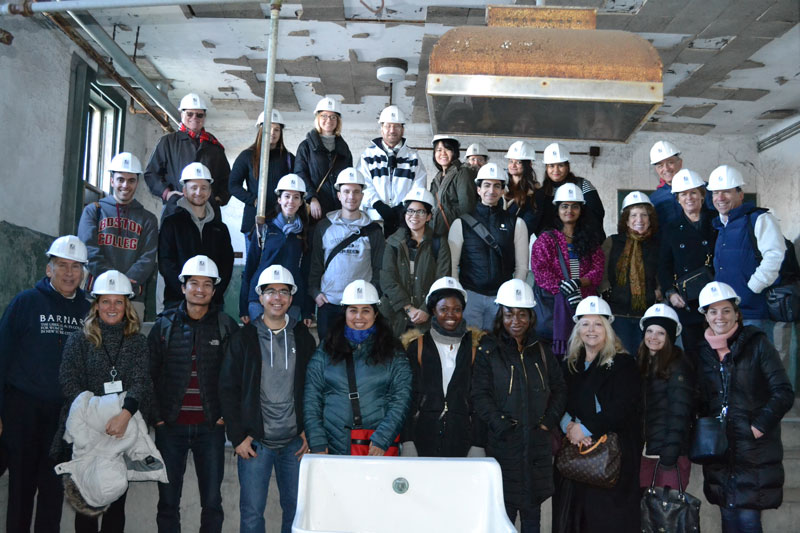 Students from the New York Medical College (NYMC) School of Medicine (SOM), Graduate School of Basic Medical Sciences (GSBMS), the School of Health Sciences and Practice (SHSP) and the Touro College of Dental Medicine at NYMC, along with leadership and faculty, took a hard hat behind the scenes tour of Ellis Island, on November 4, getting a glimpse of what it may have been like for some of the more than 12 million immigrants who passed through the United States' busiest immigrant inspection station.
Chancellor and Chief Executive Officer Edward C. Halperin, M.D., M.A., and the group toured the historic unrestored Ellis Island Hospital complex that operated from 1902 until 1930. The visit included the infectious and contagious disease wards, kitchen facilities, laundry building, and mortuary and autopsy room, all of which played a vital role in preserving public health at the time. They also took in the "Unframed" art exhibit by renowned French artist JR, featuring historic black and white photos of Ellis Island immigrants appearing like ghosts in windows and doorways throughout the hospital complex.
"It was interesting to learn about the hospital mechanisms back in the 1900s, like how they maintained the air regulation to control infectious diseases and designed the architecture for containment," said Purvi Desai, an M.P.H. student in the SHSP.
"Between our tour guide's knowledgeable account and Dr. Halperin's ever insightful commentary, we could really get a sense of what the practice of medicine was like at Ellis Island, for the healthcare teams, and for the patients," said Brandon Pecchia, SOM Class of 2021. "It was also incredible to learn how structurally, technologically, and socially advanced the hospital was for its time."
"The most fascinating thing to me was learning that even in the early 1900s, health care services were given such high priority by the United States government to make sure that contagious diseases would not be spread. The innovative design, food preparation for patients, sanitation and laundry, and the impartial treatment of everyone were some of the highlights of the visit for me. It was impressive to learn that none of the health care workers contracted any of the diseases, demonstrating how safe medical practices were being carried out in the hospital," said Anish Maskey, a Ph.D. candidate in the GSBMS from Nepal. She also added, "As an international student at NYMC, interacting and making new friends from different programs was a great opportunity for me."