SHSP Student Lands Competitive Summer Internship
M.P.H. student, MegAnn McGinnis, SHSP Class of 2017, landed one of 28 internships awarded through the very competitive Health Resources and Services Administration summer program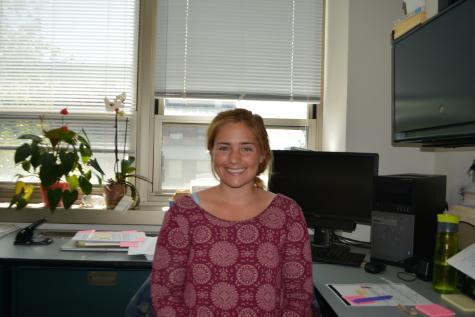 Often, it's the hiccup – or the unexpected – that defines and enriches the experience. And so it was for M.P.H. student, MegAnn McGinnis, SHSP Class of 2017, during her summer project with the Vermont Department of Mental Health, one of 28 internships awarded through the very competitive Health Resources and Services Administration summer program.
Ms. McGinnis arrived in Burlington, Vt. in late May to learn that her original assignment — to interview doctors for their feedback on a parental depression screening program that had been tested in their clinics — was on hold while the Institutional Review Board determined if it was acceptable for an intern to conduct the interviews.
Meanwhile, Ms. McGinnis' summer mentor, CDC assignee and senior maternal and child health epidemiologist, Laurin Kasehagin. Ph.D., a nine-year veteran of the agency, re-assigned Ms. McGinnis to one of her pilot projects—a screening for suicidality in hospital emergency rooms. The state of Vermont has a high suicide rate and a limited number of psychiatric beds and recognizing that approximately 45 percent of suicide victims have visited an emergency room within a year of their death. The intent of the initiative —part of the larger state-wide Zero Suicide campaign— is to develop and implement methods for identifying suicide risks before they happen.
To this end, Ms. McGinnis conducted stakeholder interviews in hospitals, performed an extensive literature review of like screenings that have been implemented successfully elsewhere, and created a detailed workflow diagram to identify who would conduct the screening and when. Ultimately, the team presented four screening options —each with four or less questions anticipated to be completed in less than 90 seconds.
"It was a different project than anticipated, but the work was very hands-on and interesting and Dr. Kasehagin was remarkable," says Ms. McGinnis. "I was so fortunate to be working for her and have the chance to do more rather than less. By the time our emergency room project wrapped up, I was approved to interview physicians for the original initiative. It was great timing. I was able to see both ends of a project—from pilot launch to results compilation—and I also got a firsthand glimpse of how great ideas get implemented, and also how great ideas can get stalled. I learned a lot."