Students Present Research on Structural Heart Disease at American College of Cardiology Conference
Research helps ensure the best outcomes for cardiac patients and advances the field of medicine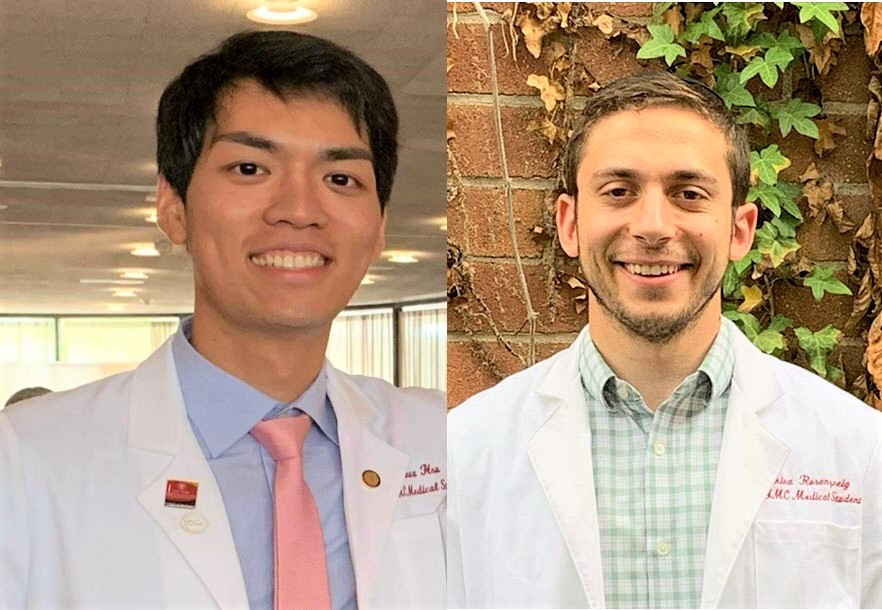 SOM Class of 2023 students (l-r) Joshua Hsu and Akiva Rosenzveig
New York Medical College (NYMC) students—Akiva Rosenzveig and Joshua Hsu, both in the School of Medicine (SOM) Class of 2023—were chosen to present their research into transcatheter aortic valve replacement (TAVR) and geometric changes in heart structure at the American College of Cardiology annual conference.
TAVR, a minimally invasive procedure that accesses the heart by way of catheters to insert a prosthetic valve, has become a feasible alternative to open heart aortic valve surgery for individuals with aortic stenosis. Originally intended as an alternative for only patients who face prohibitive risk with surgery, TAVR is now approved by the FDA for patients who have a low risk surgical profile.
Under the mentorship of Hasan Ahmad, M.D., clinical associate professor of medicine, and Syed Zaid, M.D., cardiology fellow, Mr. Rosenzveig and Mr. Hsu, joined by Medha Biswas, M.D. '20, examined the potential impact of TAVR on patients who needed both an aortic valve and mitral valve replacement, with particular emphasis on changes to the heart structures related to the left ventricular outflow tract and the mitral annulus.
"As there has been a precipitous rise in the use of TAVR for aortic stenosis treatment, our goal was to look at the impact the new aortic valve has on the heart anatomy," said Mr. Rosenzveig. "Sixteen percent of patients undergoing TAVR have concomitant mitral regurgitation, some of which requires transcatheter mitral valve replacement (TMVR). The mitral valve apparatus is very closely behind the aortic valve apparatus, specifically the outflow tract that leads from the left ventricle to the aortic valve. TMVR involves placing a new valve that pushes the original leaflets out (as opposed to removing them as one would do surgically), allowing for the anterior mitral leaflet to obstruct the left ventricular outflow tract (LVOT). Our objective was to assess the effect TAVR has on the LVOT size and the geometrical relationship between the mitral and aortic valvular apparatuses."
To accomplish this, they examined pre-procedural and post-procedural CT scans using 3Mensio technology to measure the anatomy and assess any changes in mitral valve and aortic valve geometry and the left ventricular outflow tract.
"We found that TAVR does not meaningfully affect the geometric relationship between the mitral and aortic valvular apparatuses, but it does increase the LVOT area," said Mr. Rosenzveig. "The increase in LVOT area without a change in aorto-mitral geometry suggests a possible reduction in risk of LVOT obstruction following a TMVR procedure."
"It was a great experience to be involved in this research that potentially could affect future planning for patients with concomitant aortic and mitral valve pathology. We learned so much about the field of structural heart disease and the rigorous planning that is involved to ensure the best outcomes for our patients. The most rewarding part of this experience was the knowledge that with whatever research we are involved in, we are advancing the field of medicine as well."