Alums Reconnect and Rekindle Memories at Reunion
The Celebratory Weekend Reunited Multiple Generations of NYMC Students from all Three Schools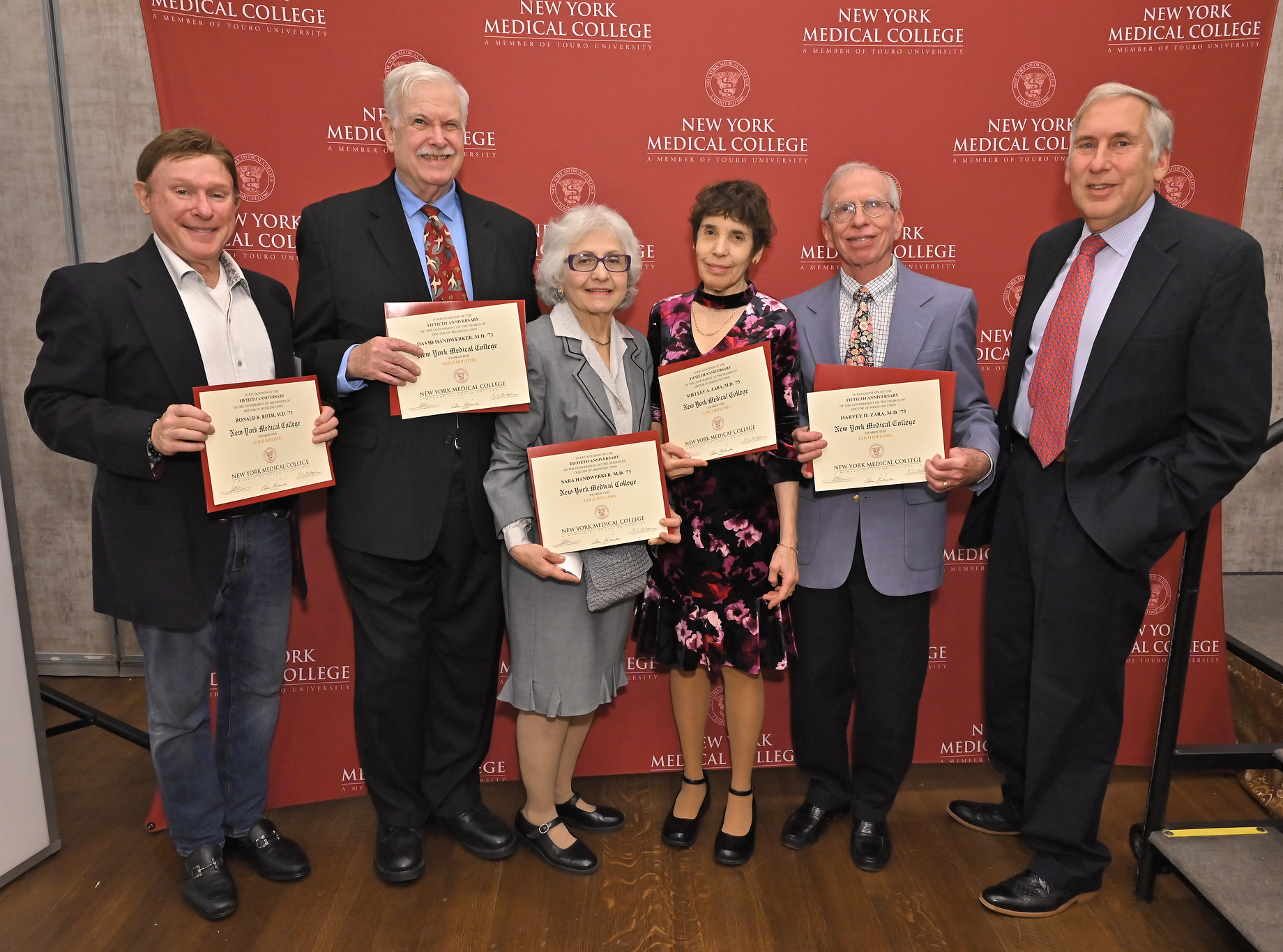 Awardees at the NYMC Alumni Reunion with Edward C. Halperin, M.D., M.A., right.
Nostalgia and laughter filled the air as alumni from across the years reunited for a long-awaited celebration of shared memories and enduring connections on November 4 and 5. The Alumni Reunion this year was the first-time graduates from the School of Medicine, Graduate School of Biomedical Sciences and School Health Sciences and Practice were welcomed back to New York Medical College (NYMC) to reminisce about their time at the College and share their successes.
More than 70 guests attended the reunion weekend from the class years ending in three and eight, with special recognition of the 50th and 25th anniversary class years, 1973 and 1998 respectively. Current students, faculty and administration were also in attendance to celebrated at the reunion dinner dance and jubilarian awards ceremony at the Sleepy Hollow Hotel in Tarrytown, New York. Anthony M. Sozzo, M.S. Ed., M.A., associate dean for student affairs director of student financial planning and student activities, served as our master of ceremonies.
"The 2023 Alumni Reunion event was nothing short of magical filled with nostalgia and anticipation," said Sozzo. "I have been at the college for quite some time, and it was wonderful to reconnect with alums I had the pleasure of working with when they were students. The evening was filled with conversation, shared memories, laughter and a mosaic of experiences that spoke to the richness of our school's history. The reunion was not just an event; it was a celebration of the everlasting bond that connects our school's vibrant past with its promising future."
Among the speakers were Edward C. Halperin, M.D., M.A., right, chancellor and CEO, who delivered the keynote address. Dr. Halperin proudly delved into the core values that define the College for centuries. "NYMC has been a bastion against bigotry in health sciences education since 1860," he said. "We believe in judging people on their academic records and the content of their character, not their race, religion, gender, sexual orientation or nationality. There is a long history in the U.S. of telling applicants 'You can't be a doctor because of the way you were born.' Well, that's not NYMC's history. And we intend to keep it that way."
Couples in attendance who met during their studies at NYMC and are happily married included Harvey and Shelley Zara, M.D. '73; David and Sara Handwerker, M.D. '73; and John Cosgrove, M.D. '83, and Patricia Barry, M.D. '83. Kay Juechter, widow of Kenneth B. Juechter, M.D. '68, attended in her late husband's memory. She and Dr. Juechter's colleagues founded the Kenneth Juechter, M.D. Resident Education Fund to bestow additional aid and hands-on training to ophthalmology residents.
The weekend of festivities concluded with a brunch on-campus at 19 Skyline Drive, a student-led panel discussion featuring second- and fourth-year medical students and an exclusive tour of the Clinical Skills Simulation Center.
"Seeing the way in which the alumni and students interacted throughout the weekend was truly moving," said Bernadette Bauer, manager of alumni engagement. "Our alumni sincerely do have the backs of our students, by providing advice, mentorship, internships and financial support. The stories I've heard this weekend have been monumental in the lives of our alumni, and they are using their voices to embolden our students of today to become the best health care professionals of tomorrow. It is truly remarkable to serve this community."