Chioma M. Okeoma, Ph.D., Fosters Collaboration and Interdisciplinary Science to Help Humankind
If you don't have the power to make things right, then you find a place where your contributions can make a difference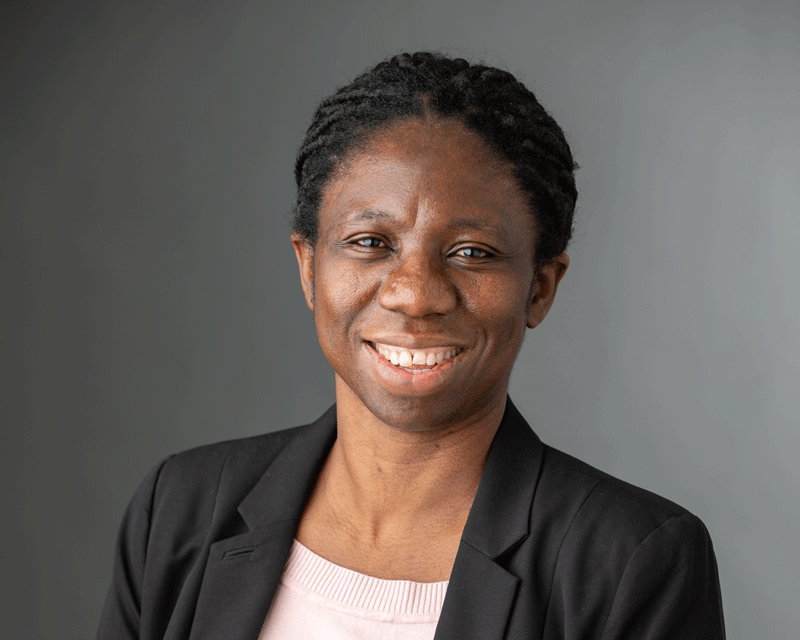 Chioma M. Okeoma, Ph.D.
Chioma M. Okeoma, Ph.D., believes that great advances in science all start with collaboration. In her new role as professor and vice chair of research in the Department of Pathology, Microbiology and Immunology, the award-winning interdisciplinary scientist is excited to forge new partnerships among her New York Medical College (NYMC) colleagues to bolster the College's research portfolio and inspire the next generation of research scientists.
"I have great expertise and skills in certain areas, but there are other things I cannot do," Dr. Okeoma says. "You move research forward through collaboration, by sharing knowledge and resources and working together."
Dr. Okeoma's vast expertise in innovative research focuses on understanding the biology and functions of extracellular particles, including extracellular vesicles (EVs) and extracellular condensates (ECs). These particles are released from all cells in the body and play a vital role in intercellular communication. She studies how EVs and ECs are involved in immune regulation and host responses to viral infections such as HIV, as well as drug abuse and cancer.
Among her breakthroughs, Dr. Okeoma discovered that elevated levels of the protein BST-2 is linked to poor survival in patients with invasive breast cancer. Recently she secured more than $1 million in grants from the National Institutes of Health for her ongoing HIV research. Dr. Okeoma is examining how THC—the active element in marijuana— affects EV function and composition in patients with HIV and could potentially dampen inflammation that can lead to subsequent neurological dysfunction.
She was inspired to pursue virology and immunology by the health disparities she witnessed while growing up in Biafra in southeastern Nigeria, where malaria is widespread and resources are scarce. "For me, my motivation has always been, 'How do I help people? How do you solve a problem so that you can help not just your people, but everyone? What will be your contribution to science and medicine in terms of health?'" Dr. Okeoma says.
Her career path has taken her to New Zealand and the University of Pennsylvania for training and to academic posts at the University of Iowa and, most recently, the Department of Pharmacology at Stony Brook University Renaissance School of Medicine. While Dr. Okeoma has seen an increase in measures to increase diversity within medical research, "diversity without inclusion is a problem," she says. "If you don't have the power to make things right, then you find a place where your contributions can make a difference."
Dr. Okeoma has found that place at NYMC. "I feel that people really listen and want to make changes," she says. She considers her mandate as vice chair of research is "to do everything in my power to grow our research portfolio." With the collaboration of the Humayun K. Islam, M.D., Ph.D., clinical professor and chair of the Department of Pathology, Microbiology and Immunology, Dr. Okeoma has already started eliminating red tape and streamlining the procurement system to enable labs to operate more efficiently. She is mentoring the postdocs in her lab, so that they, too, can inspire their own students someday. Dr. Okeoma is advising junior faculty on their research efforts not only on the NYMC campus but across Touro University. For example, she is helping establish an EV program at Touro's newest affiliate, the Lovelace Biomedical Research Institute in New Mexico.
Dr. Okeoma has found she is just as likely to be asked for help on grant applications and research methods as for non-academic life lessons. "I am a minority, a woman and a mother of four who happens to be in the academia. I am always asked, "How do you do this?'" she says. "It is an honor for me to be able to share how I have navigated my career. That is also mentorship."