Class of 2022 Robes Up for White Coat Ceremony
On October 22, in a theater filled with nearly 1,000 guests, 202 first-year medical students, with pristine white coats in hand, processed on stage.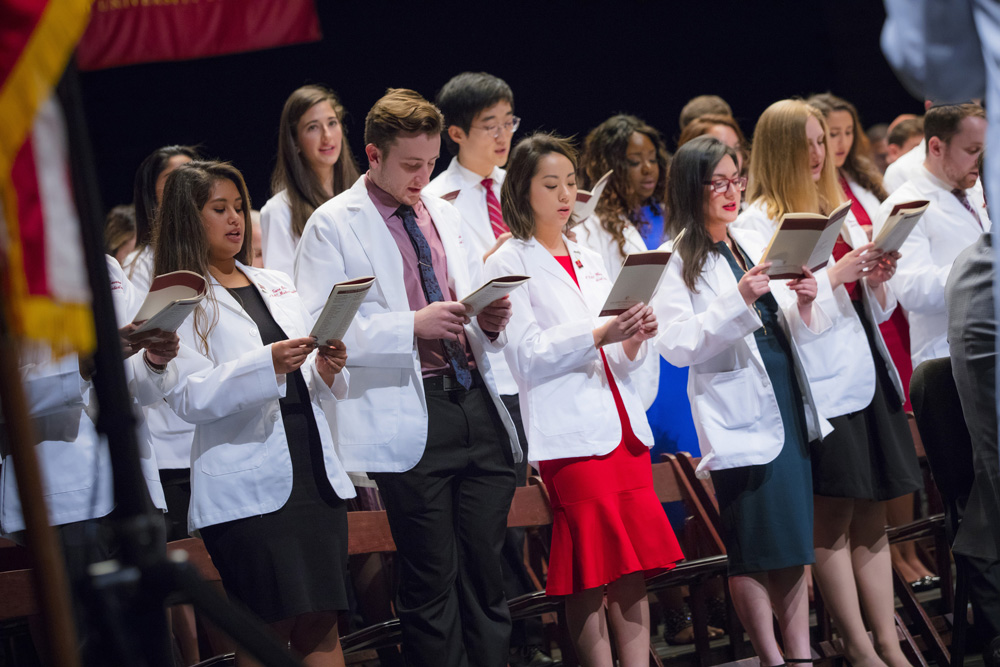 Thus began the School of Medicine (SOM) Class of 2022 White Coat Ceremony, the rite of passage which marks medical students' entrance into the medical profession.
New York Medical College (NYMC) President, Alan Kadish, M.D., welcomed the crowd, then explained that many historians believe the white coat was modeled after the uniform of the Roman Senate—meant to represent privilege, but also responsibility, obligation and a deep sense of honor. "As you continue to develop into physicians I hope you remember this sense of responsibility, obligation and honor that started here with this White Coat Ceremony," he said.
Student speaker, Nazanin Khajoueinejad, SOM Class of 2019 and co-president of the Gold Humanism Honor Society, urged the students to always remember their role in creating a space of safety and non-judgement for their patients. "Listen with kindness, get to know them as individuals and not just as a diagnosis. Be there for them at a time when they feel most vulnerable," she advised. Ms. Khajoueinejad explained that she learned this lesson as a patient, battling a mysterious illness of her own. "The kindness of an unfamiliar doctor changed my perspective of the practice of medicine as a whole. He didn't dismiss my complaints; he didn't make me feel silly. Instead he comforted me in my most vulnerable moment. His kindness, understanding and patience proved more valuable in my journey to healing than any test result," she recalled. "There I sat, determined to learn all of the secrets of the body—believing that was all it took to make an exceptional physician— only to realize that while knowledge is integral to my work, it is not enough."
Keynote speaker Renee Garrick, M.D., FACP, executive medical director and vice dean for Westchester Medical Center and professor of clinical medicine, addressed the Class of 2022 saying, "You are joining our school with a long record of inclusion and diversity. In keeping with this proud tradition, you are a class whose members come form 40 different states, studied 93 different majors, and are accomplished authors, Peace Corp workers, professional dancers and professors."
She continued, "Our relationship with our patients should always be something quite special, maybe even sacred. They share with us their innermost fears and anxieties, trust us to heal them if we can, and to always put their needs first. Being a physician is an astonishing privilege. Our faculty understand the importance of teaching you about the art of medicine— the art of humanism and compassion. We are here to nurture this skill."
After the Class of 2022 was presented by the advisory house deans and invested with the garb of the medical profession, they rose to take a medical student oath, which they wrote themselves. In one unified voice they pledged, "Despite any challenges I may face, this white coat will serve as a constant reminder of the great privilege and responsibility with which I have been charged, and the honor I have been given to serve the community and humanity overall. Let us become not just physicians, but lifelong practitioners of the art of healing."
View the Class of 2022 White Coat Ceremony photo gallery and video.