D.P.T. Class of 2020 Present Community Service Projects
The Doctor of Physical Therapy (D.P.T.) Class of 2020 was proud to share their good works and good will at the Community Service Project Presentations on November 29.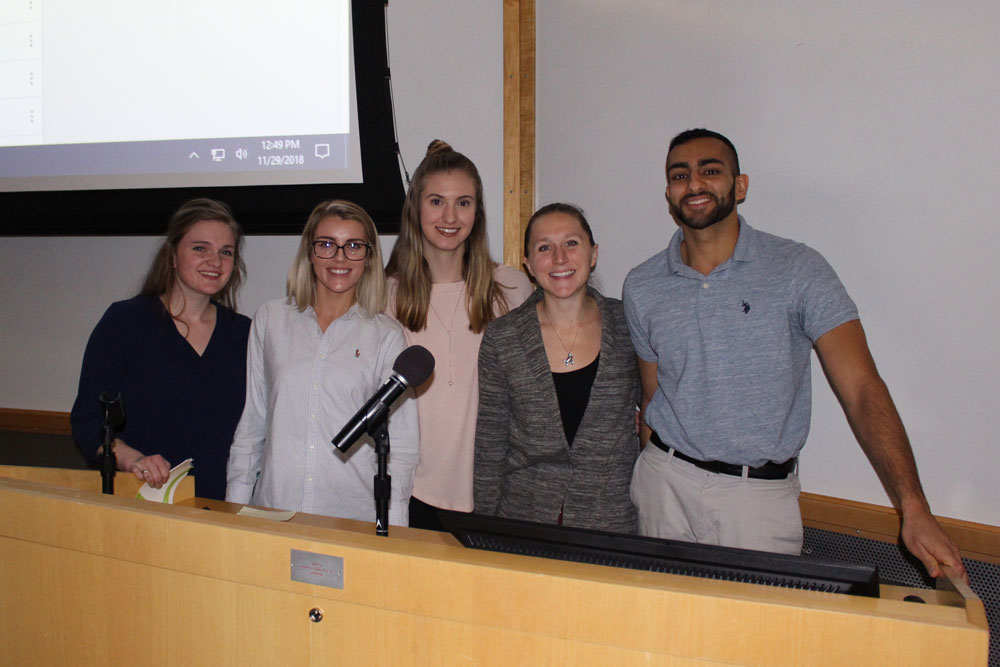 Students carry out the projects to address a local or underserved community need and a variety of beneficiaries gain from their hard work, skills and knowledge. This year's projects included the 20th anniversary of the Race for Rehab, a health and wellness project focused on monitoring stress levels and high blood pressure, and a global outreach project that collected and refurbished medical equipment and shipped to Puerto Rico and other areas affected by hurricanes.
D.P.T. Class of 2020 Community Service Projects
19th Annual Race for Rehab for Achilles International
Rachel Conti, Amy Gladis, Ryan Grunseich, Danny Jacobs, Laura Kelly, Paul Kolesnik, Joseph Leo, Jinto Mathew Jenna Miettinen, Mike Perrone, Andrea Plate, Neil Ryan, Dan Scortea, Kami Saracino and Jerret Schunk
Faculty Advisors: Janet Dolot, P.T., D.P.T., Dr.P.H. '14, assistant professor of physical therapy, and Anthony M. Sozzo, M.S.Ed., M.A., associate dean for student affairs and director of student financial planning and student activities
Health and Wellness
Nicole Abbamonte, Avigayil Benstein, Frank D'Arrigo, Emily Dickinson, Nicole Ellis, Youstina Gerges, Menherit Goodwyn, Neselle Mae Hernandez, Michael Hogan, Tiffany Kharran, Andrea Mathieux, Leah Mycofsky and Tina Vieitez
Faculty Advisor: S. Nikki Gawronski, P.T., D.P.T., assistant professor of physical therapy
Global Outreach
Bryan Baracaldo, Margaret Crnic, Caroline Fitzpatrick, Faizal Hussein, Jen Holtzer, Molly Jeakle, Magdalini Kostidakis, Nicole Lipinski, Noelle Pickett, Samantha Tripp. In photo from left: Stephanie Rodway, Kendra Harrington, Amanda Off, Lauren Paxton and Mikhail Beg.
Faculty Advisors: Catherine L. Curtis, P.T., M.A., Ed.M., Ed.D., assistant professor of physical therapy, and Gale J. Lavinder, P.T., Ed.D., assistant professor of physical therapy
View the D.P.T. Community Service Project Presentations photo gallery.