Faculty and Students Publish Study Demonstrating that Black Seed Oil Plus Omega-3s May Counter Obesity-Induced Inflammation and Insulin Resistance
Overweight individuals and obesity are growing worldwide public health concerns and pose a significant healthcare burden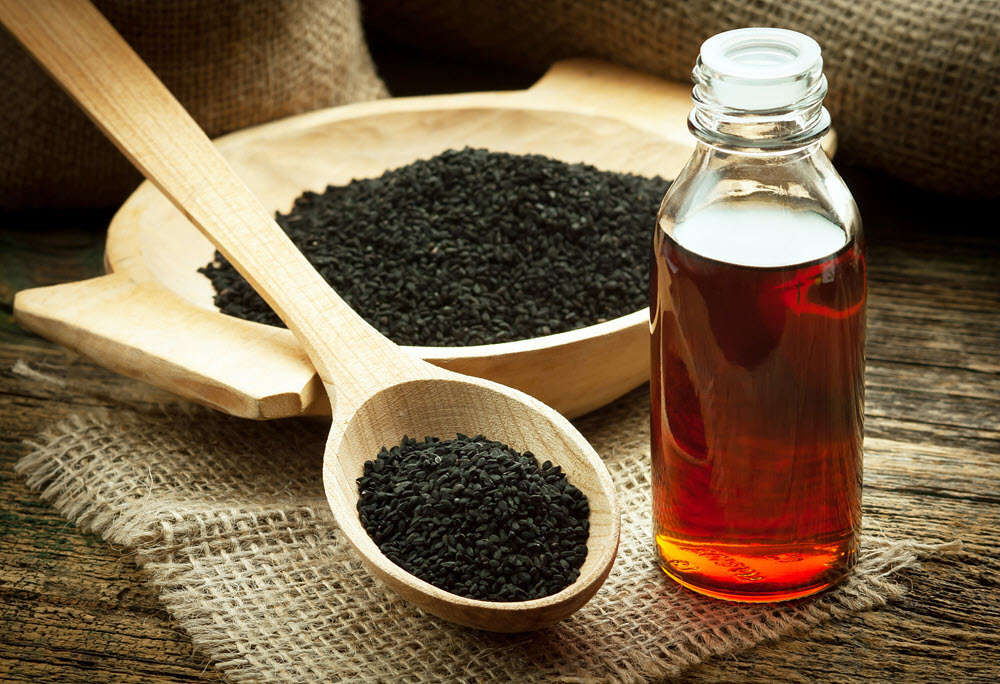 Study shows black seed oil combined with Omega-3s have health benefits
A recent study conducted at New York Medical College (NYMC) this summer and published in Antioxidants demonstrated that combining omega-3 fatty acids with a standardized oil from black cumin (Nigella sativa) may significantly reduce inflammation caused by a high-fat (Western) diet. The study, "Cold-Pressed Nigella Sativa Oil Standardized to 3% Thymoquinone Potentiates Omega-3 Protection Against Obesity-Induced Oxidative Stress, Inflammation, and Markers of Insulin Resistance Accompanied with Conversion of White to Beige Fat" was led by Nader Abraham, Ph.D., Dr.H.C., FAHA, professor of medicine and pharmacology, and involved several School of Medicine (SOM) students from the Class of 2023 – Leah Gancz, Lior Levy, Ariel Sasson, Joseph Trainer and Abraham Resnick.
"Obesity is a chronic inflammatory disease manifested by an increase in cytokine levels at baseline, increasing the risk of a 'cytokine storm' in chronically obese patients," says Dr. Abraham. "The major cause of obesity results from the imbalance of excess caloric intake and insufficient energy expenditure that may contribute to adipose tissue accumulation, expansion and hypertrophy. These pro-inflammatory adipokines and cytokines play a pivotal role in the development of obesity-associated metabolic dysfunction, such as insulin resistance, type 2 diabetes, hypertension, cardiovascular diseases and certain types of cancer."
"Dietary-induced obesity also results in hepatic fat accumulation, fatty liver disease and deterioration in liver function. Fatty liver and non-alcoholic fatty liver disease (NAFLD) affect approximately 25 percent of adults and is the most common cause of chronic liver disease in the Western world. There are currently no approved drugs for the treatment of NAFLD."
According to Dr. Abraham, due to the adverse cardiovascular effects of anti-obesity medications, there is an emerging interest in bioactive dietary compounds that alleviate obesity-associated metabolic dysfunctions. In the study, Dr. Abraham and the students examined the potential effects of black seed oil that contained the active ingredient thymoquinone both alone and in combination with Omega 3 to lower free fatty acid in obesity. Thymoquinone is derived from the plant Nigella sativa and has been used extensively in traditional medicine in many Middle Eastern and Asian countries for the treatment of a range of conditions, including some immune and inflammatory disorders.
After eight weeks, the researchers found that the combination helped to negate the effects of obesity and markers of insulin resistance by reducing inflammation, increasing oxygen consumption to the levels of the lean animals, which indicated an improvement in liver function burning of fatty acids, and enhancing the conversion of large, unhealthy white fat cells to small, healthy beige fat cells (adipocytes).
"This combination has shown to be more effective and is likely safer than many other weight management interventions currently available," says Dr. Abraham. "When developing supplements that address weight management and healthier inflammatory responses, Thymoquinone, should be a top choice for enhanced benefits through its potent synergistic effects." According to Dr. Abraham, this oil is very unique due to the low levels (1.1%) of free fatty acid (TriNutra Ltd, Kibbutz, Nes Ziona, Israel) and clinical trials are currently pending. The study was funded through a two-year $525,000 grant from the National Institutes of Health.
"In this study, under the mentorship of Professor Abraham, we demonstrated the remarkable effect of thymoquinone in combination with the purified form of Omega-3, icosapent ethyl, in the browning of white adipose tissue, decreasing obesity-associated insulin resistance and reducing the chronic inflammatory state of obesity," says Ms. Levy. "This is a novel and promising strategy to counteract obesity. Having the privilege to be mentored by Dr. Abraham is instrumental for my career and facilitates reflective practices. Along the way, Dr. Abraham was very supportive, provided invaluable insights and tools and has provided advice, guidance and encouragement that stimulated confidence and reassurance. He creates an open, inclusive and productive environment to confidently navigate the challenges of the medical field. His passion for education has positively impacted this research and each member of our team as future scientists, future physicians and individuals."