Golfers Gather to Honor Longtime Professor and Chair of Pediatrics Leonard J. Newman, M.D. '70, and Raise More than $235,000
Warm temperatures didn't stop friends and colleagues of Dr. Newman from playing at the famed Saint Andrew's Golf Course in Hastings on Hudson.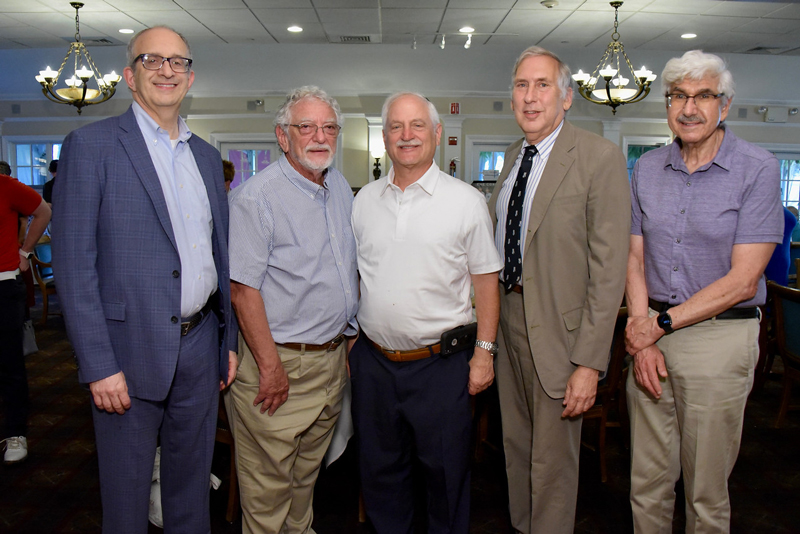 NYMC Golf Outing 2021
More than 130 golfers hit the links at the famed Saint Andrew's Golf Course in Hastings on Hudson on June 28 to honor Leonard J. Newman, M.D. '70, second from left, longtime professor and chair of the Department of Pediatrics at New York Medical College (NYMC). The outing, sponsored by the Board of Advisors, raised more than $235,000 for student scholarships and other important initiatives at NYMC.
Colleagues and friends of Dr. Newman, including members of NYMC leadership, took part in the golf outing as they persisted through the warm temperatures. A reception followed to celebrate Dr. Newman for his tireless dedication and commitment to patients and their families.
"I am really grateful to be honored and for all the support for this golf outing, the first at the College in more than 15 years. It's terrific to be able to give back and help support scholarships for under-represented students, an integral part of the school's mission and history. Thank you to NYMC and the Board of Advisors for this great honor," said Dr. Newman.
Specializing in pediatric gastroenterology, Dr. Newman is a highly respected physician, mentor and educator. After graduating from the NYMC School of Medicine in 1970, he completed a one-year internship at University Hospital of San Diego County followed by a pediatrics residency at NYMC—serving as chief resident from 1972-1973. He completed a fellowship in pediatric gastroenterology and nutrition at Albert Einstein College of Medicine and was recruited back to NYMC to set up a division of pediatric gastroenterology.
As chair of the Department of Pediatrics, a role he has held since 1992, Dr. Newman has expanded research funding while serving on several committees including graduate medical education, tenure appointments and promotions, pediatrics internship selection, as well as being active in fundraising and serving on the NYMC Board of Advisors.