Graduate Student Research Forum Highlights Impressive Student Research
The 34th Annual Forum Was a Day for Oral and Poster Presentations and Keynote by Notable Yale Researcher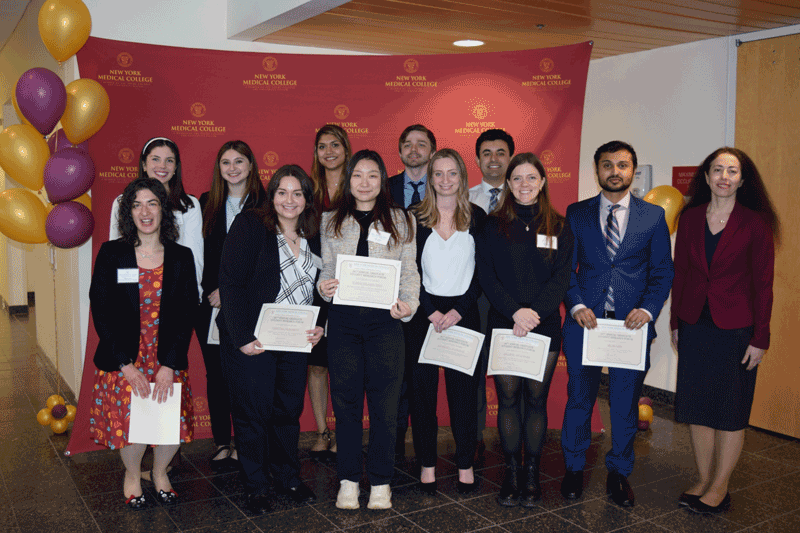 Marina Holz, Ph.D., right, with research students at the Graduate Student Research Forum on March 14.
The Graduate Student Research Forum (GSRF) sponsored by the Graduate Student Association on March 14, was a success on all fronts: stellar oral and poster presentations of student-conducted research, a keynote address by Susan J. Baserga, M.D., Ph.D., the William H. Fleming, M.D. Professor of Molecular Biophysics and Biochemistry and Professor of Genetics and of Therapeutic Radiology at Yale University, and an opportunity for the New York Medical College community to engage in scientific dialogue and learn about the research accomplishments in the Graduate School of Biomedical Sciences. View the photo gallery.
The GSRF provides an opportunity for students to practice presentation skills while gaining valuable feedback from the panel of faculty judges. The day was led by master of ceremony, Victor G. Garcia, Ph.D. '16, assistant professor of pharmacology, who was the first place oral presentation winner at the 25th annual GSRF when he was a student.
A highlight of the forum was the keynote presentation by Dr. Baserga, "When Good Ribosomes Go Bad." Dr. Baserga's laboratory has pioneered the molecular basis of ribosomal biogenesis in mammalian cells and is currently pursuing the dysregulation of ribosome production that led to human developmental disorders referred to as ribosomopathies. Her work earned her the Charles W. Bohmfalk Prize for basic science teaching at the Yale School of Medicine, the William C. Rose Award from the American Society for Biochemistry and Molecular Biology for outstanding contributions to scientific research and a demonstrated commitment to the training of young scientists, the Women of Innovation Award in the category of Research Innovation and Leadership presented by the Connecticut Technology Council and election to the National Academy of Inventors.
This year's GSRF Honored Faculty Award was presented to Marcello Rota, Ph.D., research assistant professor of physiology and course director for Mammalian Physiology, for his exceptional dedication and important contributions to graduate students. Students chose Dr. Rota the award for his dedication to students and mentorship on academic, research and career matters.
34th Annual Graduate Student Research Forum Results
Oral Presentations:
First Place: Jacob Hehir
Personalized Editing Of Sensory Representation In Primary Auditory Cortex Using Scanning, Low-Intensity Focused Ultrasound
Faculty Advisor: Jonathan A.N. Fisher, Ph.D.
Second Place: Morgan Anderson-Crannage
COL7A1 Deficiency Results In A Dermal Microenvironment That Recapitulates Aspects Of The Tumor Microenvironment
Faculty Advisor: Mitchell Cairo, M.D.
Third Place: Adiya Katseff
A Novel Intranasal Protein Subunit Vaccine For Pseudomonas Aeruginosa
Faculty Advisor: Paul M. Arnaboldi, Ph.D.
Flash Talk Presentation:
First Place: MD Al Azim
Identify The Role Of Integrin Alpha X In Cancer Progression Following Dormant Cells Reactivation
Faculty Advisor: Julie S. DiMartino, Ph.D.
Novice Poster Presentations:
First Place: Alexandra Wolf
Deletion Of The 20-HETE Receptor Prevents High Fat Diet-Induced Cardiometabolic Disease
Faculty Advisor: Victor Garcia, Ph.D.
Second Place: Yolanda Shen
Investigating Cortical Microvascular Effects Of Focused Ultrasound Neuromodulation Using Optical Coherence Tomography Angiography In Vivo
Faculty Advisor: Jonathan A.N. Fisher, Ph.D.
Third Place: Christina Signoretti
Insight Into The Increased Risk Associated With African G6pd Variation In SUGEN-5416 Induced Pulmonary Hypertension
Faculty Advisor: Sachin A. Gupte, M.D., Ph.D.
Senior Poster Presentations:
First Place: Kaci Kopec
Novel Hyperthermia Based Intratumoral Manipulation To Enhance Immune Checkpoint Therapy
Faculty Advisors: Raj K. Tiwari, Ph.D. and Mark D. Hurwitz, M.D.
Second Place: Nicole DeSouza
Long Noncoding RNA Duxap10 Is A Putative Determinant Of Anaplastic Thyroid Cancer
Faculty Advisors: Jan Geliebter, Ph.D., Raj K. Tiwari, Ph.D.
Third Place Tie: Danielle Quaranto
Long Non-Coding RNA LINC01614 Decreases Carcinogenic Behavior Of Papillary Thyroid Cancer In Vitro
Faculty Advisor: Jan Geliebter, Ph.D.
Third Place Tie: Callie Hollander
Genetic Deletion Of Inflammatory Transcription Factor Stat4 Protects Against The Effects Of A High-Fat, High-Cholesterol Diet On Activity-Dependent, Long-Term Potentiation (LTP)
Faculty Advisor: Patric K. Stanton, Ph.D.