Grant Supports Educational Leadership Program to Combat Systemic Racism and Implicit Bias
Grant will support initiative over the next three years and represents a critical next step in building thoughtful, action-taking and anti-racist leaders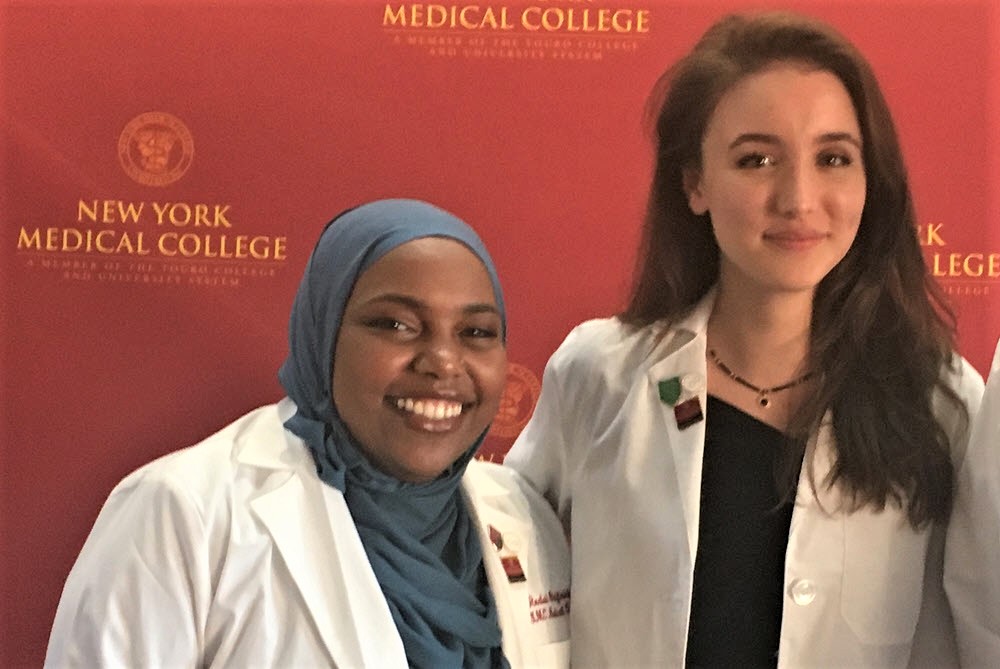 Redab Alnifaidy and Lior Levy, SOM Class of 2023

The Alpha Omega Alpha (AOA) Honor Medical Society has awarded New York Medical College (NYMC) a 2021 Medical Student Service Leadership Project Grant to support the creation of an education leadership program, led by NYMC School of Medicine (SOM) students, to combat systemic racism and implicit bias in medical education.
"This grant will support our initiative over the next three years and represents a critical next step in building thoughtful, action-taking and anti-racist leaders," says Lior Levy, SOM Class of 2023, one of the students who led the development of the program.
The program called the Transformative Education Leadership Program (TELP): Combating Systemic Racism and Implicit Bias through Medical Education, will select students to undergo intensive training aimed at developing the leadership skills to address bias and racism in medicine. The training will be led by Pamela Ludmer, M.D., M.M.E.L., SOM associate dean for curriculum integration and chair of the NYMC Anti-racism, Anti-bias and Health Inequities Steering Committee and Mill Etienne, M.D., M.P.H. '02, vice chancellor for diversity and inclusion and SOM associate dean of student affairs. Those students will then in turn lead implicit bias training sessions for their peers.
"The program is focused on developing student leaders in anti-racism and anti-bias training in a sustainable manner so that they can then train the next generation of NYMC student leaders, creating a cycle of continuous change," says Redab Alnifaidy, SOM Class of 2023, left, who also helped develop the program along with SOM Class of 2023 classmates Joshua Buckley and Ebtisam Zeynu. "That's what makes the program transformative -- it is designed to leave a legacy at New York Medical College."
TELP will be implemented by the NYMC AOA Iota Chapter in partnership with the NYMC Implicit Bias and Anti-Racism Task Force, the SOM Office of Undergraduate Medical Education and the NYMC Office of Diversity and Inclusion. A key component of TELP is the integration of experiential learning to exercise the lessons of the leadership curriculum and implicit bias training.
"With the help of Katharine Yamulla, M.A., senior director of competency-based assessment and clinical skills education, and the team at the Clinical Skills and Simulation Center, we are planning to develop real-life clinical scenarios that challenge students to confront uncomfortable situations in the safe environment of a standardized patient reenactment," says Ms. Alnifaidy "With thorough discussion sessions after the experience, we hope to enrich student learning through active participation."
"These sessions are aimed at developing professionalism and sensitivity to productively address incidences of racism in clinical settings for all four class years," says Ms. Levy. "The idea of 'calling someone in' rather than 'calling someone out' is an empowering approach in both self-reflection and partnering with colleagues in addressing implicit bias in our respective workplace. It is one thing to have discussions on being anti-racist. It is another to practice being an ally through action in your everyday conversations with sensitivity and efficacy."