GSBMS Hosts Biennial Ph.D. Lab Coat Ceremony
Second- and Third-Year Ph.D. Students and the New M.D./Ph.D. Students Celebrated Joyfully with Families in Attendance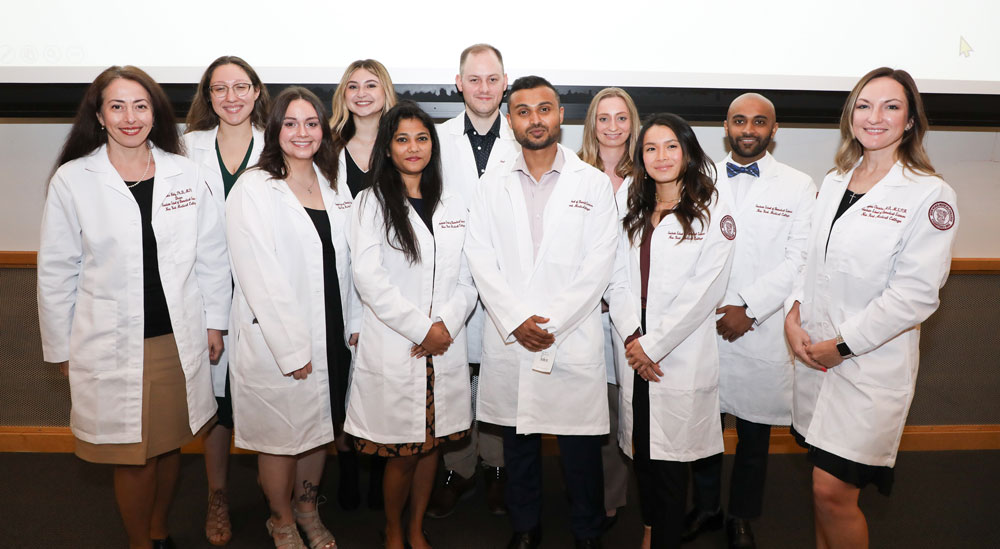 Families, faculty and students proudly assembled in the John W. Nevins, M.D. '44, Auditorium as the Graduate School of Biomedical Sciences (GSBMS) hosted its biennial Lab Coat Ceremony for Ph.D. candidates. The ceremony saw second- and third-year Ph.D. candidates and new M.D./Ph.D. students who gleefully donned their lab coats, surrounded by their loved ones and mentors who joined in to celebrate this significant moment. View the photos.
Marina K. Holz, Ph.D., M.P.H. '23, left, dean of the GSBMS and professor of cell biology and anatomy, warmly welcomed the Ph.D. students. She shared the history of the white coat, which was worn by scientists in the 1800s as a form of protective attire to easily spot chemical stains. The garment came to symbolize doctors and the embrace of science.

"I hope you all can appreciate that science is a long-term endeavor and the longevity and endurance in science takes a lot of hard work but also fashion, being excited and asking what's next," said Dr. Holz. "The day-to-day failures do not define you as a person. We all experience those. It is the lessons that you learn and how you turn them into data is what matters here, especially in the Ph.D. program."

The presentation of the lab coats was led by Tetyana Cheairs, M.D., M.S.P.H., right, assistant dean for Ph.D. programs and assistant professor of pathology, microbiology and immunology. GSBMS faculty addressed the Ph.D. students, which included entry cohorts from 2023, 2022 and 2021. Each Ph.D. candidate took their turn at the front of the auditorium, donning their white coats with the guidance of their mentors.

"Congratulations. This is a huge milestone," said Dr. Cheairs. "We like to not just celebrate graduation, but everything in between. You will be spending so much time in this laboratory doing your dissertation research that it is a milestone worth celebrating."

After the students donned their white coats, Tara Jarboe, fifth from left, fifth-year Ph.D. candidate in pathology, microbiology and immunology, gave the student address. She shared that in ninth grade, her passion in science solidified when she was confronted with an aggressive form of pancreatic cancer. She knew she wanted to spend the rest of her life in research.

"When you accept your lab coat, the receipt of this coat comes with responsibilities and commitment to the practice of research itself," said Jarboe. "Every day as you put it on and prepare yourself to conduct your research, it serves as a reminder to the commitment we make to ourselves and to our field to how we approach our research with passion, but also great care."

The ceremony concluded with a keynote address by Marcello Rota, Ph.D., associate professor of physiology, who spoke about his journey in research. The doctoral candidates recited the Graduate Student Code, affirming their commitment to ethical conduct in their profession.

"If you find yourself doing nothing, you're doing something wrong," said Dr. Rota, who encouraged the students to continue to ask questions and be curious.