Leading the Charge: Finding New Ways to Identify and Treat Stress
New York Medical College works to find better ways to deal with the stressors of daily life and traumatic stress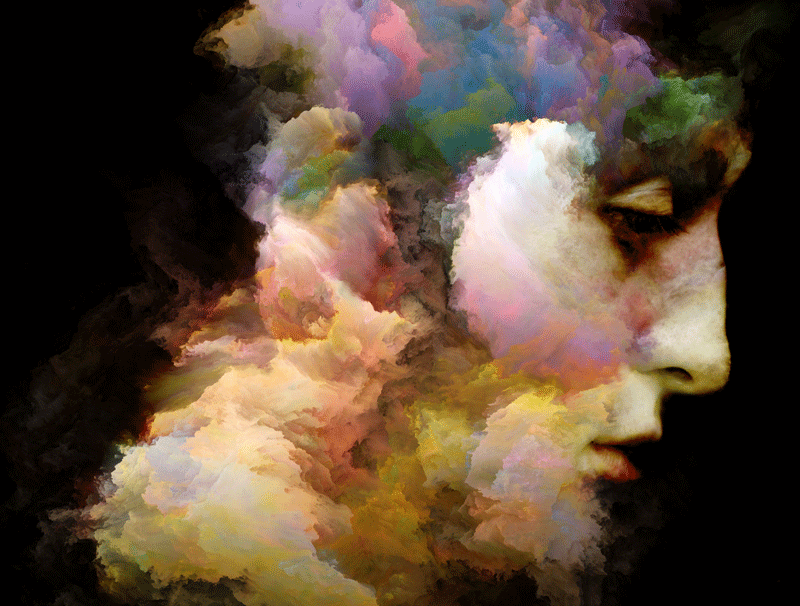 A 2022 survey by the American Psychological Association in Stress in America, cited a "barrage" of external, long-term stressors—inflation, violence and crime, political divisiveness and racial discord—for their impact on adults' physical and emotional health, including headaches, fatigue, anxiety and depression. Such stress can temporarily derail anyone, although most people eventually push through. For those who do not or those who need help finding ways to quell their tensions and anxieties, New York Medical College (NYMC) is addressing the perils of stress through research and clinical perspectives, on campus and across the globe.
PTSD UNDER THE MICROSCOPE
Esther L. Sabban, Ph.D., professor of biochemistry and molecular biology and the newly appointed Sidney E. Frank Distinguished Professor of Psychiatry and Behavioral Sciences, has spent the better part of her 40-year career studying the molecular underpinnings of susceptibility and resilience to stress, particularly post traumatic stress disorder (PTSD). Now, with the support of the Sidney E. Frank Distinguished Professorship of Psychiatry and Behavioral Sciences' $5 million endowment, she hopes to translate her findings from animal studies into tools that can help people.
Ideally, such tools would allow clinicians to identify individuals who are resilient or susceptible to PTSD and inform the development of pharmaceutical interventions to prevent or treat its resulting cascade of harmful health effects. "Our research aims to not only increase resilience and alleviate symptoms of traumatic stress but also lead to clinical interventions that can reduce the long-term consequences of severe stress," Dr. Sabban says.
PTSD is a debilitating psychiatric illness that can result from exposure to acute trauma, like an automobile accident, natural disaster, war or other lifethreatening events. It may also result from chronic, untreated stress. Among its many symptoms are flashbacks, increased reactivity to loud sounds, avoidance of things that could repeat trauma, depression and anxiety. It can lead to numerous physical and psychological ailments, including hypertension, cardiovascular disease, sleep trouble, sexual dysfunction and substance abuse—and it is prevalent. The statistics on PTSD are staggering. According to the U.S. Department of Veterans Affairs/ National Center for PTSD:
Approximately eight out of every 100 people will have PTSD at some point in their life, with prevalence in military personnel who served in Iraq and Afghanistan around 20 percent.
In any given year, approximately 12 million adults experience PTSD.
Women are twice as likely as men to develop PTSD.
Some stress is valuable, Dr. Sabban acknowledges. "It can concentrate your mind and keep you from doing things that are particularly foolish," she says. "Stress can also engrave negative experiences or situations into the memory, which helps us to avoid repeating them."
It is traumatic or untreated chronic stress that can morph into PTSD. Dr. Sabban notes that PTSD sufferers are twice as likely as demographically matched controls to attempt suicide. "PTSD is the most severe outcome of trauma. It is also the most intriguing because it can last for years, as it has in Vietnam War veterans. People with PTSD are crying out for help. It can severely impair all aspects of their life," she says.
After earning bachelor's and master's degrees in biochemistry with honors from Hebrew University in Jerusalem, Israel, Dr. Sabban received her Ph.D. in biochemistry from New York University. There, as a research assistant professor in the Departments of Cell Biology and Psychiatry, she began studying the enzymes that synthesize catecholamines, the neurohormones that trigger the body's "fight-or-flight" stress response. "I became interested in the body's stress response when I was studying the neurotransmitters epinephrine, norepinephrine and dopamine—the main types of catecholamines—which the body releases in response to emotional or physical stress," she says. In 1983, she joined the NYMC faculty as an assistant professor, the first woman in the Department of Biochemistry and Molecular Biology, where she has been a full professor since 1991. She has published nearly 200 peer-reviewed publications and her laboratory has received funding from the National Institutes of Health, Department of Defense, American Heart Association and the Office of Naval Research.
INNOVATIVE HEALING
Dr. Sabban's work features the use of the single, prolonged stress, animal PTSD model, which has detected higher levels of norepinephrine in PTSD-susceptible rats than in controls and resilient rats. She has used this model to prove that the intranasal delivery of neuropeptide Y or melanocortin 4 receptor antagonists to the brain prevents the development of many PTSD-associated impairments. If successful in humans, it would reduce much anguish, suffering and loss of life and provide massive financial savings for society.
Most recently, she began looking into the impact of the intestinal microbiome and has shown an association between pre-existing inflammation and higher susceptibility to PTSD. After exposing rats to a single episode of traumatic stress, Dr. Sabban found that only 50 percent developed signs of PTSD, including depression, anxiety and impaired social interaction. "We looked to see what distinguished them from rats who did not develop PTSD and what predicted stress, and we found a difference in their microbiome," she says. "Those who were more susceptible to stress had more pro-inflammatory bacteria in their gut."
PTSD-susceptible rats (or in the case of Dr. Sabban's research, SPS-susceptible, for single prolonged stress, which is the animal model for PTSD) also exhibited lower levels of cecal acetate, a gut microbiota-derived short chain fatty acid, according to Arax Tanelian, a doctoral student in Dr. Sabban's lab. "Cecal acetate levels in the rats correlated inversely and significantly with anxiety," Tanelian says, "Rats with a higher level of cecal acetate were less susceptible to stress-induced anxiety."
Dr. Sabban and her team also found that anxiety-prone female rats had lower levels of the bacteria lachnospiracea in their gut than anxiety resilient female rats, while in males, lachnospiracea correlated positively with anxiety. "If you can modify the microbiome or products of the microbiome, then you have a noninvasive way of altering neuropsychiatric symptoms," she says.
TRANSLATING RESULTS
Many colleagues, like Stephen J. Ferrando, M.D., the Edith Har‑Esh, M.D., Professor and Chair of the Department of Psychiatry and Behavioral Sciences and director of psychiatry at WMCHealth/Westchester Medical Center, express gratitude and admiration for Dr. Sabban's work. "Her work has clearly informed the biological mechanism behind the development of traumatic stress," Dr. Ferrando says. "Her development of the animal model and behavioral paradigm are important to test new treatments. Her work has informed our basic understanding and led to the potential to bring treatment trials," he says.
Dr. Ferrando, who is researching the acute and long-term psychiatric effects of Long COVID-19, is currently partnering with Dr. Sabban in developing inflammatory biomarkers to predict which patients will develop depression, anxiety, brain fog or other cognitive symptoms of PTSD. "We have teamed up with Dr. Sabban for help in designing the biomarker analysis component," Dr. Ferrando says, noting that 25 to 27 percent of patients with Long COVID-19 meet the criteria for PTSD. The pair also plan to corroborate a treatment study of PTSD using intranasal neuropeptide Y. "We're looking to eventually develop this into a treatment for humans with PTSD, which would make it a true translational study, translating bench research findings from animal studies into actual human treatment," he says.
COPING ON CAMPUS
Dr. Sabban's broadening body of research could have profound implications for students who commonly suffer stress overload, says Robin Hershkowitz, LCSW-R, director of the Office of Student Mental Health and Wellness and assistant professor of psychiatry at NYMC. "Stress is not a personal weakness, but in these environments, people often feel like it is," Hershkowitz says.
By categorizing different types of stress, exploring its longterm negative impact and ways of screening for, preventing and treating it, it is important to raise critical awareness about the importance of recognizing warning signs. "We have so much more awareness and understanding of what PTSD looks like, which allows us to identify the condition earlier, reduce the stigma surrounding it and eliminate barriers to treatment," Hershkowitz says. "If we can understand why one person reacts one way and others in different ways, it gives us more information on how to help them."
NYMC puts this awareness into practice with platforms for students to initiate anonymous dialogues with mental health providers after they have completed a mental health screening. "One cannot dialogue with us without completing the screening but can complete the screening and choose not to respond to our outreach for dialogue," Hershkowitz says. Additionally, students can access this survey, which begins with an anonymous interaction and assesses their mental health needs. "Ninety-five percent of students who complete the survey end up coming in for an appointment," Hershkowitz says.
In addition to a team of licensed clinical social workers in the Office of Student Mental Health and Wellness who provide free and confidential support, including psychological counseling, coaching, advocacy, psychiatric evaluation, consultation, psycho-educational events, workshops, support groups and wellness programs, all students in the NYMC School of Medicine (SOM), School of Health Sciences and Practice (SHSP), and Graduate School of Biomedical Sciences and Touro College of Dental Medicine students have 24/7 access to Teledoc. Students can book appointments with board-certified psychiatrists, licensed psychologists and therapists who provide evaluations, medication and management via telephone, video or mobile app.
A recent SOM intersession on career planning and wellness was a three-day mini course in January 2023, that featured a series of small group sessions to provide students with important foundational knowledge and skills to help them contemplate their future while improving their awareness of wellness to help through medical school.
A respite from studies, the wide range of wellness-based activities offered covered the seven dimensions of wellness— physical, emotional, academic, social, spiritual, environmental and financial. Seeking to assuage some of the stressors of medical school, sessions were offered by the Office of Academic Support Services on study techniques; the Office of Student Mental Health and Wellness on managing anxiety and responding to situations more effectively; and the Office of Financial Aid on budgeting student finances.
VIRTUAL MIND-BODY TRAUMA RELIEF
Stress and trauma know no boundaries so Patricia L. Gerbarg, M.D., clinical assistant professor of psychiatry and behavioral sciences, teaches thousands of people around the world how to cope during war and other mass disasters.
Dr. Gerbarg and her husband, Richard P. Brown, M.D., associate professor in clinical psychiatry at Columbia University College of Physicians and Surgeons and former faculty member at NYMC, began their mind-body trauma-relief programs more than 20 years ago in the United States after the terrorist attacks on September 11, 2001. They are the co-founders of the Breath-Body-Mind Foundation. When they first learned about the COVID-19 pandemic in January 2020, they anticipated that in-person courses would no longer be safe. They began strategizing a way to provide the program in an online format, while also teaching effectively. They rolled out the first online program six months later.
Two weeks after Russia launched the full-scale invasion of Ukraine on February 24, 2022, Dr. Gerbarg and Dr. Brown offered their first online mind-body trauma relief program with translation for people in the war-stricken country. Psychologists, veterans, schoolteachers, emergency services professionals and refugees registered for their free courses to help themselves and the Ukrainian community survive the stress and trauma that come from war and losing loved ones. The courses have drawn anywhere from a few dozen to 700 students each and thousands have learned from their trauma relief teachings. More than 250 Ukrainians, mostly mental health professionals, went on to become certified Breath-Body-Mind trauma relief teachers.
The stressful conditions Ukrainians are under, whether they are on the front lines or refugees, can cause a high incidence of PTSD in adults and children, resulting in anxiety, panic attacks, nightmares, physical and mental exhaustion, headaches and stomach ailments. The breath-centered mind-body-relief program uses simple and easy to teach techniques to provide rapid relief during times of distress for children and adults. Graduates of the courses have used practices, such as slow breathing, gentle movements and imagery exercises to help children who are taught in schools and in bomb shelters.
"Triggers for stress and trauma are happening everywhere all the time," says Dr. Gerbarg. "Adults are very concerned about the effects this war will have on the children in Ukraine, who must live with these traumas, the loss of family members, being displaced, being in refugee camps and more."
Dr. Gerbarg offers seminars on integrating their mind-body practices into psychotherapy, while Dr. Brown teaches advanced techniques for people who may need specialized instruction, for example, military personnel or those with serious physical injuries.
ONE BREATH AT A TIME
During the teacher training sessions, attendees are taught how to teach the practices in-person or online and how to adapt the practices for people who may have physical conditions, respiratory problems or emotional disorders. They are also taught how to adapt the teaching methods for different cultures and steps to take if someone should have a negative reaction.
Trauma techniques were tailored for Ukrainians and practices had to be softened and slowed down because many people were physically sensitive due to the bombings, and they could be triggered by loud sounds or vibrations. Also, imagery exercises for children were changed, for example, from a clear blue sky, which could be associated with bombs falling, to a quiet secret garden of their own.
Feedback has been positive. Dr. Gerbarg remarks, "Some of the people I have trained said this is the first time in months that they stopped shaking or this is the first time they've been able to hear a siren go off and not have a panic attack."
Ukrainian psychologists and psychiatrists told Dr. Gerbarg that while they were busy taking care of as many people as they could, they were also spending nights and weekends studying trauma courses. Many of them were struggling with their own depression and exhaustion, while trying to take care of their patients. Professionals found the Breath-Body-Mind Foundation courses helpful in several ways. They reported that the breath practices calmed them, restored their ability to sleep, relieved their depression, increased energy, rid their headaches and made it possible for them to feel normal again.
"They told us that our teachings were different because we treated them with respect and acknowledged that they know a lot too," Dr. Gerbarg says. "Also, we taught them how to take care of themselves. You have to be in the right psychophysiological state in order to be able to convey these practices effectively and help other people."
THE FUTURE OF TREATMENT
In addition to underscoring the importance of spotting signs of PTSD, Dr. Sabban's work underscores the need for better treatment. "An estimated one in 13 people will develop PTSD at some point in their lives, so finding treatment or ways to prevent it is important for all of us," Tanelian says. "Most studies of PTSD are performed on males and the majority of treatments are based on males' responses," Tanelian says. Since women have a higher risk than men of developing PTSD, finding sexspecific treatments is essential. "What is true for one sex is not necessarily true for the other," she adds.
What is true is that stress, which contributes to more than two-thirds of illnesses that physicians treat, including cardiovascular disease, hypertension and depression, takes a sizeable toll on public health, says Chia-Ching Chen, Ed.D., M.A., M.S., CHES, professor of public health and director of the health education certificate program in the SHSP. "PTSD can be considered a social determinant of health which, according to some studies, connects the experience of traumatic events with physical health outcomes," Dr. Chen says. "Identifying clinical and research opportunities to impact the pathways between social determinants and health is critical in public health," she says.
Eliminating sources of stress would be ideal, yet virtually impossible. So, until that time, NYMC remains committed to providing tools to keep stress at bay and make PTSD a predictable and treatable disease in the future.