Making Space for Innovation
From modular layouts to shared resources, the new laboratories in the Basic Sciences Building offer both focused workspace and collaborative energy to enhance biomedical research at New York Medical College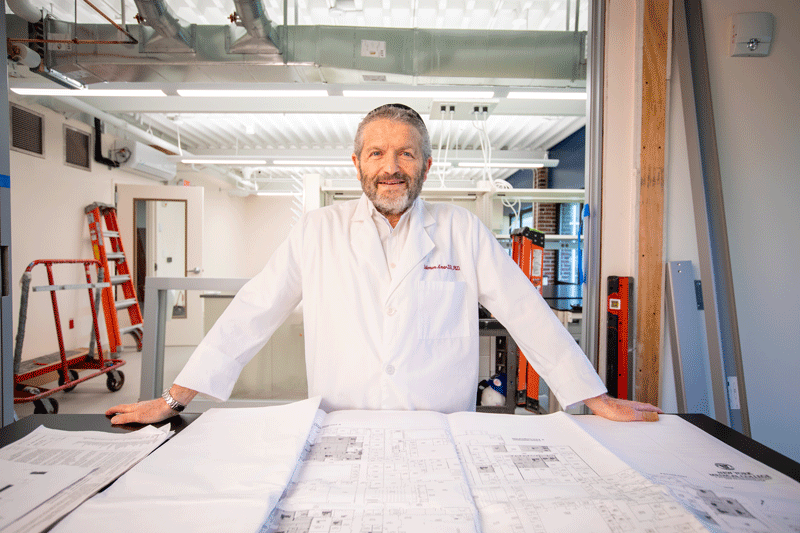 Designing the perfect research lab holds tremendous appeal in academia. With a wish list of upgrades that include tables designed to withstand vibrations, a shared enclave of protective fume hoods, research-friendly floorplans, enhanced lighting and modular furniture to design custom layouts, specifically tailored to each lab's investigations. The ideal layout would also boast an open floorplan that dispenses with cloistered silos to help facilitate collaboration among researchers.
With this ideal research environment in mind, the laboratory renovation project to the Basic Sciences Building (BSB) at New York Medical College (NYMC) was propelled by a matching grant from New York State's higher education capital (HECap funding). The renovations have transformed the space to become not only innovative but collaborative by design to enrich and diversify biomedical research. Enhancements include the construction of 17,000 square feet of multidisciplinary research space, accommodating up to 12 research teams; 3,000 square feet of shared core instrumentation space; and installation of flexible casework systems and best-in-class equipment, such as biosafety cabinets, autoclaves and fume hoods.
"When applicants evaluate whether to take a position here, the first thing they ask is to see the lab," says Salomon Amar, D.D.S., Ph.D., vice president for research and professor of pharmacology and of pathology, microbiology and immunology at NYMC and senior vice president for research affairs at Touro University, who oversaw the renovation from its start in 2019. "Because the lab is where researchers spend most of their time, they need to ensure its infrastructure is conducive to research. Through the improved laboratory space, we are better positioned to attract promising scientists, professors, post-docs and students to pursue their own research and support our existing investigations. This beautiful space will bear fruit, in terms of what we can produce within."
"The new construction and renovations of the BSB adhere to the newest best practices in lab design, including modular benches and open layout," says Marina K. Holz, Ph.D., M.P.H. '23, dean of the Graduate School of Biomedical Sciences, professor of cell biology and anatomy, and interim chair of the Department of Biochemistry and Molecular Biology. "Our new BSB facilities are a testament to the commitment of our administration to enhance and strengthen our research capacity."
In the new, highly flexible paradigm, shared access cores with open bench zones provide space for performing biomedical research. Results and data are then analyzed in dry computation space located within a designated office zone, in order to maximize both space and HVAC efficiencies.
The "open lab bay" layout allows for relocation of bench and workstation positions, encouraging research teams to evolve, grow and even welcome visiting collaborators. "The open concept inherently encourages higher levels of cooperation among researchers as they move through the workplace," says Ron Matten, M.P.A., associate vice president of facilities management and capital planning, on updating the 50-year-old facility. "Our design also adheres to best practices in sustainability, cutting redundant spaces to optimize energy efficiency."
The laboratory renovations reflect the mission and core values of the College and advance several key priorities in the College's strategic plan for 2021- 2026 including promoting biomedical research and innovation to improve public health, educating biomedical professionals to prepare them for careers as medical professionals, researchers, innovators and leaders, and providing a campus environment that inspires innovative teaching, effective learning and exceptional research.
"With these renovations that bring our labs to the forefront of innovation, we support and advance key aspects of the College's new strategic plan to establish our position as a leading health sciences institution," says Dr. Amar.
"The innovations are also designed to attract pharmaceutical and biomedical researchers across the region, who can pursue their research in our updated space," he adds. "This new hybrid paradigm, merging academic and commercial spheres under the same roof, aligns with our strategic initiatives to build sustainable and competitive research, curate areas of research excellence and partnerships and enhance our focus on community outreach."
Reaching beyond its footprint, the renovated BSB aims to nurture a culture of collaboration throughout campus, from the newest students to the most seasoned investigators.
"The renovation was designed to foster ties among departments, attract new talent and help our clinical faculty engage in translational science—bringing lab findings to patient bedsides at our hospital affiliates," says Padraic B. Reynolds, M.P.H. '14, associate dean for academic administration at the School of Medicine. "These collaborations will build on our strengths of seeking treatment strategies for COVID-19, cancer and other infectious diseases, cardiovascular and metabolic disease, as well as other public health challenges. Our biomedical science students will be able to participate in research with a greater sense of teamwork, which is critical to success in their careers."
Laboratory renovations were conducted in consultation with department chairs and deans, as well as many stakeholders at the College. Early this year, individual faculty and chairs met with renovation teams to go over final details of the new space. Among the first to move in was Christopher S. Leonard, Ph.D., interim chair of the Department of Physiology and professor of physiology. His verdict: "It is the best lab I have ever had. It has opened new vistas of research that we have never been able to pursue."
Dr. Leonard saw immediate potential in the modular, adjustable configurations for lab equipment and furniture. "There are places we need traditional wet lab benches for solutions," he explains, "but much of our work involves specialized high-sensitivity electronic measurement of nerve cells, which requires different tables to block vibration."
More expansive facilities allow Dr. Leonard's team to conduct essential research, such as observation of cardiac activity. It also creates an inviting space to consult with experts in neuroscience, cardiology and respiratory physiology— just some of the fields linked with physiology. And he values the efficiency of shared resources, close at hand. "The space consolidates a number of operations that were distributed across campus," he says.
"Top on my list was to have a 'functional lab space,' and you may wonder what I mean by that," says Chioma M. Okeoma, Ph.D., professor and vice chair of research in the Department of Pathology, Microbiology and Immunology. She clarifies: "At a former institution, my lab spaces were on two different floors and three separate places, making it difficult to coordinate experiments. This lab allows my team and other members of the research community—faculty, staff, students postdocs, residents—to access resources and help us function optimally."
Despite the challenging timeline of the project, its most looming obstacle—the COVID-19 pandemic—may have given way to its greatest strength. "We are appreciative of the team for the work to keep the project's momentum alive," says Dr. Leonard. "As we emerge from the pandemic, the prospect of renovated laboratory space motivates people to return, safely, to a shared space. It is good for espirit de corps; and it restores the creative collaboration that is essential to research."