Meet the Graduate Student Association E-Board for 2023-2024
The GSA is Committed to Amplifying the Voices of the GSBMS Student Body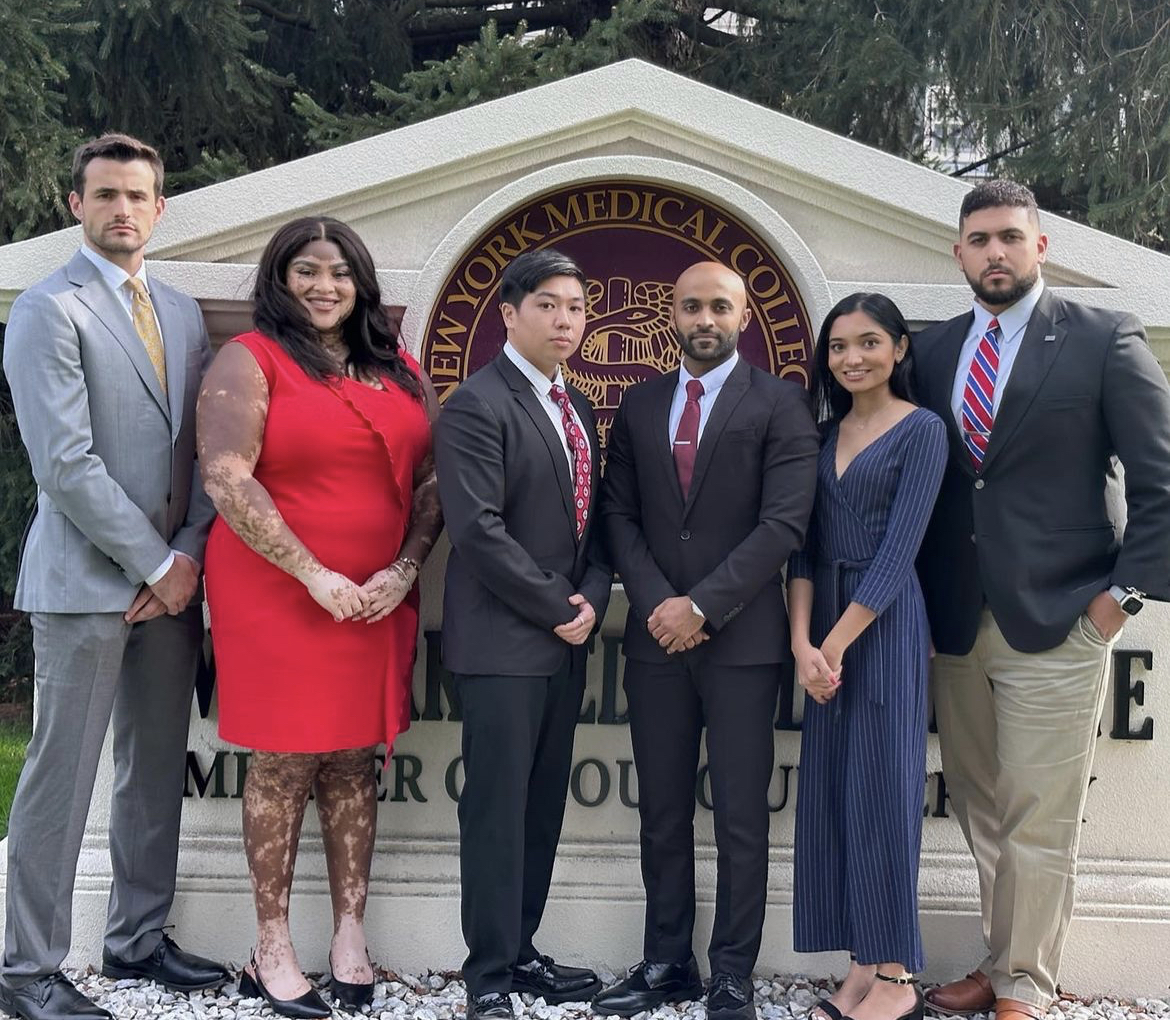 The Graduate Student Association elective board for the 2023-2024 academic year.
The Graduate Student Association (GSA) fosters community and empowerment within the Graduate School of Biomedical Sciences (GSBMS). The organization supports student organizations, promotes academic and social events, amplifies the voices of students on important issues and organizes the annual Graduate Student Research Forum (GSRF).
Christopher Lu
M.S. Class of 2024, President
"As the president of the GSA, my role is to oversee and facilitate all the activities that we are planning for the year. I strive to build upon the foundation set by our previous GSA board members. With classes resuming in-person, the campus has been livelier than ever, and I plan to create more social networking events and gatherings for everyone. Some of the events students can look out for are our upcoming Friendsgiving/Holiday gathering, 5K charity run for Feeding Westchester and our annual GSRF."


Rahim Hirani
M.D./Ph.D. Class of 2025, Vice President
"Due to my unique position in both the M.D. and Ph.D. programs, my primary goal is to bridge the gap between the School of Medicine and GSBMS to foster a spirit of unity and collaboration. I am committed to enhancing connections, sharing knowledge and creating opportunities that transcend traditional academic boundaries. As vice president, I aspire to bring the vibrant tapestry of cultures together, organizing and promoting cultural and social events that celebrate diversity and encourage intercultural understanding on campus. By doing so, I hope to create an environment where students from all backgrounds feel valued and inspired to contribute their unique perspectives to the academic discourse."


Steven Yousef
M.S. Class of 2024, Secretary
"I plan to work toward an atmosphere of enhanced academic productivity, enriched social opportunities and increased collaboration between programs. I will strive to empower our campus community by equipping its students with the tools and opportunities necessary for success, both in and outside of the classroom. Through hard work and purposeful planning, the GSA e-board and I are eager to serve as effective advocates for all. Students deserve to feel heard, cared for and prioritized, which is exactly what we are here to do. I am humbled and honored to have been entrusted by my peers with this role and feel grateful to be a part of the exciting changes and initiatives to come."


Tim Cervera
M.S. Class of 2024, Treasurer
"I aim to foster easy and innovative methods to help fundraise for student events and successfully support various charities and donations in the Westchester and New York metropolitan area. In addition, I aspire to help fellow students feel as comfortable and integrated as possible for their well-being and success here at NYMC."


Neha Ali
M.S. Class of 2024, Chair of Community Building
"As this year's chair of community building, I hope to work with NYMC students and faculty to better serve and support the community around us. I look forward to working with organizations such as Feeding Westchester and Sheltering Arms. I am also excited to share new ideas and create partnerships this year that will make a lasting impact on our community."


Madison Spears
First-year Ph.D. Student, Chair of GSRF
"As chair of the GSRF, my aim is to maintain GSRF as an inviting and collaborative environment where graduate students can showcase and be rewarded for their research. I'm determined to make GSRF more engaging and inclusive. Our graduate student community is a fusion of diverse research interests and backgrounds. A key focus of mine is to make sure students feel comfortable and encourage to share their work with their peers and professors. GSRF is a great opportunity for students to exercise their presentation skills and develop professionally. I am looking forward to continuing to plan this event and make sure it's the best one yet."

Andrew Galeota
M.S. Class of 2024, Vice Chair of GSRF
"As vice chair of the GSRF, I aim to help my fellow students collaborate through research. My primary focus is to drive student engagement and provide them with the opportunities to present their research. I strive to help pave the way for our future leaders in health care. I'm very much looking forward to being involved with this year's research forum and for the exciting opportunities that await."