Mill Etienne, M.D. '02, M.P.H., FAAN, FAES, Appointed Vice Chancellor for Diversity and Inclusion
Dr. Etienne will work to enhance diversity by promoting equity and inclusion in all aspects of teaching and clinical practice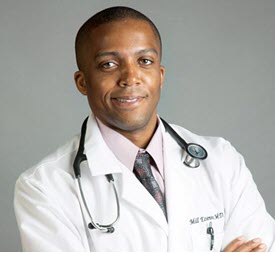 Mill Etienne, M.D, M.P.H.
In keeping with its deep roots and a strong commitment to diversity and inclusion, we are proud to announce the appointment of Mill Etienne, M.D. '02, M.P.H. FAAN, FAES, associate dean of student affairs and associate professor of neurology and of medicine in the School of Medicine (SOM), to the college-wide position of vice chancellor for diversity and inclusion, effective immediately.
"NYMC, founded in 1860, has been a bastion against bigotry in health sciences education since our founding. We admitted our first woman student within three years of opening our doors and our first black student in 1869. Among the other firsts of NYMC are being the first allopathic medical school in the U.S. to have a Jewish dean, the first to have a black dean in its administration and the first to have scholarships designated for black students in 1928," said Edward C. Halperin, M.D., M.A., chancellor and chief executive officer. "Not content to rest on our laurels, we will strive to be a leader in anti-racism. I look forward to partnering with Dr. Etienne in this effort."
In this new role at the College, Dr. Etienne will work to enhance the diversity of the entire NYMC and Touro College of Dental Medicine (TCDM) community by promoting equity and inclusion in all aspects of teaching, student life, faculty recruitment, clinical practice and research. He will also oversee the Office of Diversity and Inclusivity, working closely with Ray Whitt, M.D., assistant professor of obstetrics and gynecology, and Yvonne Thornton, M.D., professor emeritus of obstetrics and gynecology, as well as a new assistant to the vice chancellor to be named.
Dr. Etienne shared more about his new role, including his goals and challenges.
Q: Please briefly describe your new role.
Dr. Etienne: As the inaugural vice chancellor for diversity and inclusion, I aim to enhance the diversity of our community here at NYMC and TCDM. I will do my best to make sure that faculty, staff and students, feel that they belong here. Our office will promote equity and inclusion in all aspects of our teaching and clinical practice.
Q: Particularly in recent times, the terms "diversity" and "inclusion" have increased in use, so what is your definition of diversity and inclusion?
Dr. Etienne: When I think about diversity, especially at an institution that is training health care professionals, I think of the institution training professionals who will go on to serve the diverse community that we have here in the United States. Diversity is the bedrock for compelling thought, and it upholds unification supported by open-mindedness. Given that it is well established that people have a tendency to work in communities that look like them, it is important that we train doctors, nurses, dentists, physical therapists and speech-language pathologists, who look like the communities that they will be serving. Likewise, the scientists and public health professionals we are educating should also reflect our diverse communities. When this does not happen, gaps in care may emerge, because it may be difficult to recruit people to work in certain regions. The gap is properly addressed by inclusion, and 'to include' means suspending all ill-conceived notions about people in general.
Therefore, inclusion is the conscious effort to embrace people, cultures and norms with the most humanist and caring approach. Given that our students are transient, while the faculty are typically here long term, the most important first step in ensuring a diverse environment is recruiting a diverse faculty. It is important that the community also fosters inclusivity and belonging. People who work and attend our institution should feel that they belong here. There is clear data indicating that people who feel that they belong perform better at work, perform better at school and have better health outcomes.
Q: What do you hope to accomplish in this new role?
Dr. Etienne: The faculty and students will receive meaningful training to learn to work in an increasingly diverse environment we have here in the United States. I want to see us celebrating our differences and how that makes us a stronger institution. I'd like to see that all clinicians graduating from NYMC get trained in recognizing and addressing implicit bias and microaggression. Our students will be now and forever able to identify the structural determinants of health and take steps to knock down those barriers so that our patients can have better health outcomes. We have to make sure that any and all elements of racism and bias that is embedded in any of our school's curricula be intentionally removed. Finally, NYMC is becoming the leader in eradicating racism and other forms of bigotry from health care by utilizing humanism, professionalism and altruism, as the basic building blocks to diversity, equity, inclusion and belonging.
Q: How do you gauge your effectiveness in diversity and inclusion?
Dr. Etienne: The aim of our institution is to develop our student body into the most concerned health professionals who will deliver the utmost proficient care for patients from all walks of life. Therefore, the Office of Diversity and Inclusion is working relentlessly to deliver on this claim. We want every student, faculty and staff member, to capture and maintain a feeling of belonging. The more comfortable our community is in celebrating our differences, the more there will be a measurable effect. The results of belonging will be evident in the feedback from all NYMC constituents, while our productiveness and performance will reach new heights with a stamp of approval from our community with a much stronger town-grown relationship. Additionally, the more our faculty, staff and students, feel that they belong, the more effective we are. We should see our faculty and student body start to resemble the population that we serve.
Q: What are the greatest challenges faced by NYMC and, more broadly, health sciences institutions and the health care industry in achieving true gains in diversity and inclusion?
Dr. Etienne: One of the biggest challenges is the tremendous opportunity gap that exists among many segments of our population. Black and Brown students have significantly fewer opportunities to achieve success and take the appropriate coursework to prepare them for a career in the health sciences, so that limits the diversity of the talent pool that we have to select from. This is why we are investing in the pipeline and trying to increase opportunities available to underserved high school and college students in our region so that we can enhance the pipeline. Furthermore, buy-ins from the top down is also a major challenge. The diversity and inclusion efforts must be supported by leadership, and in order to have the most harmonious environment, the entire institution needs to be on board.
Q: Literally and emotionally, 2020 has been a brutal year for Black Americans and people of color. With the understanding that many of NYMC's students of color may feel emotionally fatigued because we, as a society, have been at this work for ages-- yet systemic racism endures, can you speak to why you believe (hope?) this time could be different?
Dr. Etienne: I was so looking forward to 2020 because of the idea of the 2020 vision and being able to see more clearly. Indeed, there has been a great deal of heartache and pain for America, particularly for the Black and Brown communities. What has been encouraging is the outpouring of support from good people of all communities who are now calling out the injustices that have been present in our society for centuries. This year clarified how strained our health care system can be; how police brutality is still prominent; and how political life is divided in these United States, but I am a firm believer, that NYMC is a trailblazer for change in our modern-day society. As we move to 2021, let's not lose sight of that 2020 vision.
Q: Have your own experiences with bias influenced your desire to take on this important new role?
Dr. Etienne: Many years ago, I was interviewing for residency. As was customary at the time, I drove to the site of the interview the night before. When I got there, late that evening, I was to meet a representative of the institution in a lobby area so they could guide me to the room I would be staying in. I was mistaken for "one of the boys from the kitchen." It was clear that the program's representative felt that was more likely than me being one of the candidates for a neurology residency position. I made no mention of this incident the following day when I went through my interviews. As I went through my residency (at a different institution), despite walking around the hospital wearing a white coat and carrying a black medical bag, I was regularly mistaken for patient transport, culinary staff, radiology technicians, respiratory therapists, among other positions. That still happens even today. There are many reasons why this happens but among them are the inadequate diversity in health care and the pervasiveness of implicit bias in society and in our field. I look forward to leading the charge for transformational change in health care.