Name Change for a Game Change
At 60 years, the Graduate School of Biomedical Sciences at New York Medical College embraces its growth "beyond basic" to inaugurate its next chapter with a new name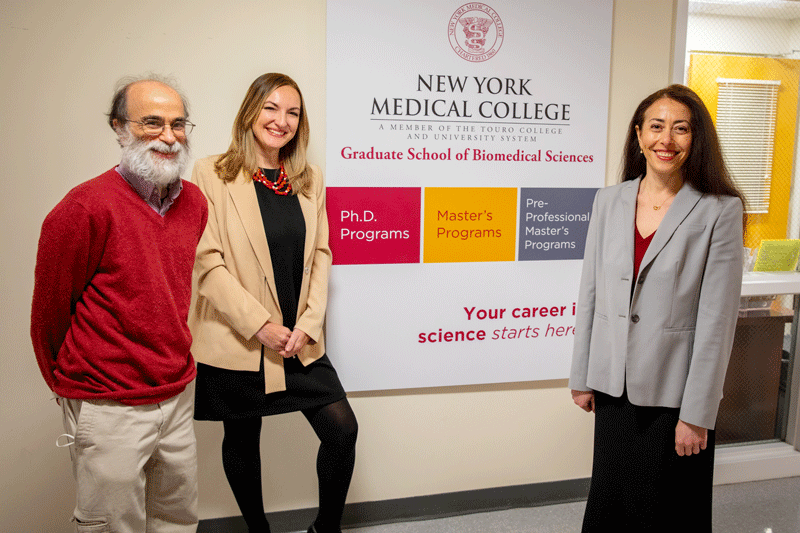 With its academic rigor, lifesaving potential and fundamental role in population health, there's nothing "basic" about how the discipline of medical sciences has evolved. So as the graduate school of New York Medical College (NYMC) celebrates its "diamond anniversary" 60th year, the bright new facets of its identity shine within a new name. At the start of this 2022-2023 academic year, the Graduate School of Basic Medical Sciences became the Graduate School of Biomedical Sciences (GSBMS), in a name change approved by the College's Board of Trustees. The new title provides a more accurate representation of a student body engaged in the academic and research activities that drive today's biomedical research and funding, guided by values of excellence, intellectual curiosity and diversity and inclusion.
"The name change from 'Basic' to 'Biomedical' captures the graduate school's vision of interdisciplinary science, collaboration and academic research at the crossroads of science and medicine," says Marina K. Holz, Ph.D., M.P.H. '23, who took the helm as the dean of GSBMS in 2018, and is also professor of cell biology and anatomy, interim chair of the Department of Biochemistry and Molecular Biology, director of the Integrated Ph.D. Program and director of the Women's Institute for Science Entrepreneurship (WISE). "The new title also more accurately expresses our identities. Our students, faculty and researchers are indeed biomedical scientists whose work spans the disciplines related to human health and disease. As a relatively young school, we have already accomplished a great deal. We maintain a unique identity in Westchester County by providing quality graduate biomedical education in a tightknit community that creates a supportive environment. We excel in that mission."
The name change also highlights the synergies between GSBMS and the School of Medicine (SOM). "The term 'biomedical' reflects integration of basic medical sciences, which investigate foundations of health and disease, with applied sciences that study practical applications to diagnose conditions, treat disorders and promote health," says Tetyana Cheairs, M.D., M.S.P.H., assistant dean for Ph.D. programs and assistant professor of pathology, microbiology and immunology. "This translational research is a key asset of NYMC and the name change helps us reflect that as we move forward. In addition to our ties with the SOM, our proximity to Bioinc@NYMC, our biotechnology incubator, and companies like Regeneron Pharmaceuticals present further opportunities for collaboration. Our curriculum is designed to foster the interdisciplinary, groundbreaking research captured in the term biomedical."
Recent faculty hires also broaden opportunities for biomedical research. "Our boost in hiring has brought faculty with fresh ideas, insight and resources," says Dr. Cheairs. "Their initiatives are valuable assets not just to the graduate school, but to the entire College."
DIVERSITY AS STRENGTH
In keeping with its focus on diversity and inclusivity, GSBMS has removed long-entrenched barriers, financial and otherwise, that might discourage applicants to graduate school. When Dr. Holz joined as dean, she led the initiative to waive the requirement of Graduate Record Examinations (GRE) for admission to the Ph.D. and two-year M.S. programs.
"The majority of students we serve are local and come from surrounding communities. Many are 'first-generation' scholars and often come from nontraditional professional backgrounds," says Dr. Holz. "This diversity is an asset to our school. In fact, we noticed that removing the GRE requirement increased the number of and enhanced the quality of applicants." Dr. Cheairs agrees, calling the decision beneficial. "The GRE is attached to a bias toward someone who has the time and resources to prepare for, and if needed, retake, this test," she explains. "Our approach to reviewing applicants is more holistic. We conduct interviews with applicants to the Ph.D. program so they can discuss their academic accomplishments and research experience, share their passions and convey how well-versed they are. We look at the big picture of their academic records and professional focus. That holistic approach gives us a much better picture of the applicant's potential in biomedical science than a score on the test."
Dr. Cheairs points out NYMC's proud history of inclusivity and community. "We have carried this legacy into the present very well," she says. "The diversity of our students and their professional backgrounds are a huge advantage for us. They bring connections and perspectives that strengthen our networks within business, industry and government. This elevates the status of our graduate school, promoting our strengths to a much broader community."
DEFINED PATHS FOR CAREER-MINDED STUDENTS
Supportive guidance for professional development is a keystone of the GSBMS' new identity. "Our graduate program is far more than just academic and research fundamentals," says Dr. Cheairs. "We offer many professional development opportunities to the graduate students throughout our curriculum. The intimate size of our school allows close collaboration among students with faculty, advisors and investigators. In hindsight, students realize we give them more than just assignments to complete. We give them ways to apply their knowledge, enhance their core competencies and hone their research and presentation skills."
In 2018, GSBMS launched the Master of Science (M.S.) in Clinical Laboratory Sciences (CLS) program. This two-year program allows students to qualify for the national certifying examination for clinical laboratory technologists after their first year and to start working as licensed laboratory technologists in New York State and nationwide, while completing their literature review during their second year. Training for CLS encompasses chemistry, toxicology, hematology, urinalysis, diagnostic immunology and other critical skills for medical, industrial and pharmaceutical laboratories. This year, the CLS Program received full accreditation from the National Accrediting Agency for Clinical Laboratory Science (NAACLS). "This program is unique in providing a defined path for our career-minded students into a critically important and rewarding profession," says Dr. Holz.
Two events of the last few years have riveted attention upon this intersection of science and medicine, says Dr. Holz. First, the spread of COVID-19 made clear the importance of laboratory scientists in testing, tracing and developing vaccines against the virus to curb the pandemic. Second was the sobering legal actions and lawsuits against Theranos, in which the misrepresented accuracy of blood analysis technology had severe consequences for both investors and patients' health. One of the whistleblowers who brought the scandal to light was trained in CLS. "Theranos made people realize that our entire health system depends on lab technicians performing their work accurately and ethically," says Dr. Holz.
LINKING MEDICAL RESEARCH TO CLINICAL CARE
GSBMS also provides a springboard for students to enter medical school with firsthand experience through immersion. Under an agreement between the GSBMS and the SOM, students in the Interdisciplinary Biomedical Sciences (iBMS) Accelerated Master's Program (AMP) or applicants who have completed this program, are admitted to SOM if they meet certain academic performance benchmarks. In this one-year, postbaccalaureate pre-medical program, students enroll in many of the same classes as first-year medical students.
"The AMP program is an incredible opportunity for academic enhancement," says Dr. Holz. "Students receive a thorough grounding in biomedical sciences, while also sitting alongside medical students, to discover medical school for themselves. At the end of the program, they are very well-equipped to continue on to medical school. This linkage agreement removes yet another barrier for students, affirming our commitment to advancing these students in their journey to medical school. We want to remove some of that uncertainty while supporting their success."
Naveena Chittineedi, SOM Class of 2024, is among those who completed the AMP to transition into SOM.
"This program is one of the keys to my success as a medical student," says Chittineedi, who emigrated from South India to Jamaica, Queens, with her mother and two siblings in 2007. "I knew from a young age I wanted to be a doctor. I also knew there would be significant barriers to getting there. In my family, no one has gone to medical school or even graduate school. After college, I realized I needed to enhance my application for medical school. I knew I wanted to stay in New York to lean on my family support system. GSBMS appealed to me because of its intimate class size, faculty-to-student ratio and closeness to home." When Chittineedi discovered the program would expose her to lectures, group discussions and labs with first-year medical students, she says, "I was floored."
"We took the same classes, got to know the same professors and joined the same clubs. That immersion into the student body really gave me a taste of what being a first-year medical student was like, even as I built my application for medical school. The rigor prepared me for success when I matriculated." Chittineedi credits her advisor, Brian B. Ratliff, Ph.D., associate professor of physiology and of medicine, director of the AMP and co-director of the Medical Physiology Course, with reaching out frequently to evaluate performance, prepare for interviews and offer guidance to medical school admission. "From exams to interviews, he was there for every single milestone. I also want to give credit to Dr. Libor Velisek, [M.D., Ph.D., professor of cell biology and anatomy, pediatrics and of neurology, SOM assistant dean for basic medical sciences and director of the M.D./ Ph.D. program,] and Dr. Jana Veliskova, [M.D., Ph.D., professor of cell biology and anatomy, obstetrics and gynecology and of neurology,] who prepared me for my interviews and checked in with me throughout the process. Because I didn't have family or friends to guide me, it was essential to have these faculty mentors." Keenly aware of social justice and health equity, Chittineedi hopes to practice in medically under resourced communities, such as the one where she grew up. The College's network of clinical affiliations gave her the opportunity to serve as a patient care associate and certified rape crisis counselor, building skills in advocacy. She now serves as the executive director of the NYMC Center for Human Rights, a student-run clinic providing forensic medical evaluations to asylum seekers and human trafficking victims.
GSBMS also offers a one-year accelerated master's linkage program for admission into the Touro College of Dental Medicine (TCDM) at NYMC. Its hybrid curriculum is designed to introduce students to a dental school atmosphere, receive a grounding in dental science and enroll in graduate-level biomedical courses that enhance skills in both learning and critical thinking.
Sydney Spal, D.D.S. '22, completed the linkage program to gain an edge in dental school at Touro. "I took each science class alongside students pursuing their Ph.D. and master's degrees in the GSBMS," says Dr. Spal. "Studying that material with the same instructors helped refresh my background knowledge. The peer study sessions were intense because the candidates were very bright. I watched them review the material on the whiteboard in the library." This served her well in dental school: "There, it was me standing at the whiteboard, teaching everybody else as I had seen the graduate students do. That experience reinforced my learning."
Under the guidance of Kenneth M. Lerea, Ph.D., assistant dean for master's programs, professor of cell biology and anatomy, and course director for histology and cell biology, Dr. Spal completed a literature review of the effects of squamous cell carcinoma in the oral cavity among smokers, translating material covered in her graduate courses into applications for dental patient care. Dr. Spal is now completing her dental residency at St. Francis Hospital Dental Center in Hartford, Connecticut.
THE NEXT CHAPTER
With the momentum of its new name, the GSBMS is poised for a leadership role in its next chapter. "We want to continue improving by staying attuned to our students' needs in a changing world," says Dr. Holz. "Our charge is to provide the education they need for the career opportunities they seek. Recruiting faculty, removing obstacles, establishing programs and creating pathways to success are all centered on benefiting our students. They will always be our priority."
---

Department of Cell Biology and Anatomy Welcomes New Faculty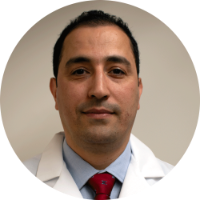 Abdelfattah El Ouaamari, Ph.D.
Associate Professor of Cell Biology and Anatomy and of Pharmacology
Dr. El Ouaamari studies the role of inter-organ communications in glucose metabolism with an emphasis on the identification of molecular and cellular mechanisms promoting regeneration and function of islet insulin-producing β cells. He has made novel discoveries on the roles of autonomic innervation of the pancreas. His research brings strong basic science with high translational potential. He most recently served as assistant professor in the Department of Medicine, Division of Endocrinology, Metabolism and Nutrition at Rutgers Robert Wood Johnson Medical School.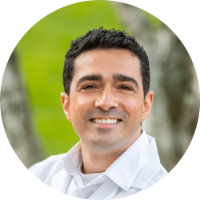 Malik Bisserier, Ph.D.
Assistant Professor of Cell Biology and Anatomy and of Physiology
Dr. Bisserier's interests include further investigating the transcriptional and epigenetic alterations in pulmonary arterial hypertension with the ultimate goal to develop new therapeutic strategies for prevention and treatment. He is also a member of the American Thoracic Society, American Heart Association, International Society of Heart Research and the Pulmonary Vascular Research Institute, and he currently serves as guest editor of several journals. Dr. Bisserier was awarded several prestigious recognitions, including the Cournand and Comroe Early Career Investigator Award from the American Heart Association. He joins NYMC from the Cardiovascular Research Institute at the Icahn School of Medicine at Mount Sinai in New York City.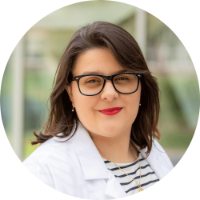 Julie DiMartino, Ph.D.
Assistant Professor of Cell Biology and Anatomy
Dr. DiMartino focuses her research on dormancy escape and cancer metastasis using a combination of in-vivo models and imaging technics. She was awarded an Early Career Investigator Award from the METAvivor foundation and the 2022 Rupert Timpl award from the International Society for Matrix Biology. She has published more than 20 academic papers, in respected peer-reviewed journals, including Journal of Cell Biology, Cancer Discovery, Nature, Nature Cancer and Cell. Prior to joining NYMC, she was at the Icahn School of Medicine at Mount Sinai Hospital, New York, where she focused on the role of the extracellular matrix in cancer dormancy.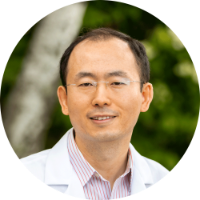 Shuai Gao, Ph.D.
Assistant Professor of Cell Biology and Anatomy and of Biochemistry and Molecular Biology
Dr. Gao's research interest is interrogating the interplay between transcription factors (e.g., AR, FOXA) and epigenetic modulators (e.g., histone demethylases) in driving drug resistance in prostate cancer. Dr. Gao is a recipient of the Department of Defense Idea Development Award-New Investigator Option and has also received multiple national training awards. He has been studying dysregulated gene transcription in the progression of prostate cancer for 14 years and has 23 peer reviewed publications. He was a research assistant professor at the University of Massachusetts Boston prior to joining NYMC.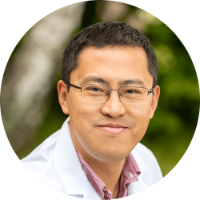 Jian Li, Ph.D.
Assistant Professor of Cell Biology and Anatomy
Dr. Li's lab combines genetics, genomics and cellular biological approaches to understand protein homeostasis and stress response in reproduction, aging and cancer. His research has received multiple grant awards, including postdoctoral fellowships from National Ataxia Foundation, BrightFocus Foundation for Alzheimer's Disease Research and Maximizing Investigators' Research Award (MIRA) from the National Institutes of Health. He comes to NYMC from the faculty of the Oklahoma Medical Research Foundation.