New York Medical College and Touro College and University System Host Second COVID-19 Symposium
More than 720 participants tuned in to the second COVID-19 symposium, "What we know. What we don't know. What you need to know," via an online webinar on March 30 when there were more than 145,000 reported cases in the U.S.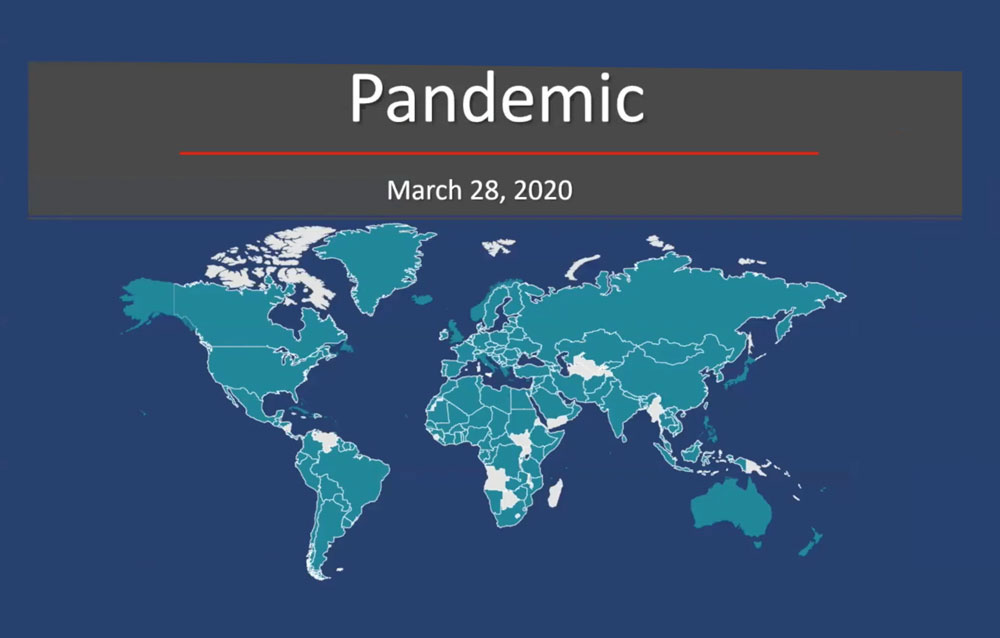 COVID-19 Pandemic Map March 28th, 2020
Although the title remained appropriate, it was a stark difference from the first such symposium on January 31, when there were 200 people in attendance at the Touro College Midtown Manhattan campus and only seven reported cases in the U.S.
"What a difference two months make," said Alan Kadish, M.D., president, Touro College and University System, who welcomed the virtual guests to the presentation by faculty experts of New York Medical College (NYMC), the NYMC Center for Disaster Medicine (CDM) and the Touro College and University System (TCUS).
Dr. Kadish said he was proud of the way the TCUS and the NYMC community came together quickly to transition more than 16,000 students to online education and equally proud of the volunteer efforts displayed by the medical, pharmacy, dental, law and mental health counseling students. In addition, he praised the collective ongoing efforts in the areas of medication trials, fighting for better access to testing and working with regulators to speed the entry of health care workers into the fight against COVID-19.
Sharing the latest information on the virus and the pandemic—which he warned is an emerging infection and evolving situation—Robert W. Amler, M.D., M.B.A., dean of the NYMC School of Health Sciences and Practice, former regional health administrator at U.S. Department of Health and Human Services, former chief medical officer at the Centers for Disease Control and Prevention (CDC)'s Agency for Toxic Substances and Disease Registry (ATSDR) and co-founder of the CDM said this:
"At the Center for Disaster Medicine, we teach principles instead of preach protocols because the response in communities and the consequence management after a catastrophe follow similar patterns regardless of the cause." Dr. Amler went on to explain the R0 (pronounced R naught) of the virus, a mathematical model used to indicate how contagious an infectious disease is and the average number of people who will contract a disease from one contagious person. According to a study from China the R0 of COVID-19 is approximately 2.28, compared to R0 values of Ebola at 1.5 – 2, influenza at 1 – 3, pertussis at 5.5 and measles at 12 – 18.
"There is no guidebook with a chapter on COVID-19," Dr. Amler said. He explained the metrics we need to know in order to fully understand the virus and how best to defeat it, include its natural course, incubation period, case fatality rate, vaccine potential and efficacy among others.
The screen then switched over to infectious disease specialist Marisa Montecalvo, M.D., professor of medicine and director of student health services, who presented information on the clinical management of suspected and confirmed COVID-19 patients including transmission, testing, clinical presentations, outcomes and treatments. Providing a stark warning that the timeline between experiencing shortness of breath and ICU admission is usually only two days, Dr. Montecalvo then launched into a description of the clinical presentations, which include fever, cough, myalgia and fatigue, sputum and diarrhea. "The key point in suspect case management is you treat the patient essentially as a confirmed case" she said. Of the lessons learned from the first confirmed cases in China, she highlighted that four percent of China's 44,672 cases were health care workers.
"Clearly we need to work on clinical trials to better understand the biology of the infection," she said.
Offering practical mental health advice, Jeffrey Lichtman, Ph.D., Touro College Graduate School of Education assistant professor and Lucille Weidman Program Chair of Jewish Childhood Education and Special Education, provided tips while sheltering in place. "It is important to remember that every human being is unique. It is normal to experience different levels of anxiety around the unknown," said Dr. Lichtman.
He further explained that, when changes in routine occur and people have feelings of limited control, it is normal for people to experience anxiety. "We must understand anxiety is normal. We must understand what we are feeling and why we are feeling it," he explained. "That is the starting point for managing our feelings, not dismissing them.
Some practical tips from Dr. Lichtman included limiting time spent watching the news to twice a day (once in the morning and again in the early evening, but not late at night before you go to bed), and getting plenty of exercise and sleep.
"In every challenge there are opportunities to reach out to loved ones," he said. Communication is important and he hopes the symposium will be a launching pad for discussion.
Joining the conversation to address the public health aspect of the pandemic, Sherlita Amler, M.D., M.S., adjunct professor of public health, clinical associate professor of pediatrics, fellow of the Center for Disaster Medicine and health commissioner for Westchester County, explained that no exposure means no risk, no risk means no infection and no infection means no illness. She further stressed the importance of non-pharmaceutical personal measures such as social distancing, hand washing, keeping hands away from one's face and self-quarantining if exposed to the virus.
Dr. Amler described the societal tactics being implemented in Westchester County including the activation of emergency plans, travel restrictions, event cancellations, containment zones, ramped up testing and drug development.
She also qualified the all-important question, who should get tested, the difference between isolation and quarantine and emerging pharmaceutical tactics including specific antibody testing, anti-viral regimens and immunizations. "Let's not forget we can donate plasma after illness," she said referring to the new study of the antibody levels in the blood of those who tested positive for COVID-19 and then tested negative after 14 days of being symptom free, that may be of benefit until a vaccine is developed.
The symposium then turned to the law as Rodger D. Citron, associate dean for research and scholarships and professor of law, Touro College Jacob. D. Fuchsberg Law Center, spoke on the legal and policy issues during a pandemic. "All of our everyday lives are being greatly affected and the government action is being taken in response to that," he said. He explained the primary authority for quarantine and isolation measures is found at the state level and authority is pursuant to the states' power under the Tenth Amendment to protect the public. However, federalism allows variations in state law. The federal authority also has jurisdiction over interstate and foreign quarantine.
"Public health measures involve balancing the rights of individuals with the state's police power to protect public health and safety, he said.
Rounding out the panel of presentations, Edward C. Halperin, M.D., M.A., chancellor and chief executive officer, provided a medical historian's perspective on bigotry and xenophobia during a pandemic in his presentation "The better angels of our nature of maybe not," quoting from Abraham Lincoln's first inaugural address. He discussed the history of naming disease and infections after nations, cultures and races dating back to the Ten Plagues of Egypt, the French Disease (syphilis) and the Spanish Influenza. "The ancient practice of naming disease after other people, places the blame on others," Dr. Halperin said referring to the discrimination and violence face by Asians amid the novel Coronavirus outbreak.
"Trying to understand the best way to respond to an infectious disease outbreak without an understanding of history is the equivalent of thinking you can grow cut flowers," Dr. Halperin advised. "Viruses don't have nationalities. Xenophobic labeling of diseases may be justly referred to as "othering," scapegoating and/or bigotry. One would have hoped the United States had outgrown this form of behavior. Clearly some people have not outgrown xenophobic labeling. Clearly, therefore other people need to denounce it. I think I just did."
Before turning to questions from the audience, Dr. Kadish closed with, "What happens now? I do believe that if we ban together and work together, follow isolation techniques, combat loneliness, increase testing, test the new drugs, some of which have shown promise, starting in two to four weeks from now things will begin to get better…Touro College and New York Medical College will continue to follow the COVID-19 pandemic and provide you with the skills and information to get through this together as best we can."