New York Medical College Forms Academic Affiliation with Landmark Medical Center in Rhode Island
NYMC designates Landmark as a teaching site for its graduate medical education program in internal medicine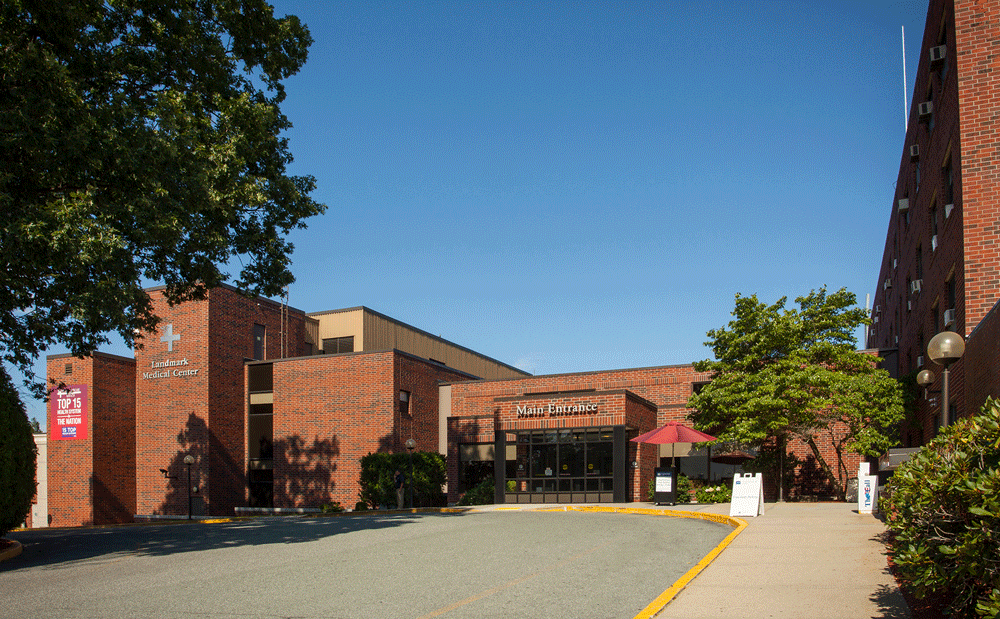 Landmark Building

New York Medical College (NYMC) and Landmark Medical Center in Woonsocket, Rhode Island, announced an academic affiliation designating the hospital as a teaching site for the education of NYMC's graduate medical students. The partnership establishes a residency program in internal medicine at the medical center and will be NYMC's first partnership of this kind in Rhode Island, growing its network of affiliated sites.
"At NYMC, we are proud of the robust network of affiliated hospitals and ambulatory care sites that allows our students and residents access to an outstanding range of educational opportunities to further develop their clinical skills. This new partnership with Landmark Medical Center enables us to further expand the clinical learning environment for our residents," said Jerry L. Nadler, M.D., MACP, FAHA, FACE, dean of the School of Medicine (SOM) and professor of medicine and of pharmacology. "We look forward to working with the leadership and clinicians at Landmark Medical Center on this new initiative that we are confident will be mutually beneficial for years to come."
A subsidiary of the Prime Healthcare, Landmark is a 214-bed acute-care hospital in Woonsocket, Rhode Island, providing a full range of extensive medical services, including emergency, diagnostic, medical, surgical, cancer, cardiac, pain management and obstetric care, to more than 175,000 patients annually throughout northern Rhode Island and Southeastern Massachusetts for more than 140 years.
Prime Healthcare and Landmark sought out NYMC for this affiliation after witnessing the exceptional quality of NYMC's undergraduate medical education program and graduate residency and fellowship programs through NYMC's affiliation with Saint Michael's Medical Center in Newark, New Jersey, which is also a member of the Prime Healthcare.
"Landmark Medical Center is pleased to collaborate with the NYMC on this exciting Internal Medicine Residency Program. Becoming a teaching hospital provides a new, comprehensive approach where our experienced clinical professionals will be collaborating with and educating residents and interns under the auspice of an esteemed medical college. The patients we serve in northern Rhode Island and southeastern Massachusetts will most certainly benefit from the knowledge, training and experience our residents will bring," said Michael R. Souza, chief executive officer and chair of Landmark Medical Center and Rehabilitation Hospital of Rhode Island.
NYMC's extensive network of affiliated hospitals and clinical sites offers its medical students and residents an unparalleled range of learning opportunities to develop their clinical and provider skills. From large urban medical centers to suburban community hospitals to rural and specialized centers, the SOM's more than 20 affiliates, across five states—New York, New Jersey, Connecticut, West Virginia and Rhode Island—provide comprehensive resources to enrich the medical education experience.
About New York Medical College
Founded in 1860, New York Medical College is one of the oldest and largest health sciences colleges in the country with nearly 1,500 students and 330 residents and clinical fellows, more than 2,600 faculty members and 23,200 living alumni. The College, which joined the Touro College and University System in 2011, is located in Westchester County, New York, and offers degrees from the School of Medicine, the Graduate School of Basic Medical Sciences, the School of Health Sciences and Practice, a School of Dental Medicine and a School of Nursing. NYMC provides a wide variety of clinical training opportunities for students, residents, and practitioners.
About Landmark Medical Center
Landmark Medical Center is a 214-bed, acute care hospital, and a member of the Prime Healthcare Foundation, a 501(c)(3) public charity. We provide emergency, diagnostic, medical, surgical, cancer, cardiac, pain management, and obstetric care.
About Prime Healthcare
Prime Healthcare is an award-winning health system operating 45 hospitals and more than 300 outpatient locations in 14 states, providing over 2.6 million patient visits annually. It is one of the nation's leading health systems with nearly 50,000 employees and physicians dedicated to providing the highest quality healthcare. Fourteen of the Prime Healthcare hospitals are members of the Prime Healthcare Foundation, a 501(c)(3) not-for-profit public charity.