NYMC Announces New Clinical Leadership in the School of Medicine
The New York Medical College (NYMC) School of Medicine (SOM) is pleased to announce the appointments of new clinical chairs.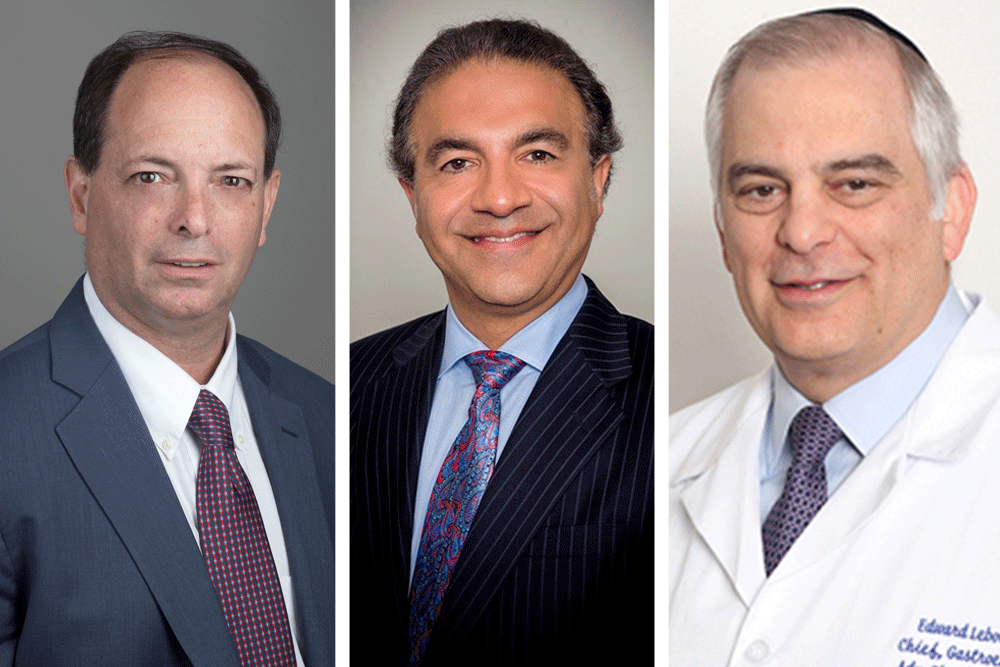 The NYMC SOM is pleased to announce the appointments of new clinical chairs: Peter Panzica, M.D., chair of the Department of Anesthesiology; Sean Tedjarati, M.D., M.P.H., M.B.A., chair of the Department of Obstetrics and Gynecology, effective July 1; and Edward Lebovics, M.D., interim chair of the Department of Medicine, effective September 1.
Department of Anesthesiology

Dr. Panzica will also serve as director of Westchester Medical Center Health Network's Valhalla and Poughkeepsie campuses. Dr. Panzica has clinical interests in cardiac anesthesia, transesophageal echocardiography, transplant anesthesia, thoracic anesthesia, and practice management and expertise in operating room management, efficiency and process improvement.

Previously Dr. Panzica served as clinical director and vice chief of the Department of Anesthesia at Beth Israel Deaconess Medical Center in Boston and assistant professor of anesthesiology at Harvard Medical School.
Department of Obstetrics and Gynecology

Dr. Tedjarati, clinical professor of obstetrics and gynecology, will also serve as director of OB/GYN at Westchester Medical Center (WMC). He has served as division director of gynecologic oncology at NYMC and chief of gynecologic oncology and robotic gynecologic surgery at WMC. He also serves as chief clinical integration officer for the WMCHealth Network, responsible for the integration and strategic oversight of clinical services.

Dr. Tedjarati will succeed Howard Blanchette, M.D., who is retiring from the role on July 1. Dr. Blanchette's outstanding teaching, clinical and administrative skills as well as research and publications have made him a respected leader in his field. He is the recipient of several teaching awards and in 2011 he was inducted into Alpha Omega Alpha as a faculty initiate. Dr. Blanchette is a former senior examiner for the American Board of Obstetrics and Gynecology and former chairman of the American College of Obstetricians and Gynecologists' Committee on Health Care for Underserved Women. He is also a former chairman of the Accreditation Council for Graduate Medical Education's Residency Review Committee for Obstetrics and Gynecology, and former director of the American Board of Obstetrics and Gynecology and the American Board of Family Medicine.
Department of Medicine

Dr. Lebovics, the Sarah C. Upham Professor of Gastroenterology and professor of medicine, will also serve as interim director of medicine at WMC. His clinical expertise and research have made significant contributions in the fields of gastrointestinal and liver disease. His special interests include advanced therapeutic endoscopy, biliary and pancreatic endoscopy, hepatitis B and C virus infection, non-alcoholic fatty liver disease, chronic liver diseases and inflammatory bowel disease.

Dr. Lebovics will succeed William H. Frishman, M.D., the Barbara and William Rosenthal Professor and Chairman of the Department of Medicine, at the end of the summer while a national search is conducted for the chair position. For 22 years, Dr. Frishman has overseen the medical center's largest clinical section as well as a large clinical training program with 100 residents and fellows and a research program with 120 active protocols. He has a national and international reputation as a practicing physician, researcher, educator, academic leader, author/co-author/editor of multiple contributions to the peer-reviewed medical literature and a scientific mentor of many medical students.