Pediatric and Adult Epilepsy Research Program Formed
New York Medical College, Westchester Medical Center and Boston Children's Health Physicians collaborate to create research program in pediatric and adult epilepsy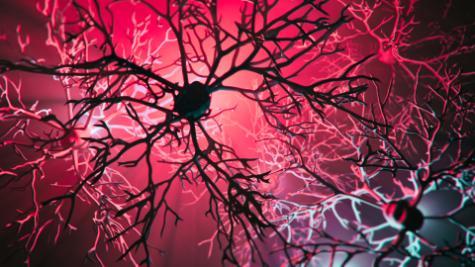 Neurons image - Featured News Size
Epilepsy -- in which brain activity becomes abnormal, causing seizures or periods of unusual behavior sensations, and sometimes loss of awareness -- afflicts approximately 3.5 million people in the United States, including 500,000 children, making it one of the most common neurological disorders. New York Medical College (NYMC), Westchester Medical Center (WMC) and Boston Children's Health Physicians have collaborated to create a research program in pediatric and adult epilepsy, which brings clinicians and basic science researchers together to work to develop new, more effective epilepsy treatments.
"The new age of rapid drug development, new devices and genetic research in the field of epilepsy is very promising," says Leonard Newman, M.D. '70, professor and chair of the Department of Pediatrics and associate professor of family and community medicine at NYMC, and president of Boston Children's Health Physicians (BCHP). "We are very excited to introduce this new research program and look forward to more opportunities for transitional bench to clinical research in the field of epilepsy as a result."
Last year, Steven Wolf, M.D., FAES, and Patricia McGoldrick, M.P.A., M.S.N., N.P., FAES, who have a wealth of clinical and research experience in epilepsy, were recruited from Mount Sinai to join the NYMC neurological research team, which includes Libor Velisek, M.D., Ph.D., FAES, professor of cell biology and anatomy, pediatrics and of neurology, and assistant dean for basic medical sciences, who has been principal investigator on numerous NIH-funded grants on translational research in developmental epilepsy and published more than 180 primary papers and book chapters on the subject; Jana Veliskova, M.D., Ph.D., professor of cell biology and anatomy, obstetrics and gynecology and of neurology, who has published adult-age epilepsies and female epilepsy issues; Patric K. Stanton, Ph.D., professor of cell biology and anatomy and of neurology, who has published on plasticity in epilepsy and Eliana Scemes, Ph.D., professor of cell biology and anatomy, who has published on glial contribution in epilepsy.
"We welcomed the opportunity to join this team to bring together our clinical pharmacology work with the bench research that Dr. Velisek is conducting to work towards creating more translational medicine in epilepsy," says Dr. Wolf, clinical professor of pediatrics at NYMC and director of pediatric epilepsy at BCHP. "We are particularly interested in studying the genetics of epilepsy and understanding how personalized medicine and treatments can be developed."
"For me, this is a unique opportunity of joining a strong team of clinicians with deep interest in pediatric epilepsy who are focused on treatment-resistant syndromes representing area of my translational research," says Dr. Velisek.
Several studies into innovative treatments are currently underway, including a clinical trial to assess the long-term safety of the oral solution fenfluramine hydrochloride as an adjunctive therapy for seizures in patients with rare seizure disorders, such as epileptic encephalopathies, and a preliminary study to validate a screening tool developed for the identification of Lennox Gastaut syndrome in patients with intractable drug resistant epilepsy. Dr. Velisek also recently received at $450,000 grant from the National Institutes of Health to study a new class of compounds (sigma receptor ligands) as possible novel treatments of infantile spasms, a devastating epilepsy syndrome of childhood with limited treatment options that have to date shown only partial efficacy and serious adverse effects.
NYMC residents and students have also had the opportunity to be involved in the research.
"I was blessed to be a part of research and work that Dr. Wolf and Ms. McGoldrick do for the children with epilepsy. I was impressed by the wide range of pathology of epilepsy I could witness as well as the relationship the families had with them," says Nikita Garg, M.D., pediatrics resident, who worked on data collection for a case series on children undergoing treatment with responsive neurostimulation for refractory epilepsy and published a case report on Phelan McDermid syndrome.
"Much of the medical knowledge we've gained recently is based on patient populations which consistently lack adequate representation of underrepresented minorities (URM). Consequently, there is a clear misunderstanding of how treatment options may differ depending on genetic makeups," says Michaela Scott, SOM Class of 2021. "As a student with a background in applied behavioral analysis therapy working with a variety of child neurology patients, when I learned that Dr. Wolf and Ms. McGoldrick were involved in research aimed at better understanding these genetic differences and that many of their patients were URM, I was very interested in being involved. So far, I have assisted with identifying patients who would benefit from enrollment in the study. In the process, I have learned of patients whose treatment plans have been adjusted, whose parents have gained a better understanding of their own conditions and how families have been able to enjoy an improved quality of life."
"It is extremely rewarding to identify a potential new treatment and then to have the opportunity to test it, see it go successfully to market and ultimately be used to help hundreds of children with epilepsy get better," says Dr. Wolf.