Race for Rehab Celebrates 20 Years of Racing for A Good Cause
150 participated in the the 20th Annual Race for Rehab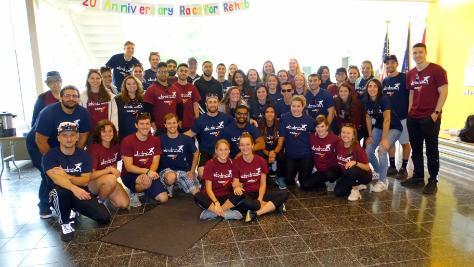 On October 8, 150 seasoned athletes, weekend warriors, Achilles International athletes and guides from around the tri-state area descended on the Valhalla campus and laced up their sneakers and readied their handcycles for the 20th Annual Race for Rehab.
Hosted by Doctor of Physical Therapy (D.P.T.) students in the School of Health Sciences and Practice, the race supports Achilles International, a not-for-profit organization which provides athletes with disabilities with a community of support, using sports as a tool to bring hope, inspiration and the joys of achievement to people with disabilities.
The inaugural Race for Rehab at New York Medical College originated in 1999, when a few industrious students from the Department of Physical Therapy approached Anthony M. Sozzo, M.A., M.S.Ed., associate dean for student affairs and director of student financial planning and student activities, asking him to be their advisor. "It started as a D.P.T. community project. That first year, we had 35 participants, and the entire group of racers gathered in the lobby of Basic Sciences Building," he recalls.
The race took root, and a new class has stepped up to organize the race each year since— raising a total of $138,600 for Achilles International over the course of 20 years. This year, amid pomp and circumstance befitting the Race's 20th year anniversary, the students raised more than $11,150, the race's largest funding effort to date.
The race's success is a credit to the tremendous efforts and leadership provided by the organizing students say faculty advisors Janet P. Dolot, P.T., D.P.T., Dr.P.H., O.C.S., COMPT, assistant professor of physical therapy and Mr. Sozzo. One such student, Amy Gladis, D.P.T. Class of 2020, says seeing everyone come together in support of this singular cause makes all the work worthwhile. "I really enjoyed seeing the community come together to support these athletes and each other. It brings together all of the D.P.T. classes, who are all part of the event in one way or another: first-years as volunteers, second-years raising money and organizing the event, and third-years being supportive," she says.
"The enthusiasm to keep this event going is passed from class to class, student to student. The event is structured so that a second-year group organizes it, the first-year students volunteer and the third-year students share their previous experiences, consult and provide general support," explains Dr. Dolot. "This event benefits the students because they can witness first-hand the power of exercise and community, and that, through the process of working together, we can achieve things that may have previously seemed unattainable."
"Year after year, the students remain dedicated to this event because it's a reminder of why they are dedicating their lives to the profession of physical therapy," Sozzo says.
View the Race for Rehab results.