Rajkumar Pammal, SOM Class of 2023, Hopes to Be an Agent of Change in Emergency Medicine
Mr. Pammal Has Put An Emphasis On The Importance Of Patient Experience While In Medical School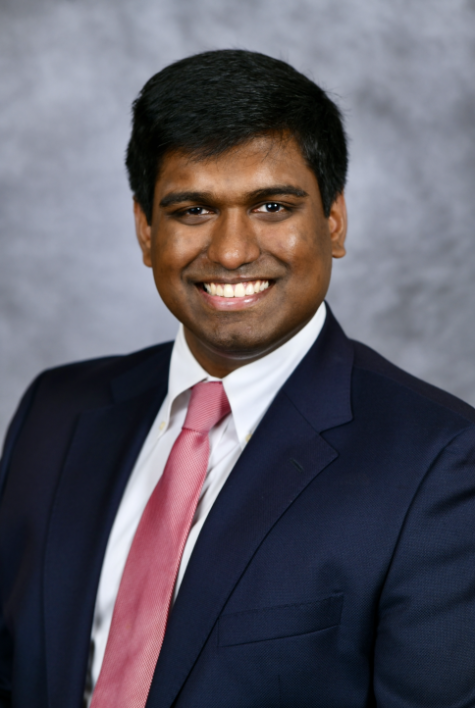 Rajkumar Pammal, SOM Class of 2023
Rajkumar Pammal, SOM Class of 2023 and president of the School of Medicine (SOM) Student Senate, doesn't take the role of a physician in a patient's life lightly. While pursuing his M.D. degree, Mr. Pammal has made it a priority to not only learn the science behind medicine, but to embrace humanism when beginning to treat patients. While embracing compassion in his clinical studies, Mr. Pammal has his sights set on a career in emergency medicine.
What inspired you to pursue your degree?
I applied to medical school because I firmly believe that physicians are uniquely positioned to provide compassionate clinical care to patients, something that is so crucial in our rapidly evolving healthcare landscape.
What has helped motivate you along your educational journey? Have you encountered any challenges along the way?
The opportunity to interact with and provide care for patients has been a primary motivating factor in my educational journey. While at times the pre-clinical courses were difficult to navigate, recalling this information during clinical rotations has certainly made it worth it.
After you graduate, what is your dream career or specialization?
I am excited to be pursuing emergency medicine as my specialty, which will allow me to be one of the first clinicians to interact with a wide range of patients of varying backgrounds and acuity levels and make meaningful decisions about their clinical course. I envision a future career in which my practice of emergency medicine informs broader health care reform and quality improvement initiatives.
What made you choose NYMC?
Entering medical school, I knew I wanted to attend a program with supportive faculty and administration, a dynamic student body, and one that was close to my family and friends in New York and the Northeast. NYMC offered all these aspects to me, and I am very glad I chose NYMC.
What has been your favorite aspect of being an NYMC student?
I have really enjoyed how much influence students at NYMC have over their medical school experience. Whether through student government or leadership organizations, the interest groups, or various other extracurricular and research activities, students have led numerous initiatives that have positively impacted our broader NYMC community.
What faculty member has had the greatest influence on you here?
Dr. Mill Etienne [M.D., M.P.H., FAAN, FAES, vice chancellor for diversity and inclusion, associate dean for student affairs and associate professor of neurology and medicine in the SOM] has had an immense impact on me as a medical student and future physician. I was fortunate to learn directly from Dr. Etienne during my third-year neurology clerkship, where he taught me how skilled clinicians can integrate both medical knowledge and humanistic characteristics in providing quality care to patients. Dr. Etienne has also taught me invaluable leadership skills in our interactions through Student Senate and other initiatives.
What advice would you give applicants or incoming students?
Surrounding yourself with friends and family who support you and love you unconditionally is so important when the going gets tough. There will certainly be challenges in medical school and beyond, but with the strength of your support system, anything is possible.
What is your number one study tip?
My primary study tip is quality over quantity. As medical students, we have so much medical and scientific knowledge to learn but are also fortunate to have so many resources at our disposal. Figuring out which resources you learn from best and sticking to that streamlines the study process and makes retaining information more manageable.
Are you involved in any student organizations?
I have been a member of the SOM Student Senate since the first year of medical school and am fortunate to have had this opportunity to serve my classmates and school, most recently as Senate President. I have also been involved in the resiliency curriculum as a program coordinator, a co-chair of the health policy roundtable and editor-in-chief of the Roundtable Journal on Health Policy.
Outside of your studies, what are your hobbies or interests?
I am a huge tennis fan and enjoy playing any chance I can get—the public tennis courts in Tarrytown by the water are an awesome spot close to campus. I also play the alto saxophone and love listening to live music.
What has been your favorite rotation? What is the best advice a resident/attending gave you?
Perhaps a bit biased, my favorite NYMC rotation was my recent emergency medicine sub-internship at NYC Health + Hospitals/Metropolitan and NYC Health + Hospitals/Harlem. I loved the fast pace of both emergency departments, the opportunity to see so many patients and learning from faculty and residents alike. Something an attending physician told me that resonated with me is to always take every opportunity to learn and grow; medicine is constantly evolving, and when we evolve with it, our patients benefit.
What would your classmates be surprised to learn about you?
While at a conference in Italy during spring break my junior year of college, I had the awesome opportunity of meeting Pope Francis at the Vatican.