Resiliency Curriculum Aimed at Combating Medical Student Burnout Continues to Grow and Evolve
Program designed to help medical students deal with significant stressors during their four years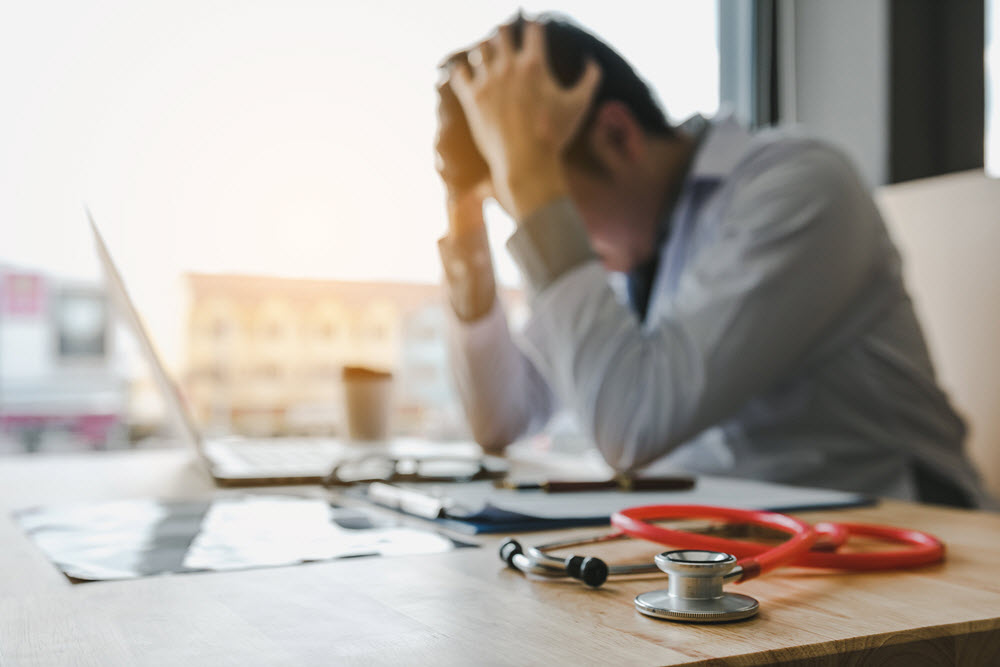 Medical student showing signs of stress
According to numerous studies, medical students are much more likely to experience burn out—emotional exhaustion associated with work-related stress, feelings of detachment toward patients and a low sense of personal accomplishment. In addition, the American Foundation for Suicide Prevention reports that medical students are three times more likely to commit suicide than their peers outside medical school are.
At New York Medical College (NYMC), a student-led initiative in 2018 to respond to this national mental health crisis resulted in the introduction of the Resiliency Curriculum. The program, which continues to be run by School of Medicine (SOM) students, aims to teach the foundational skills necessary to promote wellbeing and resiliency among the students, so that they are better trained to care for themselves and their colleagues and ultimately better able to serve their patients throughout their careers.
"The path to becoming a physician is a truly wonderful journey, but it is one of long hours, hard work and many emotional experiences. Medical students face significant stressors during their four years, from intense study hours to difficult clinical events, all of which can lead to emotional exhaustion," says Susan Rachlin, associate dean of Student Affairs and associate professor of radiology. "Fostering resilience is a way to mitigate the negative effects of stressors, prevent burnout and help students succeed after difficult experiences. However, resiliency like the rest of their education must be learned and practiced."
"System-level changes like a pass/fail curriculum were initiated at NYMC to help to combat some of the stress and burnout but more needed to be done," says David A. Stern, M.D., director of student mental health and wellness and assistant professor of psychiatry. "That's why we gladly supported the student-led initiative of the Resiliency Program. Students need to and can actively work to combat stress and burnout through building up resilient behaviors that allow them to better deal with stress. Moreover, the program itself has fostered a great sense of community and peer support among the students that has in and of itself been therapeutic."
The program, which was initially introduced as part of the curriculum for first-year medical students, has continued to grow and evolve over the last few years. Currently, several sessions are offered throughout the year for both first- and second-year students and plans are underway to expand the curriculum for third- and fourth-year students.
"We know that physician-wellness is an issue that's been long unaddressed. But in the context of practicing as physicians to balance all the demands of 21st century health care, we believe that formally training future doctors how to navigate challenges like stress, conflict and failure is a core component of a holistic medical education," says Tom Kim, SOM Class of 2021, who directs the program. "Much like how we can and need to learn how to take a good history or do a good physical exam, we can and must teach our fellow students how to recognize and handle burnout and other challenges that will inevitably come with being a doctor."
Each year, the student-led curriculum team identifies key issues based on their experience as medical students, and then consults with psychiatrists from Westchester Medical Center and researchers with experience in burnout as well as reviews current literature on wellness to select the best way to address those issues using specific evidence-based skills or discussion topics. Examples of sessions, which are led by upperclassmen mentors trained by the Office of Student and Mental Health Services, include Transition to Medical School: From Surviving to Thriving; Mindfulness in Medical School; and Self-doubt and Self-care in Medicine. Because the program is unique as a program run by students for their peers, it allows the program to be easily adapted to fit the needs of students, with activities this year incorporating the impact of COVID-19 and the Black Lives Matter movement.
"Overall, there are skills/techniques that have already been proven to be effective in reducing burnout and improving wellness in health care settings," says Mr. Kim. "From those, we select what would be most appropriate for medical students to learn and focus on teaching those concepts using the medical school experience as learning material. Since it's a very student-led curriculum, it's very much a living curriculum. While the central theme and goals of the sessions stay the same, we elicit feedback from each class year so that we can better tailor the curriculum to the needs of the students."
The curriculum continues to be enthusiastically received by the students. Parvathy Retnakumar, SOM Class of 2023, who is just completing the pre-clinical curriculum, felt so positively impacted by the experience that he was inspired to join the student curriculum team and is now coordinating the delivery of the curriculum to the first-year medical students.
"The Resiliency Program was one of the most influential parts of my first year at NYMC," says Mr. Retnakumar. "Medical school is sometimes described as a marathon and the resiliency sessions allowed me the time and space to slow down and reflect on how I was actually doing. Having these sessions with my House helped normalize how we were feeling and really provided a sense of community. What I love about resiliency is that it is not meant to teach you to cope with the stressors of medical school but to thrive despite them. Some people compare resiliency to a muscle that requires training, and the resiliency sessions do just that."
For Jesse Honig, SOM Class of 2021, his involvement as a mentor and session-leader, was brought about because of a tragic experience he had as a first-year student.
"I was very close with my grandmother, who was very sick with end stage liver disease when I started medical school. We knew she didn't have long to live, and I had been hoping she lived long enough to be able to attend the white coat ceremony," says Mr. Honig. However, sadly, his grandparents were involved in an accident on the way to the ceremony, which resulted in the death of his grandmother and severely injured his grandfather.
"I was extraordinarily lucky that I had found such a strong support system in my first few months at NYMC, because had I not, I don't know where I would be today. For that reason, I felt an obligation to pay it forward, helping teach underclassman skills in resiliency to get through similar events. I feel like we all have unique experiences, but due to the challenges and stresses of medical school, we don't always have or take the time to know what each other are going through, leading to feelings of isolation. Even under the best of circumstances, it's extremely important to build your so-called 'resiliency toolbox', since you never know when you're going to need to pull from it. I think a silver lining from my experience is it has given me this mindset, which I can bring forward into residency and has helped me tremendously through the pandemic. Had it not been for this, I wouldn't be nearly as passionate about resiliency, learning about resiliency and humanistic medicine as I am now."