School of Medicine Faculty Honored During Third Annual Dean's Faculty Awards
Faculty were Celebrated for Excellence in Teaching, Mentoring, Research and Service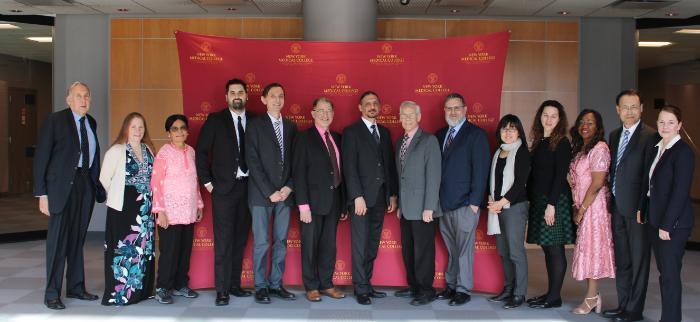 School of Medicine (SOM) faculty were celebrated for excellence in teaching, mentoring, research and service during the Third Annual Dean's Faculty Awards Ceremony, held in Skyline Dining Room on March 30.
"The Annual Dean's Faculty Awards Ceremony is one of the SOM's most important events in celebrating the accomplishments and contributions of our faculty who are the heart and soul of our institution. This year's awardees, recognized for their exemplary teaching, research and service contributions and achievements are remarkable individuals and academicians. I'm humbled and grateful to be able to recognize our faculty in this way," said Kathryn Spanknebel, M.D., senior associate dean of faculty and academic affairs, who emceed the event.
"Being a professor is a rare transgenerational undertaking because what good we do will manifest itself in our and subsequent generations… it is our job for our students and the readers of our papers to convey ideas, often by weaving them into coherent stories… so this afternoon we celebrate your work as the creators of coherent and instructive stories for your students and we thank all of you for being part of the New York Medical College (NYMC) community. My congratulations to this year's awardees," said Edward Halperin, M.D., M.A., SOM interim dean and chancellor and CEO of NYMC.
Former SOM Dean Jerry Nadler, M.D., who introduced the dean's faculty awards in 2020 also offered video greetings to congratulate the honorees.
Edmund LaGamma, M.D. '76, professor of pediatrics and of biochemistry and molecular biology, received the Outstanding Achievement Award in recognition of his long and distinguished career as an educator and neonatologist. As the Outstanding Achievement Award winner, Dr. LaGamma also had the opportunity to present on his career and important research.
Under Dr. LaGamma's leadership, the medical staff at Maria Fareri Children's Hospital, a major affiliate of NYMC, grew to include nearly 30 neonatologists deployed to multiple hospitals throughout the region, two successful biomedical research laboratories and a clinical research group. Dr. LaGamma's service to advance the public health of babies across New York State has been recognized by the prestigious New York State March of Dimes Mission Triangle Award and the New York Perinatal Association Stanley James Award. He has guided basic, translational, and clinical research initiatives, including NIH-funded projects that examine novel ways to improve the neurodevelopment of preterm infants and the neurological benefits of supplemental thyroid hormone. His current research focuses on stem cell therapies for babies who have suffered intraventricular hemorrhage, and his fellowship program contributes more than 15 peer-reviewed papers annually. Dr. LaGamma has personally trained over 150 fellows and educated and mentored countless medical students and pediatric residents, many of whom now hold leadership positions throughout the United States.
THIRD ANNUAL DEAN'S FACULTY AWARDS RECIPIENTS
Outstanding Achievement Award
Edmund La Gamma, M.D.
Department of Pediatrics
Excellence in Diversity, Equity and Inclusion Award
Victor Garcia, Ph.D.
Department of Pharmacology
Excellence in Research Award
Sangmi Chung, Ph.D.
Department of Cell Biology and Anatomy
Marcello Rota, Ph.D.
Department of Physiology
Excellence in Teaching and Mentoring Award
Jan Geliebter, Ph.D.
Department of Pathology, Microbiology and Immunology
Marilyn Scharbach, M.D.
Department of Pediatrics
Garret Weber, M.D.
Department of Anesthesiology
Rising Star Award
Ercument Dirice, Ph.D.
Department of Pharmacology
Lila Kagedan, M.Ed.
Department of Medicine
Dean's Honorable Recognition
Paul Arnaboldi, Ph.D.
Department of Pathology, Microbiology and Immunology
Victor Fried, Ph.D.
Department of Cell Biology and Anatomy
Paulette Porteous-Cole, D.D.S
Department of Dental Medicine
Heena Rajdeo, M.D.
Department of Surgery
Sonia Solomon, D.O.
Department of Pediatrics
Jeff Xu, M.D
Department of Anesthesiology