SOM Class of 2027 Dons White Coats for the First Time
A Long-held Tradition at NYMC, the White Coat Ceremony Marks a Milestone for Students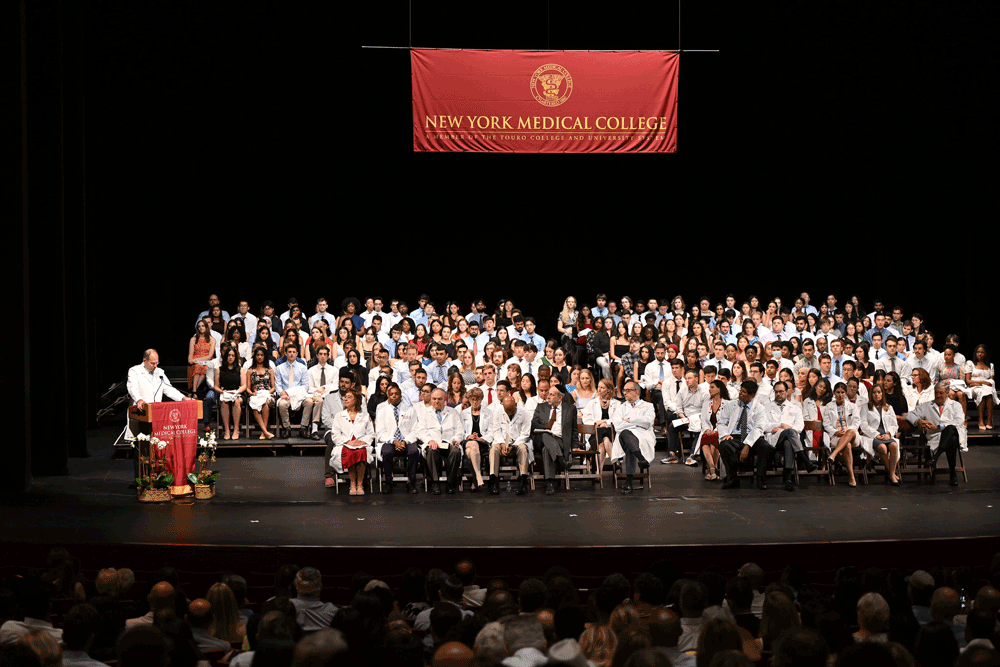 SOM Class of 2027 White Coat Ceremony
Members of the School of Medicine (SOM) Class of 2027 marked a milestone in their medical education as they donned their white coats for the first time during the White Coat Ceremony at SUNY Purchase on July 28. A long-held tradition at New York Medical College (NYMC), the White Coat Ceremony began in 1993 at Columbia University College of Physicians and Surgeons to emphasize the importance of professionalism and humanism in medicine at the beginning of medical school.
The 219 members of the class processed into the auditorium with their white coats draped over their arms as their families and friends looked on with pride. During the ceremony, several faculty and student speakers spoke of the enormous responsibility they would carry as physicians, symbolized by their white coats, and emphasizing the importance of maintaining their humanism throughout their careers.

"These white coats that you will soon receive symbolize the hard work and specialized knowledge that characterize us as physicians. But also remember the values that they represent: the dedication to your patients above all, and the commitment to excellence that is demanded by the path we have chosen," said Neil Schluger, M.D., newly named dean of the SOM.

"The white coat creates a sense of responsibility both as physicians or student doctors. We have a relationship with patients that transcends politics. It transcends religion and it transcends our beliefs and what divides us. We have both an opportunity and obligation to ignore those differences and to take care of our patients as individuals, as human beings, without bias, without prejudice. And with an obligation to treat everyone in the best possible way that we can," said Alan Kadish, M.D., president of NYMC and of Touro University (TU).

The Class of 2027 also received words of advice from their fellow medical students. "As you embark on this journey and move through your medical school career, you will have the chance to define for yourself, what it means to you to be a 'good doctor.' Are you a budding surgeon working on your suture technique? Are you a future pathologist honing your histology skills? Are you going to be a pediatrician, where you must practice explaining difficult concepts to those in their earliest years? What will it take for you to be a good doctor," said Ashley Sacks, SOM Class of 2024 and co-president of the NYMC chapter of the Gold Humanism Society. "All of the aforementioned skills will be crucial, but regardless of your final path, I hope you always prioritize being a kind, compassionate and respectful physician. Because those are traits that are intrinsic and can't be taught… Your patients will trust you with some of the most intimate moments of their lives, and they certainly will remember how you made them feel. I hope you always see it as an honor to be present in these moments."

The keynote address was given by Muhammad Choudhury, M.D., professor and chair of the Department of Urology, who was recently recognized by the American Urological Association with the prestigious "Gold Headed Cane Award" for his outstanding contribution to the profession of urology during his long and illustrious career that spans more than 40 years. During his address, Dr. Choudhury spoke of his early years growing up in a remote area of Bangladesh. His father died when he was just 11, leaving his mother to raise five children on her own. "Though she had no formal education, she was an incredibly smart and determined woman and was determined to educate her children and send at least one to medical school, and as the eldest that one was me… The reason I bring this story up is if I can make it, anybody can."

Dr. Choudhury then went on to speak of the importance of the six standards of resident and fellowship training – medical knowledge patient care, professionalism, interpersonal/communication skills, practice-based learning and system-based practice – as adopted by the Accreditation Council for Graduate Education, interspersing his remarks with examples from his own career.

"Gaining outstanding medical knowledge in the next four years will be the cornerstone of providing state-of-the-art, high-quality medical care to your patients for the rest of your professional life…. Throughout medical school, then as residents and later as physicians, you will deal with patients and their families under stress. They are stressed because of their pain, discomfort and concerns about the findings in a CAT scan of a large tumor or abnormal blood tests. Your professionalism and interpersonal skills backed by your medical knowledge will be absolutely critical in how you navigate these difficult situations, allay the anxiety of the patient and families and help them on their way to recovery….You must continue to learn and educate yourself throughout your professional life. When I trained in urology in the 1970s, 100 percent of the kidney stones were removed by making a large incision in the body. Since the 1980s, 100 percent of the stones are removed using techniques without making an incision…. Despite [Medicare and the Affordable Care Act], millions of our fellow citizens remain without health insurance. The high cost of drugs and challenges with affordable long-term care are serious issues patients deal with every day. None of these problems will be resolved by the time you graduate. Educate yourself in the complexities of our health care system, look for solutions and help your patients navigate these challenges."
Videos of White Coat and various SOM events are available on the NYMC School of Medicine Youtube Channel.