SOM Faculty Named to New Leadership Roles
Dr. Joanna Pessolano to Take on New Student Affairs Role and Dr. Dominique Malacarne Pape to Become Clerkship Director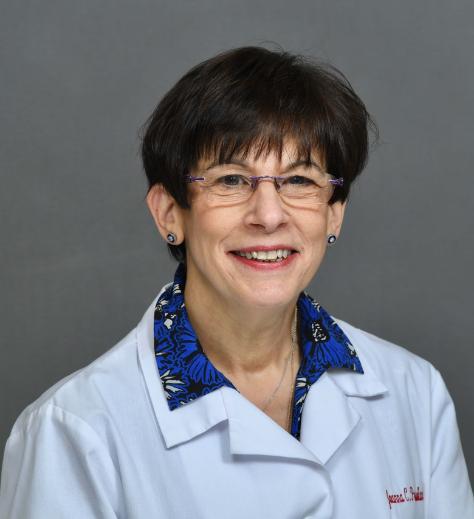 Joanna Pessolano - Featured News Size
Joanna C. Pessolano, M.D. '81, assistant professor of obstetrics and gynecology, has been appointed as associate dean of student affairs in the SOM. Dr. Pessolano completed residency training in both internal medicine and obstetrics and gynecology and is board-certified in both specialties. Since 2008, she has served in a variety of leadership roles in the SOM, including director of the Women's and Gender Health theme in the M.D. Program and as advisory dean for the Wright House. Dr. Pessolano has also served as both site and clerkship director for the NYMC Obstetrics and Gynecology Clerkship for over 12 years.
Previously, she was an associate program director for obstetrics and gynecology at Richmond University Medical Center (RUMC), where she developed a comprehensive didactic curriculum for post-graduate PGY1-PGY4, including a lecture series and advanced interdisciplinary simulation exercises for the department. Dr. Pessolano also served as director of continuing medical education at RUMC. In this role, she designed and implemented a full CME program for the hospital, which focused on Assessing Practice Gaps in Department of Medicine, Pediatrics and Clinical Oncology Services. The CME program was awarded full accreditation by the Medical Society of the State of New York (MSSNY) and the Accreditation Council for Continuing Medical Education (ACCME) in 2019.
Dr. Pessolano is a recipient of numerous teaching awards, including national recognition from the Association of Professors of Gynecology and Obstetrics (APGO) and Council on Resident Education in Obstetrics and Gynecology (CREOG). Additionally, she has received the NYMC Student Faculty Award for Excellence in Teaching and Mentoring from the SOM every year since she began teaching at NYMC. In 2021, Dr. Pessolano was presented with the Robert Goldstein, M.D., Society of Teachers Award, which recognizes faculty who have received teaching awards at NYMC for 10 years or more. She has been inducted into the Iota Chapter of the Alpha Omega Alpha (AΩA) medical honor society and is a recipient of the Leonard Tow Humanism in Medicine Faculty Award, presented to faculty who best demonstrate the ideals of outstanding compassion in the delivery of care, cultural sensitivity and respect for patients, their families and health care colleagues, as well as demonstrated clinical excellence. Dr. Pessolano is a PubMed-indexed author and an owner and co-founder of Ponterio & Pessolano, M.D., PC, a private practice in obstetrics and gynecology.
| | | |
| --- | --- | --- |
Dominique Malacarne Pape, M.D., assistant professor in both the Departments of Obstetrics and Gynecology and Urology at NYMC, has assumed the role of clerkship director for the Obstetrics and Gynecology Clerkship. Dr. Malacarne Pape was a highly sought-after candidate who was recruited successfully from New York University (NYU) in 2020. She is a fellowship-trained urogynecologist and female pelvic medicine surgeon, as well as a diplomate of the American Board of Obstetrics and Gynecology.
Dr. Malacarne Pape received her M.D. from Brown University. She completed both her residency in obstetrics and gynecology and fellowship in female pelvic medicine and reconstructive surgery at NYU Langone Medical Center, as well as received both resident and fellow teaching awards during her training. Dr. Malacarne Pape served as the educational fellow to the residents all three years and was a fellow and attending member of the Resident Education Committee. She was also inducted into the Gold Humanism Honor Society chapter at NYU as a fellow and went on to become an attending liaison for this Society while at NYU.
Dr. Malacarne Pape previously served as assistant director of the Obstetrics and Gynecology Clerkship at NYU Langone, where she helped with the implementation of mentorship programs for medical students pursuing ob/gyn careers. She developed the faculty and resident curriculum "Teaching on the Go," which was used to educate faculty and staff about medical student education in both the inpatient and outpatient settings, served on the Education Committee for NYU Langone School of Medicine and helped to restructure the integration of basic sciences into the third- and fourth-year curriculum. Dr. Malacarne Pape received the Excellence in Teaching Award from APGO during her time as an attending at NYU.
She is a practicing urogynecologist and has been very involved with both mentorship and research of ob/gyn residents pursuing a career in urogynecology. Dr. Malacarne Pape has served as chair of the NYU Fellowship Curriculum Committee and has co-authored many publications in the field, most recently an education-focused qualitative project entitled "Milestones on the Ground: How do attending female pelvic medicine and reconstructive surgery (FPMRS) physicians use competency-based assessments in practice?" Currently, she is mentoring both medical students and residents on individual research projects at NYMC.