Sowing Seed Strains and Fighting the Flu
For twenty years, government agencies and global vaccine taskforces have supported Dr. Bucher at New York Medical College, whose team takes traces of each year's infection and engineers them into robust vaccines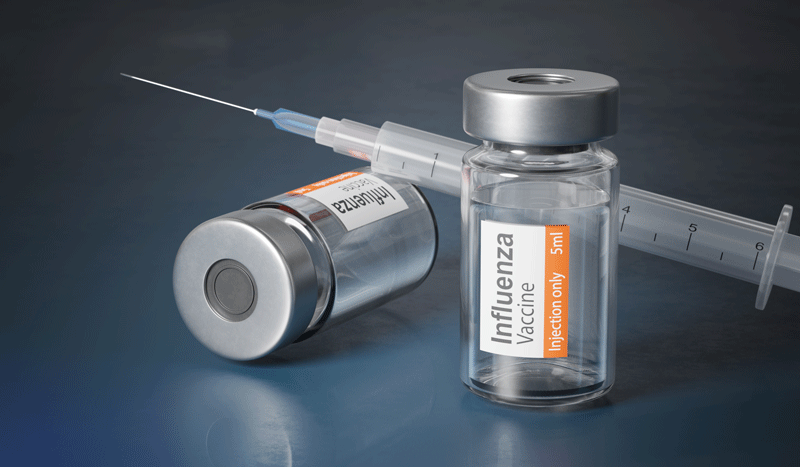 Each year, influenza takes on a different shape. In response, so does the vaccine that protects the world's population against this highly contagious respiratory virus. It takes methodical testing, meticulous genetics and many cartons of chicken eggs to nurture traces of isolated human samples into the strains that form the basis for the world's annual flu vaccine supply. And it happens each year in a laboratory at New York Medical College (NYMC). At the helm is Doris J. Bucher, Ph.D., associate professor of pathology, microbiology and immunology. She has spent her career coaxing flu strains into candidates for global production, even as the virus stubbornly mutates. The recent memory of lockdown and other drastic measures to control a deadly outbreak of infectious disease only underscores her critical role in staying ahead of each year's virus, saving possibly millions of lives each year.
Dr. Bucher has a well-deserved reputation for her "green thumb" in the lab, turning flu virus into seed stock—a form that grows rapidly in embryonated chicken eggs, so that drug manufacturers can make hundreds of millions of vaccine doses.
Dr. Bucher and her team of immunologists, virologists and other researchers have two decades of experience at NYMC cultivating strains. For 20 years, they have received approximately $1 million each year in grants from various government and global agencies—most significantly, the International Federation of Pharmaceutical Manufacturers and Associations' Vaccine Taskforce, which has supplied continuous funding since 2004. Federal agencies, including the Biomedical Advanced Research and Development Authority and the National Institutes of Health, have also provided grants and contracts. The Centers for Disease Control and Prevention (CDC) remains an active partner, tapping into the resources of NYMC to keep the flu at bay.
Each year's vaccine must capture the three or four strains predicted to, most likely, emerge during the subsequent flu season. The lab's time-tested ingredient for stimulating growth, says Dr. Bucher, is a "very old virus that has been growing since 1934," called PR/8. Like a sourdough starter for bakers, this virus that was isolated 88 years ago—when the flu epidemic of 1918 was a fairly recent memory—reliably activates each new flu vaccine in the reassortment process. "In the first cycle, we inject a diluted version of the PR/8 virus and this year's virus into the same egg. Then we allow them to multiply, replicate and swap genes." The virus reproduces itself in the cells that line the pointed end of the egg, where the protein-rich egg white is concentrated. The team repeats the process through several two-day cycles to sort and purify the hybrid strains that best thrive into one uniform seed stock. Candidates must have the right mix of surface antigens, triggering the proper defense from the immune system. Just as critically, they must have strong growth properties to support mass production of doses. Once these strains have been purified, they are treated with formaldehyde. Now inactivated, but still effective, they can be manufactured into the annual vaccine. "My team is skilled at pulling out the strains that are successful," says Dr. Bucher. "This is what we do, each and every year."
FIRSTHAND FLU KNOWLEDGE
Dr. Bucher grew up in Pennsylvania, on a dairy farm that had belonged to her family since the 1800s. Her parents encouraged her to attend college. "As a good farm girl," she jokes, her field of study at Penn State was nutrition. Her mentor, Ruth Pike, Ph.D., suggested she continue her education at the University of California, Berkeley. "Biochem was hot at the time," she recalls. After receiving her Ph.D. from U.C. Berkeley and completing a post-doc at UCLA, she began to hone in on influenza. In 1969, she was recruited to join the lab of Edwin D. Kilbourne, M.D., the late professor emeritus of microbiology and immunology, at Mount Sinai School of Medicine. Just before plunging into flu research, she fell terribly ill—with influenza. "It was the sickest I have ever been in my life; and it pushed me over the edge," she recalls. Having recovered, she vowed to commit her career to fighting this important virus.
The partnership between Dr. Kilbourne and Dr. Bucher was an achievement for public health. It was Dr. Kilbourne, often called the "father of the flu," who developed the first genetically engineered vaccine, that devised the high-yield reassortants for Type A strains, which provide two of the flu's four subtypes. To advance his efforts, Dr. Kilbourne was able to tap into Dr. Bucher's expertise in developing vaccines with purified proteins.
In 1987, Dr. Bucher joined NYMC's Department of Microbiology and Immunology. Five years later, she convinced Dr. Kilbourne to join her at NYMC—along with his lab supervisor, Barbara Pokorny. Before Dr. Kilbourne retired in 2002, Dr. Bucher led efforts to extend the high-yield reassortant system to Type B strains of the virus, which would strengthen the efficacy of vaccines. The names of all seed strains produced under Dr. Bucher's supervision begin with NYMC, honoring their lab of origin.
The following year's vaccine had an even stronger connection to NYMC. Strains of the infection are named for the places they are first isolated—Hong Kong, California, etc. So, when the CDC sent Dr. Bucher a new strain called NY/55, she wondered where it had originated. The answer: just across the parking lot. That sample had been isolated by Syed H. Abid, Ph.D., former adjunct assistant professor of microbiology and immunology. Given the 30,000 influenza isolates made in the U.S., the odds for such proximity were long. "To think: We could have walked across the parking lot to exchange materials, but we had to go through the CDC."
PRACTICAL MEDICINE MEETS PUBLIC HEALTH
In 2009, amid growing concerns over a new variety of swine flu, the CDC sent a sample of H1N1, a novel Type A strain, to Dr. Bucher's lab. A New York Times article that May, highlighting her contributions, described the parcel that arrived at her desk: "a vial containing millions of swine flu viruses in a milliliter of fluid…packed with dry ice in a plastic foam box inside a cardboard carton." Her team worked feverishly to grow the seed stock in 23 days, allowing for the preparation of some 500 million doses of vaccine. Due to their rapid response, a crisis was averted. But as the chaos subsided, and her fatigued lab recovered, Dr. Bucher's heightened anticipation of a pandemic caused by a new infection would prove correct. The seasonal incidence of flu varies based on the severity of the flu season. On the CDC website, there are three seasons since 2010 ranked as "high" or "moderate/high" severity: 2014-2015, 2017-2018 and 2019-2020. The data entry for 2020-2021 was blank, with a footnote: the season could not be assessed, due to the "uncharacteristically low level" of influenza that season. But the next year, in 2022, rates climbed back up and health officials caution that severity might spike again. "During COVID-19, we did not want to abandon the flu. It quieted down for two or three years, but we knew it would come back." While the COVID-19 vaccines relied on the use of messenger RNA, Dr. Bucher stands by the time-tested method of growing the vaccine in eggs. She recently told Healthline that mRNA vaccines need to be stored at ultracold temperatures, making logistics for distribution more complicated. "There is still a need for a flu vaccine," she stresses. "We still focus on high-yield reassortant strains. They are proven to work. As long as they are still useful, we will keep making them." Fighting infectious disease by empowering each patient places Dr. Bucher at the crossroads of clinical medicine and public health. "I am lucky to have the best of both worlds: fundamental research with clinical importance," she says. Her position at NYMC gives her access to both worlds. "We have a skilled cadre of grad students and post-docs, with the collaboration that thrives between lab research and clinical medicine," says Dr. Bucher. When she is not growing vaccines, Dr. Bucher recharges with walks in Central Park and attends programs at Manhattan's 92nd Street Y. One of her four daughters has written for the medical drama The Good Doctor, which features a surgeon who has autism and can register the tiniest of details and changes. "She gets some of her ideas from my experience," Dr. Bucher says. Recently, Dr. Bucher, a grandmother of three, visited a drug store off-campus for the version of the flu vaccine suggested for those over 65. She mentioned to the person administering the injection that she was among those who helped produce the shot. "But," she sighs, "I am not sure they believed me."