Stefanie Blanco, M.S. '10, Embraces Technology to Teach the Next Generation of Speech-Language Pathologists
Career Path Coming Full Circle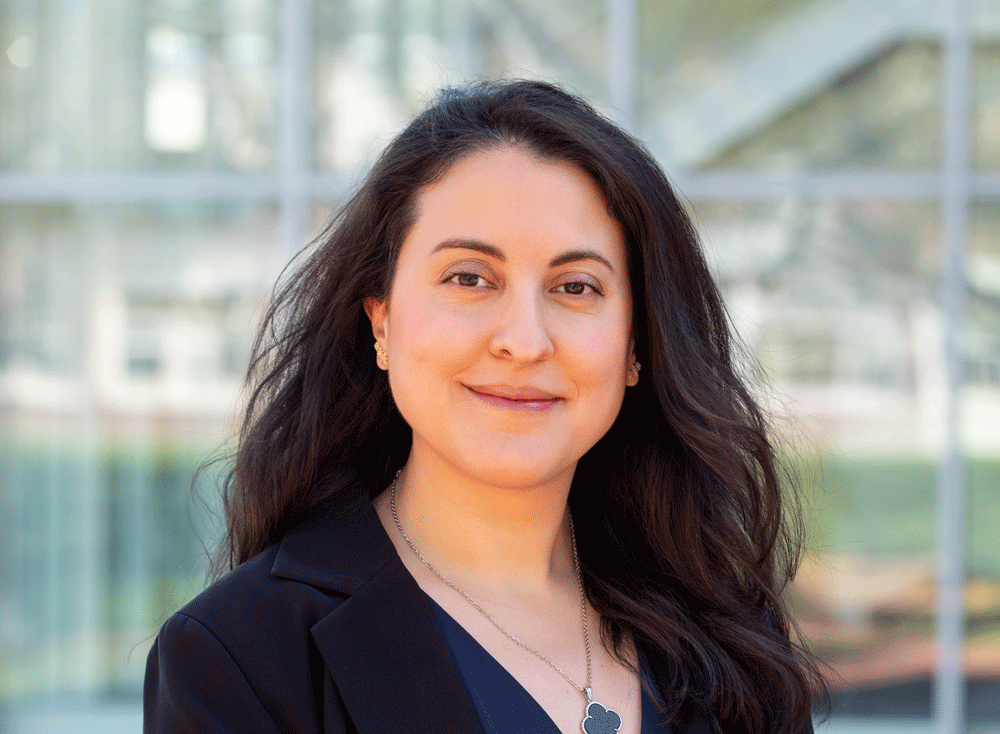 When Stefanie Blanco, M.S. '10, started the position of assistant professor in New York Medical College's Speech-Language Pathology (SLP) program in August 2022, she felt like her career path was coming full circle. She had not only earned her master's degree in SLP at NYMC but found her passion—the specialty of Augmentative and Alternative Communication (AAC)—under the mentorship of Kathleen Franklin, Ph.D., CCC-SLP, associate professor of speech-language pathology.
After 12 years of clinical experience, Professor Blanco will share her passion and skills with the next generation of speech-language pathologists at NYMC.
AAC provides a set of tools and strategies that an individual can use to solve communication challenges by augmenting or providing an alternative to natural speech. Those tools can run the gamut from low tech to high tech, for example American Sign Language to simple communication books that can be quickly assembled to help brain injured patients in the hospital to highly customizable computer and tablet communication apps for those with a variety of access needs.
"In my 12 years in practice, not only has there been this amazing trajectory of advancement of technology that can assist individuals but there has been more evidence-based research to show us which treatment methods are actually working," Professor Blanco says. "That combination is enabling us to provide more effective outcomes for patients."
A prime example of this is the prioritization of core vocabulary. Out of the thousands of words that people use, approximately 350 to 400 of them are used 80 percent of the time. "Research has shown that if we give patients access to those core vocabulary sooner and faster, it can provide them with improved communicative control within their environment," Professor Blanco says. "So, many of the available communication apps are now programmed to include and prioritize core vocabulary."
In Professor Blanco's AAC class—one of five she is teaching—students learn how to properly identify which alternative mode of communication would work best for a variety of patients in different scenarios, do hands-on training to develop their own fluency with the various devices and then learn how to teach those methods to not only the patient, but to their family members as well, which is crucial to a successful outcome. "We know from research that if you do not properly train a patient's circle of caregivers, it can lead to device abandonment," she says.
Three of Professor Blanco's other classes work in tandem. Foundations of Speech, Language and Cognition teaches first-year SLP students the typical developmental path of communication. Language Disorders then trains the students to identify where the breakdown in that process may occur. Speech Sound Disorders helps students examine the causes and treatment of a variety of articulatory and phonological disorders that can affect someone's ability to communicate effectively.
"For adults, when there is an acquired injury like a stroke and they lose the ability to communicate, it can be devastating," Professor Blanco says. "My job is to be able to bridge that gap for them and improve communication and quality of life in this new and unsettling time."
Professor Blanco has found it especially rewarding to work with pediatric patients, particularly during her decade-plus at Blythedale Children's Hospital, an independent specialty children's hospital in Valhalla, New York, dedicated to the diagnosis, care and rehabilitation of children with complex medical and rehabilitative needs. "I have countless stories of being there for the first time a child says for example, 'I love you' to their mother or 'Hello' to their father,'" Professor Blanco says. "It is those moments that keep me so inspired every day."
She is excited to share those experiences with her NYMC students. "I look forward to taking what I have learned in the clinical world and giving it back to the next generation of SLPs," Professor Blanco says. "They are the future of the profession."