The Family Health Center Celebrates Three Years at NYMC
The Outpatient Clinic Served NYMC and the Community for Three Years, Providing Care Throughout the COVID-19 Pandemic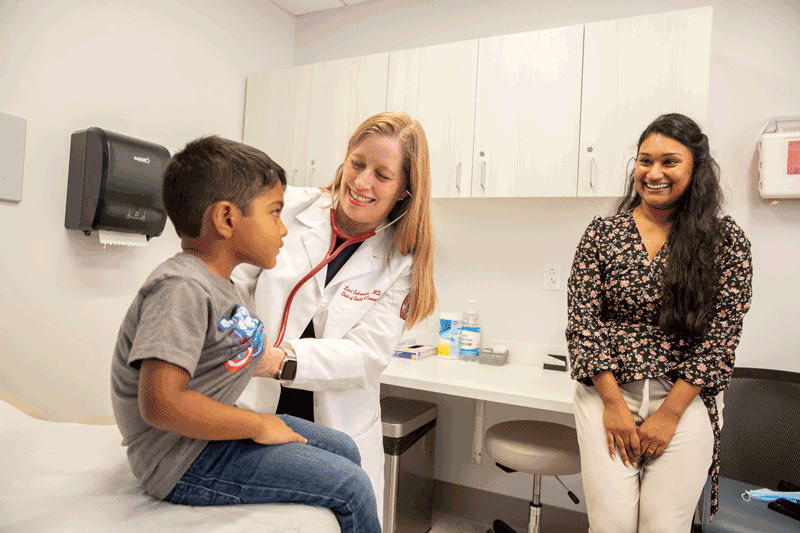 Lori A. Weir Solomon, M.D. '99, M.P.H. '09, with pediatric patient at the Family Health Center.
The Family Health Center (FHC) at New York Medical College (NYMC) celebrated their third year on campus. The outpatient clinic, opened in October 2019, provides quality and affordable medical care staffed by board-certified family physician faculty. Led by Lori Weir Solomon, M.D. '99, M.P.H. '09, chair and clinical associate professor of‌ the Department of Family and Community Medicine and director of the FHC, the clinic serves patients from Westchester, New York City and the tri-state area and was a tremendous resource during the pandemic after just five months of operation.
When other practices closed their doors or went remote, the FHC remained open and in-person but also quickly began to offer telehealth visits. The FHC provided COVID-19 testing and was among the first of approximately 50 medical practices in the Hudson Valley to receive COVID-19 vaccines in March of 2021, administrating approximately 1,600 vaccines to date. Dr. Solomon was lauded for her efforts during the pandemic being named a 2022 Healthcare Hero by Westchester Magazine. The FHS has served 2,000 patients and reached major milestones since its inception. They welcomed their first newborn patient in November and increased their staff to three physicians, adding Alexandra Schieber, D.O., and Aleena Paul, M.D., M.B.A., M.S.Ed., to the team.
Dr. Schieber, assistant professor of family and community medicine, serves as the family medicine clerkship director and director of School of Medicine (SOM) M.D. curriculum Phase 2, while, Dr. Paul, assistant professor of the department of family and community medicine is the assistant clerkship director and director of the SOM M.D. curriculum Phase 3.
The FHC also partners with the Touro Dental Health, the oral health clinic of Touro College of Dental Medicine, to provide same day services and with the student-run free health clinic, La Casita de la Salud. The FHC is a teaching site for electives and clerkships for third- and fourth-year medical students.
The FHC is also in involved in research projects on campus. A few months after the pandemic hit, they started their first project, which laid the groundwork for getting authorization for the at home rapid COVID-19 PCR test. The clinic is currently working with the Clinical Trials Unit on a study on how the risk of the oral microbiome can influence oral cancers.
Focused on expanding its reach, the clinic can now be found on ZocDoc, where patients can book their appointments online and accepts most insurance plans, including Medicare and offers transparent pricing for individuals without insurance.
"My favorite thing about working here is seeing patients, getting an opportunity to be a part of their lives and helping them through the medical issues they may be facing," said Dr. Solomon. "It's such a worthwhile feeling."