Xiu-Min Li, M.D., M.S., Studies the Potential of Medicinal Herbs to Treat Illness
Research has basis in traditional Chinese medicine used in human beings for 2000 years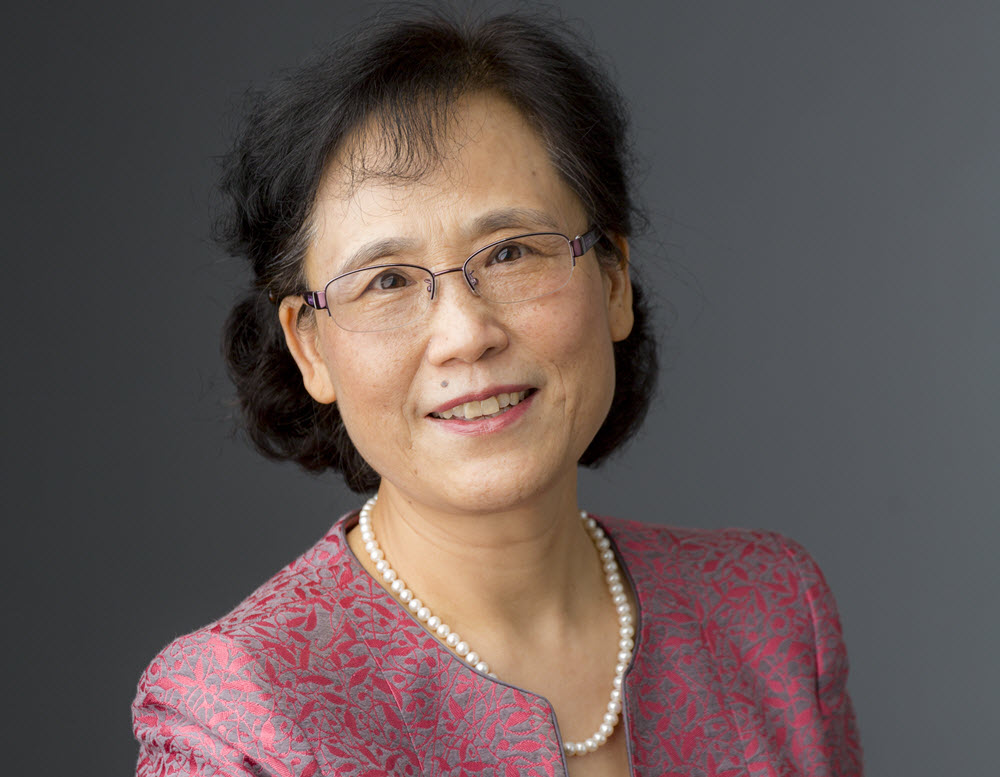 Xiu-Min Li, M.D., M.S., harnessing the medicinal power of Chinese herbs
Pouches bulging with dried Chinese herbs crowd the shelves in the laboratory of Xiu-Min Li, M.D., M.S. There are tendrilled fritillary bulb, rhizomes and hundreds of other medicinal plants and flowers that are actively being investigated all over the world for their anti-inflammatory, anti-allergy, anticancer, anti-fungal and other therapeutic properties.
"Traditional Chinese Medicine (TCM) has been used in human beings for 2000 years," says the ebullient Dr. Li, professor of microbiology and immunology and of otolaryngology at New York Medical College (NYMC) since 2018. "I have a database of 300 to 400 Chinese herbs. Some, like ginseng, ginger and cinnamon are viewed as dietary supplements, but they also have significant medicinal functions."
Dr. Li has harnessed the medicinal power of Chinese herbs since graduating from the Henan University of Chinese Medicine in Zhengzhou, China, in 1983. After completing a postdoctoral research fellowship in clinical allergy and immunology at The John Hopkins University in Baltimore in 1997, she became a founding faculty member of the Jaffe Food Allergy Institute at the Icahn School of Medicine at Mount Sinai in New York. There, she began research into using botanical formulations to treat asthma and food allergies, especially in children, a population wherein prevalence is increasing.
Li observed an association between asthma and elevated levels of immunoglobulin E (IgE), the antibody that the immune system produces in response to an allergen, and the herbal medicines that could reduce abnormally elevated IgE. She also saw that IgE levels rose in response to certain foods, like peanuts, and to parasitic infections. "When people have intestinal worms they have increased IgE just like when they have food allergies," she explained. She found that the common denominator in all these conditions, as well as stomach pain, vomiting, nausea and diarrhea, was related to chronic inflammation.
Drawing on this observation and her training in both TCM and medical science, Dr. Li and her colleagues have concentrated on developing herbal remedies that treat inflammation. "Natural products are particularly good for chronic inflammation and we are studying their potential corticosteroid-sparing effect," she says. Her major focus is in identifying the active ingredient of TCMs and unravel their mechanism of action using cutting edge technology and molecular investigations.
One such product, now in FDA-approved Phase II clinical trials, is Food Allergy Herbal Formula-2 and its more purified version, named EB-FAHF-2, which has successfully protected sensitized mice from having allergic reactions to peanuts, tree nuts, fish and eggs. "Peanut allergy accounts for the majority of fatal and near fatal adverse food reactions in the U.S., and at present, there is no satisfactory treatment," Dr. Li says. "FAHF-2/ EB-FAHF-2 is the first FDA-approved botanical investigational new drug (IND) under clinical trials for multiple persistent food allergy and the first botanical IND trial that includes children." Also in clinical trials are botanical therapies that Dr. Li has developed for asthma and inflammatory bowel disease.
Additionally, Dr. Li is investigating biomarkers whose presence in children's blood indicate food sensitivity and therefore might spare them the ordeal of clinical testing. "There's no good diagnosis for food allergies other than triggering symptoms and monitoring reactions in the hospital," she explained. "We have established a protocol in which we challenge cells in a test tube to see how biomarkers react."
A widely published author who holds numerous patents, Dr. Li is board certified in herbology and acupuncture. She is also working on establishing a center for integrative medicine for immunology and wellness to support research on asthma, food allergy, eczema and other inflammatory conditions, including chronic pain and obesity. "I want my research to benefit my patients and other people's patients," she says. "People are suffering. They can't wait 10 to 20 years for treatment. They need something safe and effective now."